All tows are not created equal. In fact, tows fall into several different job class types, such as light, medium, and heavy duty; and service types, such as a tow, winch out, battery jump or lock out. There are many challenging service types, but arguably the most complicated class type is heavy duty. A heavy-duty tow is typically required for vehicles with large height or weight, ranging from semi or tractor-trailers to motor homes to buses. These heavy-duty tows present a higher degree of difficulty and complexity than a standard tow and thus call for a tailored roadside approach.
Heavy-Duty Wreckers Are Stronger but Scarcer
Wrecker Tow Capacities
It takes an extra special kind of tow truck – typically called a "wrecker" – to recover vehicles that surpass the average vehicle weight or height. Heavy-duty wreckers need to be prepared to recover and haul an overturned semi-trailer or pull an overturned dump truck from a ditch. This requires a tow capacity of between 25 – 100 tons, which is much more than the standard 3 - 5 tons of tow capacity. In addition, heavy-duty recoveries can call for advanced functionality such as outrigger legs to help with truck stability (to avoid flipping the wrecker itself) and increased boom lift capacity.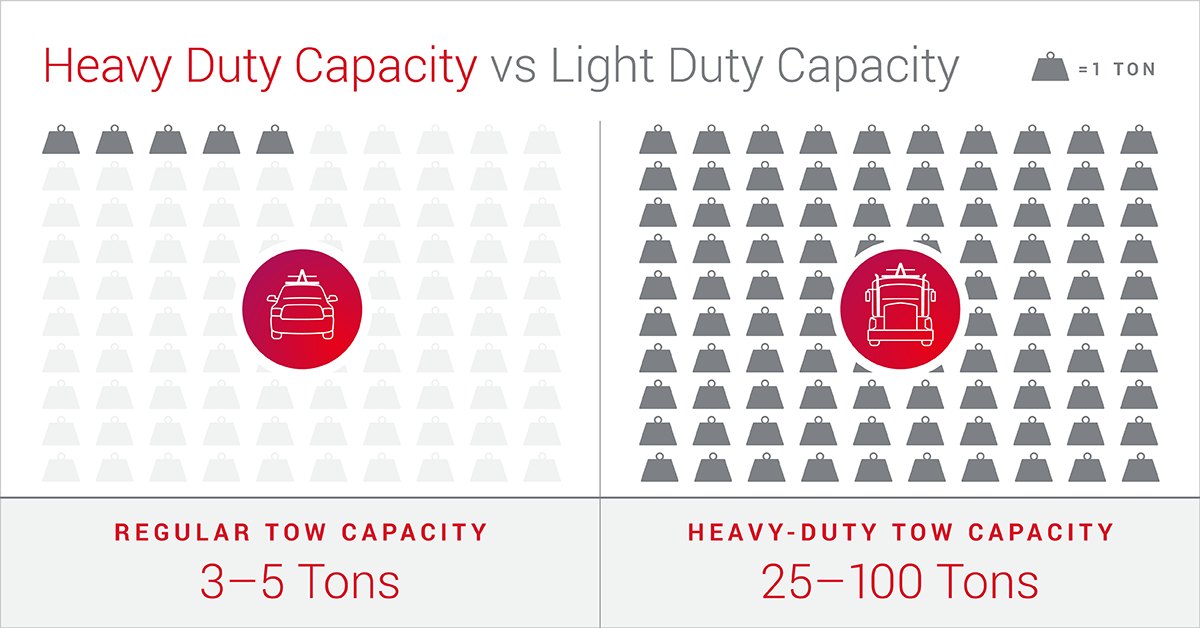 Limited Supply
Heavy-Duty wreckers account for a small percentage of the national service provider mix and are in limited supply.
The first contributing factor for this is the added job complexity for hauling 50 tons vs 5. As you can imagine, maneuvering 50 tons can be a bit more time consuming than moving a sedan. From weight and height limits, to heavy duty vehicle specific issues like driveshafts to trailer cab disconnections, there are many added complications with a heavy duty tow. Each one of these scenarios takes extra time, leaving less availability for on-call jobs.
Secondly, all the necessary safety features for a fully equipped heavy-duty wrecker add up, requiring a substantial financial investment which may prove insurmountable for smaller service providers. At the end of the day, a relatively small pool of providers are equipped to serve the needs of most commercial tows. And when every minute of downtime is negatively impacting your bottom line, every added minute of a tow ETA matters.
What to look for in a Heavy-Duty Roadside Program
Because heavy-duty tow jobs are complex, and with so many variables to consider, it's important to secure roadside coverage that optimizes for quality service, speedy recovery, job process transparency, and nationwide coverage.
Quality and Speed
A large percentage of heavy-duty tows are servicing commercial vehicles, which means a speedy resolution is even more crucial to minimize downtime for your business. With all the variables that can lead to delays in heavy-duty jobs, businesses need to feel confident that their roadside care is a well oiled machine optimized for high quality customer service but also with a large enough fleet to quickly and easily match your incident type with a corresponding tow provider to seamlessly resolve your issue.
Transparency
Job speed is important, but equally important is transparency into job updates. With so many inputs in a heavy-tow, delays can happen and when they do, you need to be able track the extent of the delay and plan accordingly for your business. The technology in this space is constantly evolving, but look for options with SMS, in-app messaging or even digital portal access.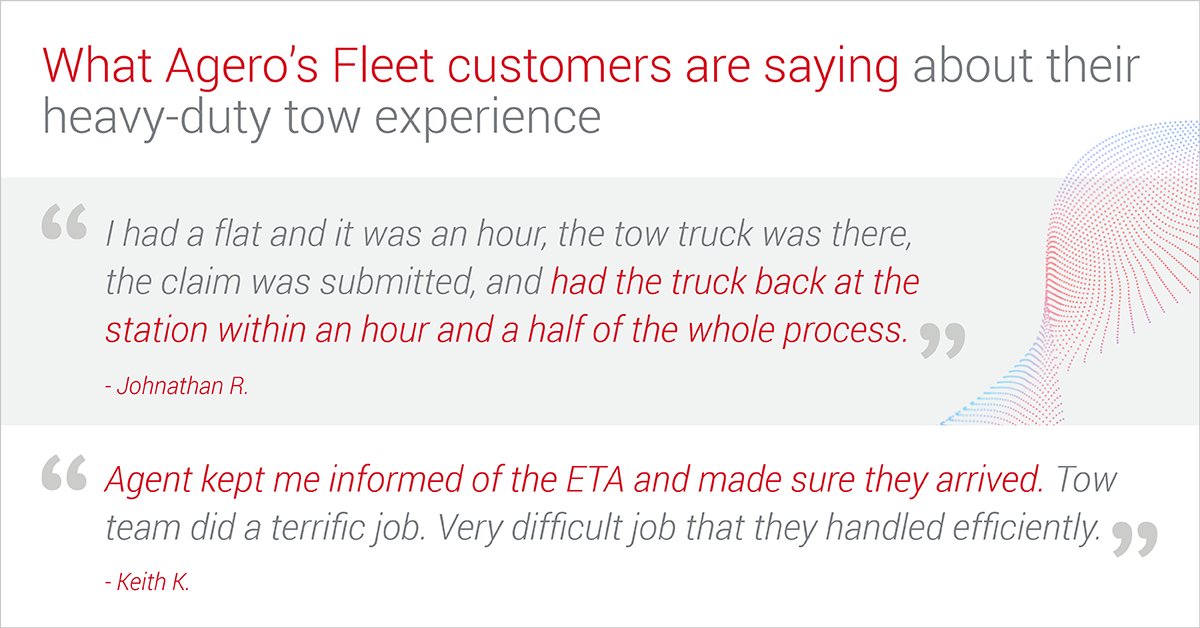 Agero's Heavy Tow Solutions
At Agero our business is optimized for quality customer support, superior technology, and nationwide scale, which sets us up nicely to serve heavy-duty vehicles and business fleets at large. For our heavy-duty audience, we have a dedicated team of experts who together with our tech, validate all requests and optimize the 9 classes of heavy duty vehicle types and 5 classes of heavy duty wreckers to ensure we're matching the best trucks and equipment to each case. This system combined with our dedicated case management team holds the quality resolution bar high. Our transparent process is complete with email and SMS notifications, or job updates in our Swoop Dealer Portal which provides updates every step of the way from dispatch to job completion. Lastly, as one of the oldest companies in the roadside business, we have an extensive nationwide coverage network that facilitates speedy service you can rely on.

From tonnage to height, there are many considerations that go into a heavy-duty tow. We've perfected the process of servicing heavy-duty vehicles with a focus on quality, speed, and transparency. Learn more about how you can support your fleet with Agero's fleet coverage.