This past September, after more than 15 years at 1 Cabot Road, we moved our corporate headquarters to a new space that reflects our mission and our identity as the leader in the digital transformation of roadside assistance.
After years of improving, enhancing and digitalizing the roadside experience for our over 100 client programs and 115 million consumers, we felt it time to embark on a journey of our own – one that would not only spark a new sense of excitement with employees, but foster a greater sense of collaboration, purpose and innovation within our teams here in Medford and across our sites.
Our new space has been specifically designed to both reflect that everything we do is at the intersection of technology and human power, and to remind associates every day of the impact of their work: helping motorists get back on the road, back to their day and – most importantly – back to their life.
Flow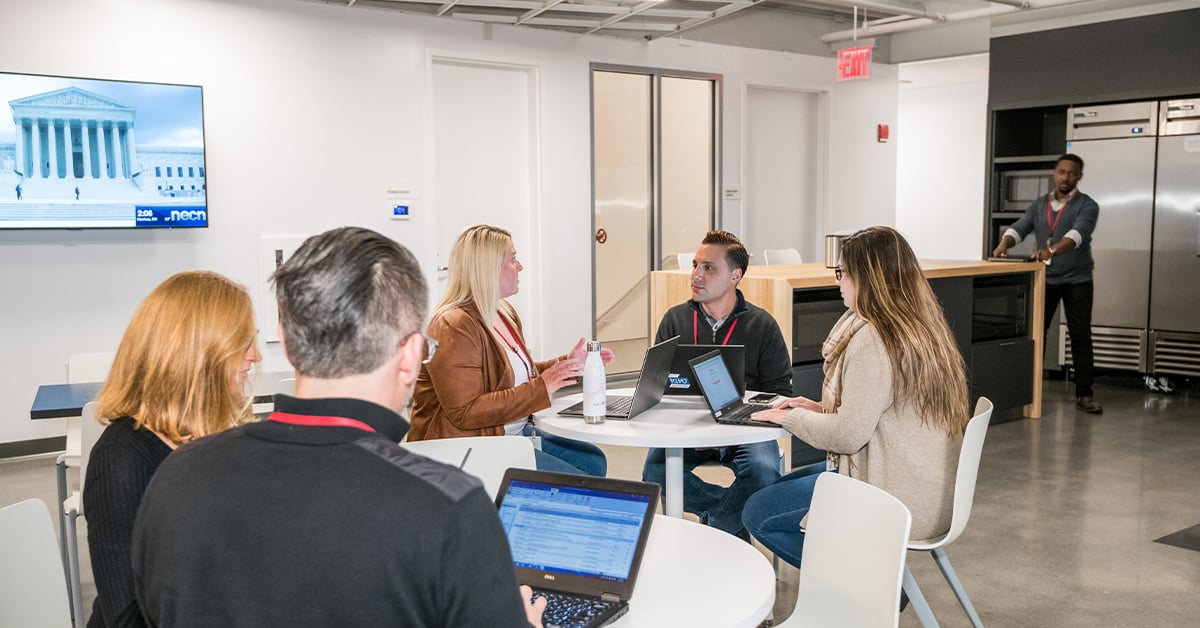 We wanted to create a space that would welcome creativity and collaboration and enable seamless engagement among teams here at headquarters as well as with our colleagues around the world.
To do this, we were incredibly thoughtful in the overall flow of the building. On our first floor, dedicated to our network and contact center operations, our floor plan encourages openness and transparency. All shared services, such as legal, finance and marketing, live on the second floor – which we consider the hub. These organizations all work with other departments and help to bring the full business together. Our third floor features our product, data and engineering teams, and houses numerous conference rooms and spaces where associates can better work together.
All central spaces are open and designed for interaction, with a mixture of soft seating, tables, and standing areas. The building is equipped throughout with Zoom technology to enable remote teamwork. Glass-clad offices, conference rooms, and huddle spaces, along with white boards and connected TVs in every public space facilitate transparency, as do live map displays of our service calls and customer feedback.
Imagery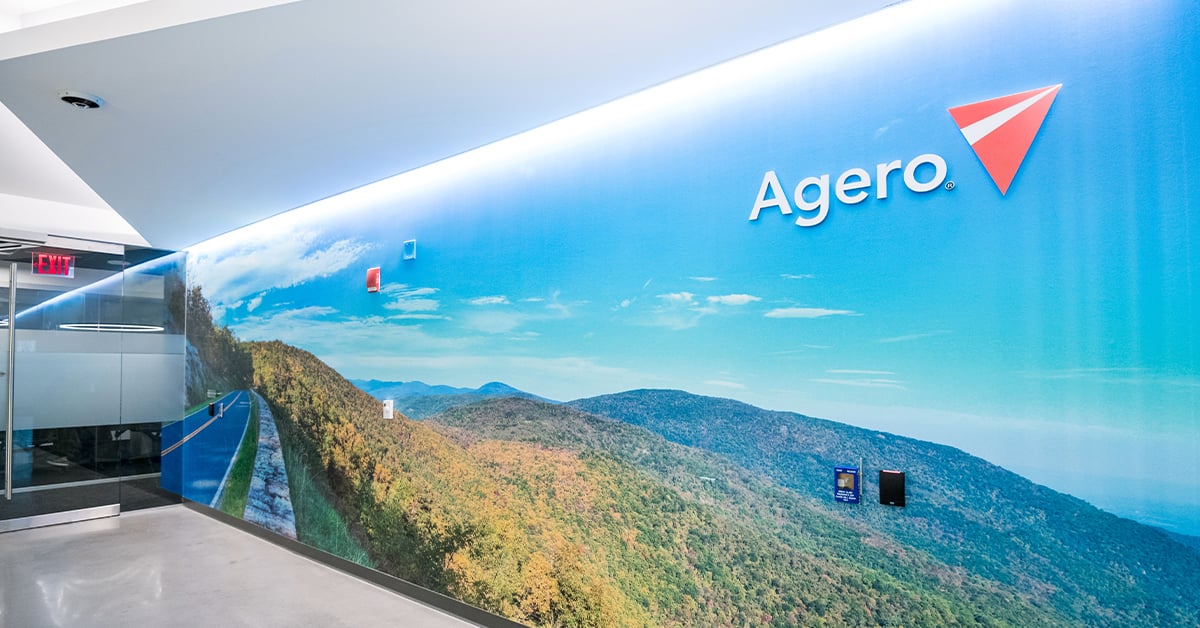 Scenic driving imagery, such as that above in the 3rd floor elevator lobby, and brand-centric words and phrases, such as "Driving Driving" are placed strategically throughout the facility. In addition to adding color and vibrancy to the space, these installations convey the movement and momentum of our customers as we help them get back on track after a breakdown or an accident.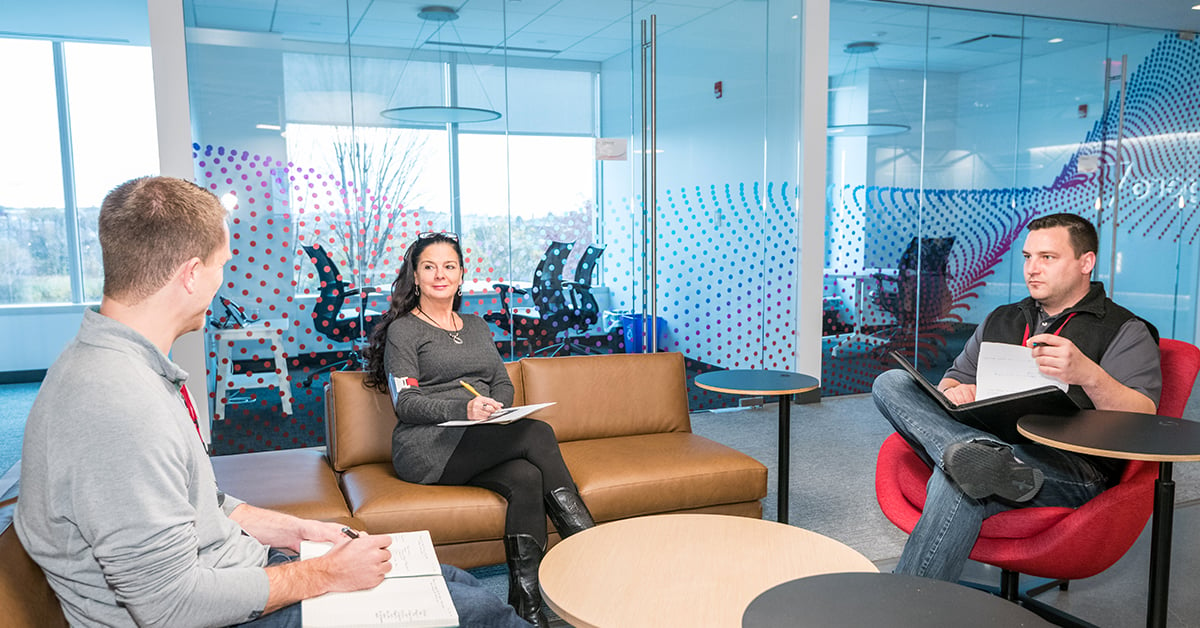 Our main brand asset, the Agero data wave, seen in the background in the image above, flows around the second floor reception and kitchen area, reminding us not only about the power of our data from the 12M annual events we service, but also how we combine technology with the human touch to deliver this support.
Engagement
In addition to these design touches, we've made the office a productive, healthy, and fun space.
The building is LEED certified, with floor-to-ceiling windows that look out over the Malden River and channel natural light. Ergonomic workstations are equipped with standing desks. Employee wellness is front and center with multiple mothers' rooms, wellness rooms, and a fully stocked gym.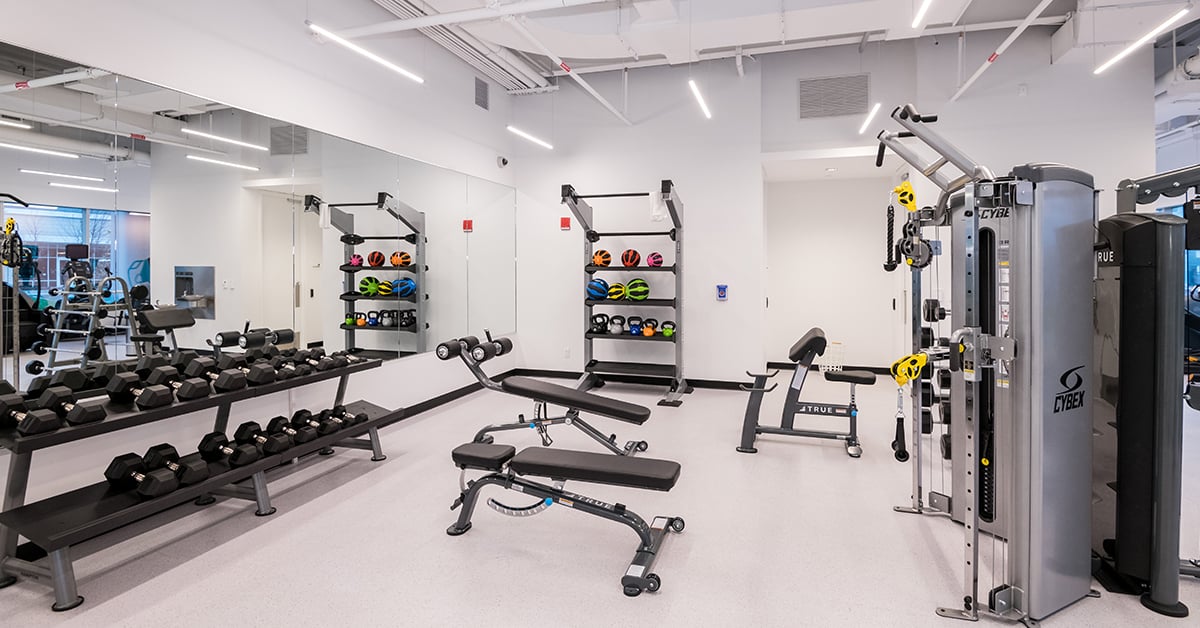 Our game room (aptly named Rush Hour), complete with ping pong, shuffleboard, and video games, provides a place for employees to clear their minds, have fun with coworkers and serves as the central social space for our weekly happy hours.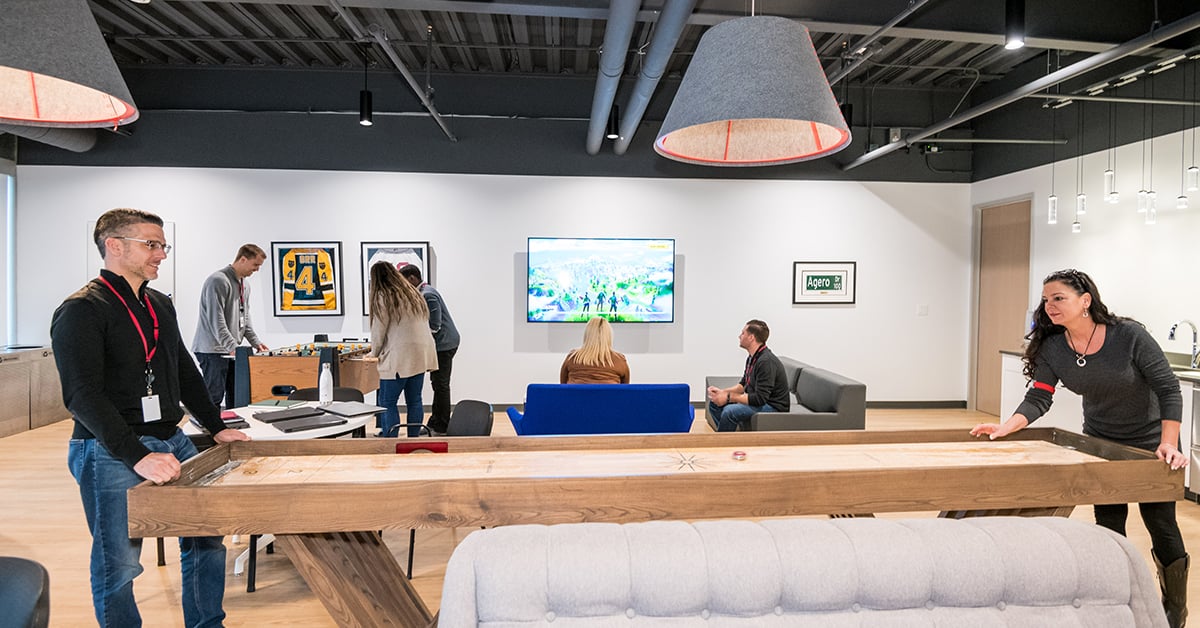 As we continue to settle in, it becomes clearer each day that our new headquarters better supports who we are and where Agero is going as a company, bringing people together to foster new ideas and reminding us daily of our purpose. A wonderful state of mind to start the New Year!
Check out more pictures of the space at Bostinno and VentureFizz. And don't forget to update your address book with our new contact information:
400 Rivers Edge Drive
Medford, MA 02155