Customer experience plays a significant role in building brand loyalty for automotive. Market leaders in automotive brand loyalty are able to garner nearly a 60% repurchase rate according to a recent study by JD Power.
But delivering customer experience throughout the automotive lifecycle is challenging given the length and complexity. In fact, average vehicle ownership tenure continues to climb, currently averaging around 8.4 years but with many models on the road exceeding 11 years. A key element in delivering great customer service throughout the vehicle's lifecycle is matching the support and services needed for each stage of vehicle ownership. Given this, understanding the stages of vehicle ownership will help unlock opportunities to create value-added experiences at each step.
Automotive Lifecycle Stages
Vehicle ownership can be broken into three primary stages. These are largely defined by car condition, warranty and support packages, payment plans and expected maintenance. Here's the run down: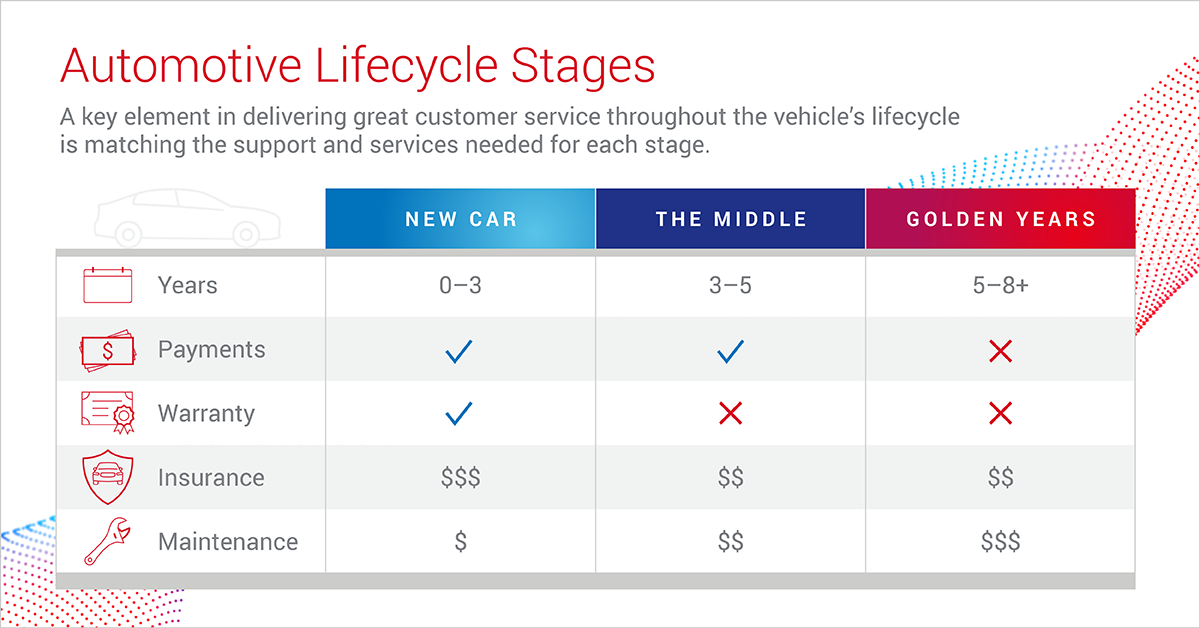 Stage 1: The New Car
The New Car stage covers years 0 to 3. This period takes the excited new customers off the lot with the new car smell and through the exciting first mileage milestones, anchored by their purchase experience and supported by warranty and service contracts. During this period, insurance and car payment costs are at their peak but maintenance and service are minimal. As a result, 88% of annual service visits are completed at dealers during the first three years. Customers in this phase expect their car experience to be seamless and leading roadside support packages are designed to meet this need.
Stage 2: The Middle
The next stage, the middle, is characterized by vehicles that are 3 to 5 years old. They are no longer under warranty, but nearly 80% still have payments remaining. This second stage carries the financial costs and payments of the first without the safety net of the warranty. In addition, only 30% of customers opt in for extended service contracts. This leaves the vast majority of customers facing maintenance issues such as tires, batteries, brakes on their own dime. With the hefty cost of payment still weighing them down, customers are more likely to be price conscious during this phase. In fact, price was the top reported reason that customers avoided dealerships for repair (Agero Research 2020).
A key strategy to support customers in this phase is through competitively priced extended benefits packages that enable customers to return to dealerships and obtain discounts on service. These packages can also include incentives and perks which extend beyond the vehicle and can create a positive touch point between customers and auto brands. Customers are eager to take advantage of these types of incentives. In fact, a recent study by WireCard found that over the course of a year, nearly all customers took advantage of at least one purchase incentive and these incentives proved to drive as many as 7 touch points for the most enthusiastic third.
Stage 3: The Golden Years
During the Golden Years, vehicles are 5 to 8 plus years old. In most cases, these vehicles are paid for and based on their age, the insurance costs begin to fall. However, more significant maintenance costs and wear and tear can impact the cost of ownership during these years. In addition, only 21% of customers with vehicles 5 years or older serviced their vehicle at the dealership; for 10-year-old vehicles, this falls even further to just 8%.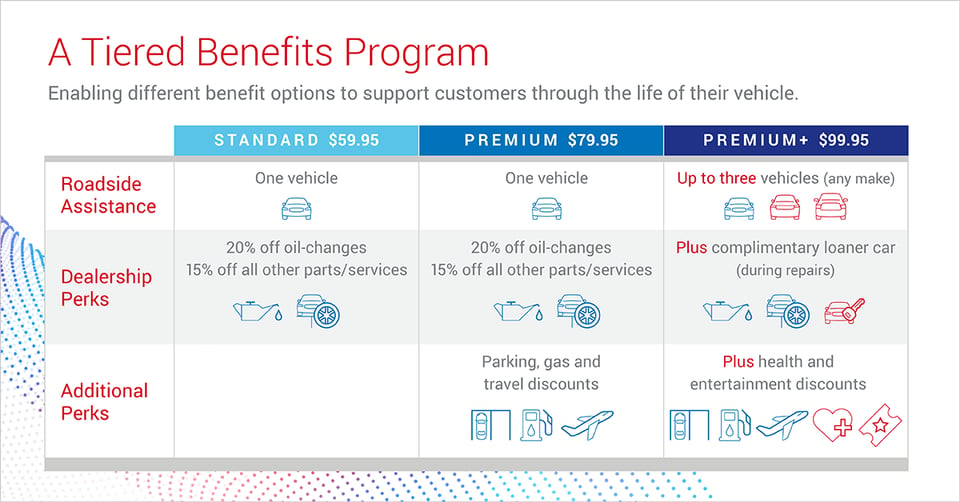 There is an important opportunity to engage these customers with the dealer as they work to support their vehicles and begin to consider the tradeoffs of repair vs. repurchase. A tiered post-warranty program that enables greater discounts and service at a higher cost would provide optionality for these customers. In addition, dealer financing options for repair can be a powerful solution at this stage. Notably, financing can boost corporate loyalty by up to 20%.
The Right Solution, The Right Time
Developing a thoughtful combination of services and support to engage customers throughout the automotive lifecycle can play a powerful role in helping customers stay engaged – and loyal – to your brand, all through the repurchase period. At Agero, we are proud to leverage our decades of experience, nationwide network and configurable programs to help deliver your brand promise, mile after mile.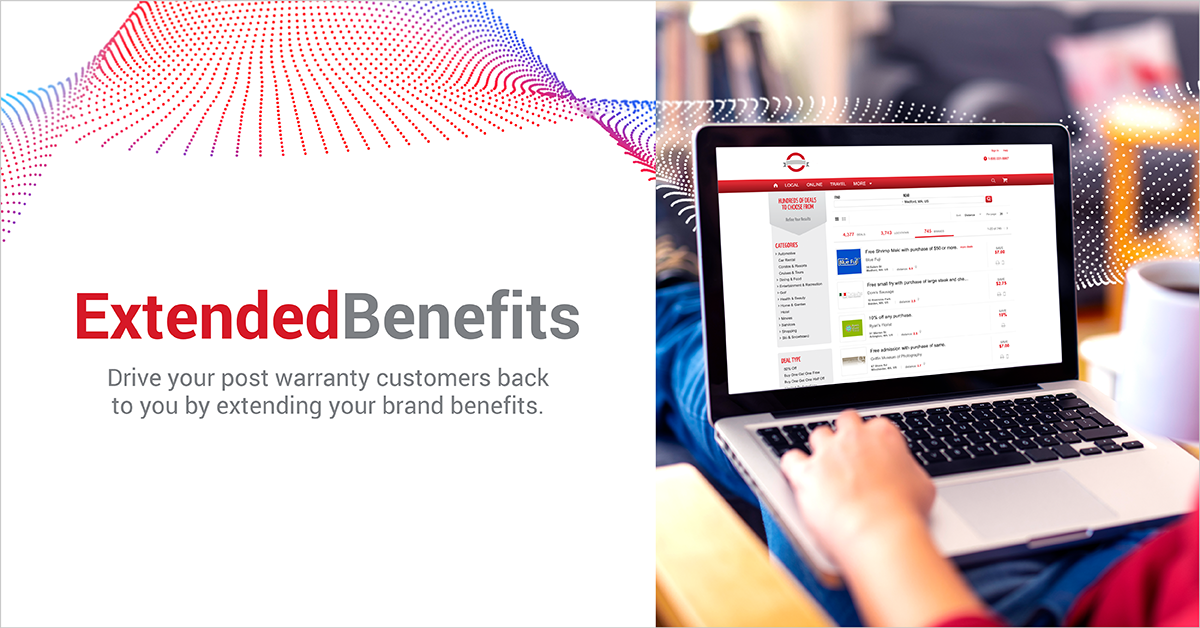 To learn more about how these solutions can support you, click here.
References:
https://www.iseecars.com/how-long-people-keep-cars-study
https://www.experian.com/assets/automotive/white-papers/customer-loyalty.pdf
https://www.jdpower.com/business/press-releases/2020-customer-service-index-csi-study>
https://nmgprod.s3.amazonaws.com/media/files/97/e3/97e3466268a5f6a39748b0acf861188d/asset_file.pdf