At Agero, we recognize that it is critical to stay up to date with trends and technologies that impact roadside. One area of rapid change is the electric vehicle market. We have been carefully researching and analyzing this space in order to determine how to best to support it from a roadside perspective with a keen eye on maximizing the customer experience. The biggest challenge both in the adoption of electric vehicles and in roadside support is managing range anxiety and out-of-charge events.
Market Trends
The electric vehicle market has seen dramatic growth both in volume and number of offerings in recent years and this trend is expected to continue. According to Bloomberg New Energy Finance, the number of electric vehicles is predicted to exceed the number of combustion vehicles within the next 20 years. The dramatic uptick in 2018 was fueled by Tesla and the Model 3 and is likely to grow through 2019.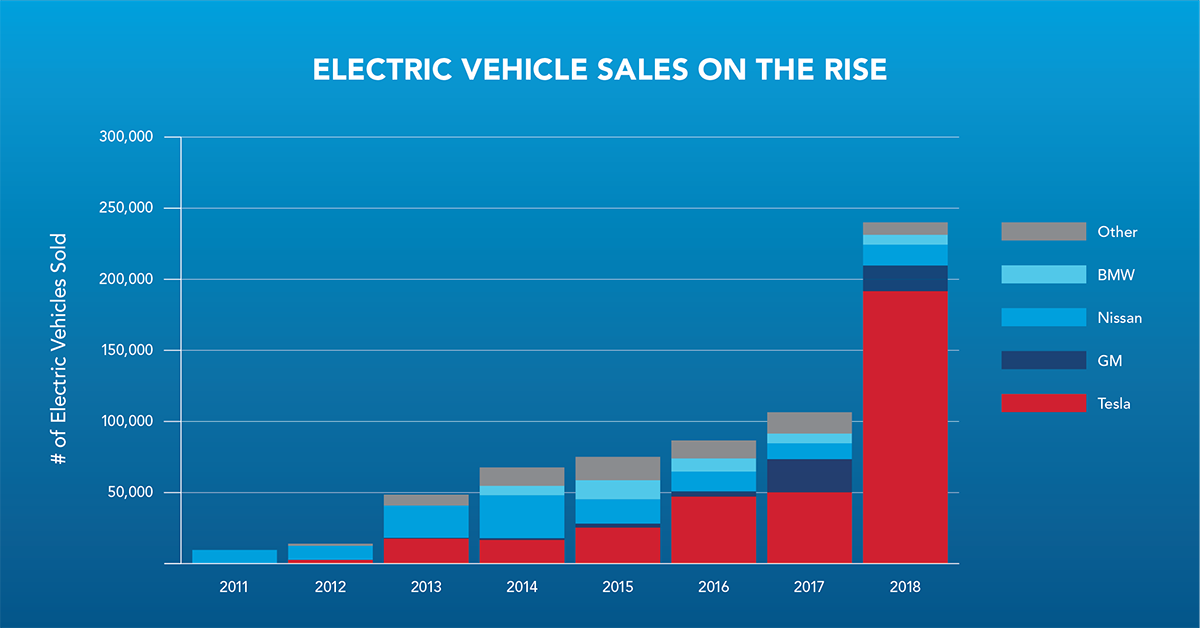 Source: www.EV-volumes.com
Additional entries into the electric vehicle market are anticipated from Hyundai, Mercedes, Porsche, Mazda, Nissan, Volvo and Subaru. The overall number of electrical vehicle models is predicted to exceed 200 by the end of 2019, nearly double the number available in 2017.
Charging Concerns: Warranted or Not?
In order to support the growing demand for electric vehicles, significant investment has been made into charging stations. At the close of 2018, there were just over 20,000 public charging stations in the US with nearly 60,000 outlets according to the U.S. Department of Energy. Even with this growing infrastructure, 58% of drivers have range anxiety and 49% are also concerned about availability of charging stations. These fears persist and deter adoption even though more than half of electric vehicle owners charge their vehicles at home and despite the fact that electric vehicles on the market today have more than enough battery range to get customers through a typical day.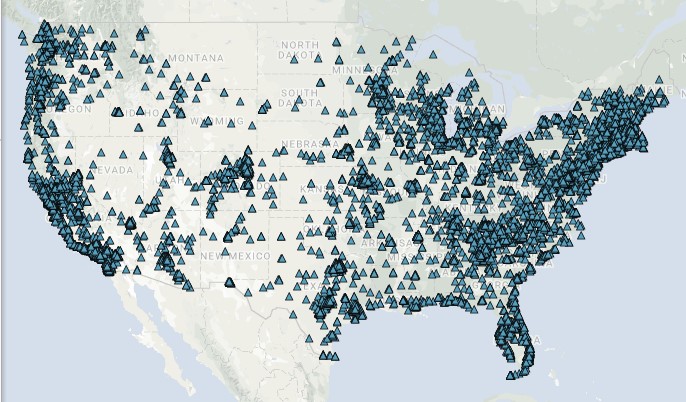 Source: U.S. Department of Energy, Office of Energy Efficiency & Renewable Energy
​*Includes public and private fueling stations
In fact, the range on electric vehicles has increased dramatically in the past 15 years from just about 60 miles per charge to more than 300 miles. The vast majority of drivers (>90%) travel less than 100 miles in a typical day, according to Agero Research.
Source: Car & Driver
Further, Agero roadside data also finds that less 1.5% of electric car drivers run out of charge and contact Agero for support annually. That being said, for electric vehicle requests, out of charge still represents 25% of the roadside requests annually.
Implications for Roadside
Despite the relative infrequency of out of charge incidents overall, the issue is top of mind for consumers and therefore top of mind for OEMs and roadside providers. Roadside may become a critical component in helping to assuage consumers concerns over electric vehicle adoption. At Agero, careful monitoring of the trends and technologies in electric vehicles will enable us to best support our clients and their customers. The technology that has exciting potential for electric vehicle roadside is mobile fast charging. We believe that as market penetration of electric vehicles reaches a tipping point and charging speed increases, there may be exciting opportunities to deliver a more innovative and gratifying experience to the consumer by supplying enough charge to reach their destination rather than towing the vehicle away. We will be launching pilots in key metros soon. If you are interested in partnering with Agero on these efforts, please let us know. Drive safe.
Additional Sources: