At Agero, we are always working to better understand the trends that impact roadside assistance and have been investigating ridesharing. This new transportation model changes the way consumers interact with vehicles and impacts the infrastructure, service needs and business models for roadside assistance.
Background
In recent years, ridesharing has gained significant traction. According to a 2018 survey by Pew Research Center, 36% of adults have used ridesharing services, up from 15% just 3 years prior, accounting for 2-3% of vehicle miles traveled. This trend is expected to continue and by 2030, shared mobility solutions are expected to account for more than 20% of vehicle miles travelled. Shared mobility is already impacting niche mobility such as ground transportation for business travel, accounting for 60% of the spend. What is clear is that these services and models have a growing place on our roads, so it is critical to understand how they may impact roadside.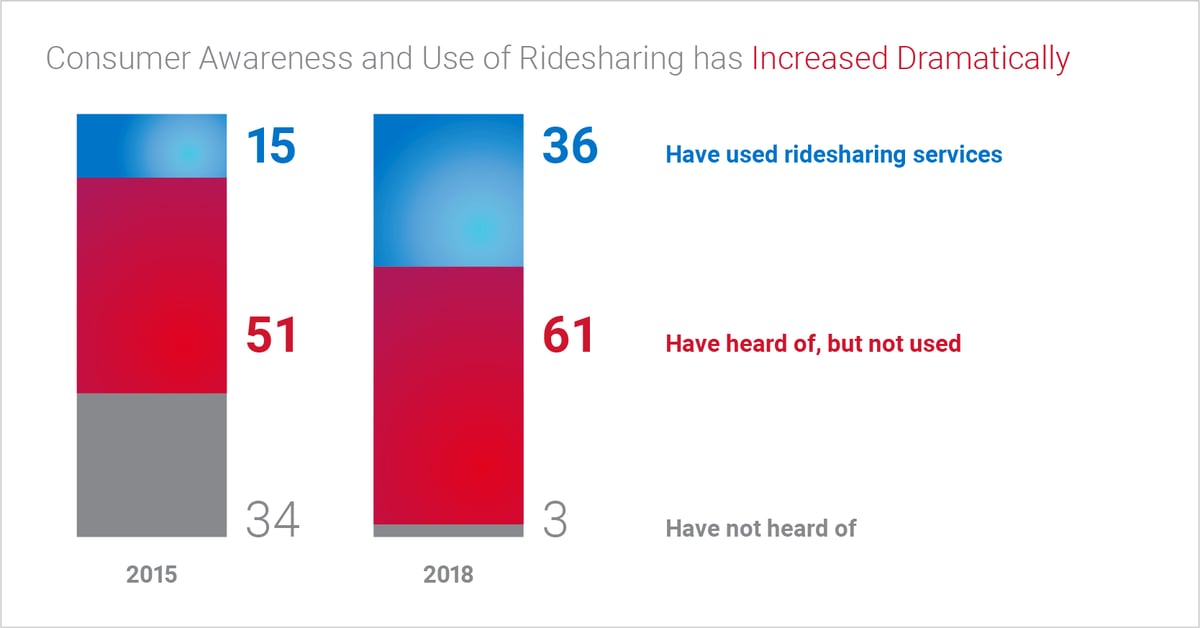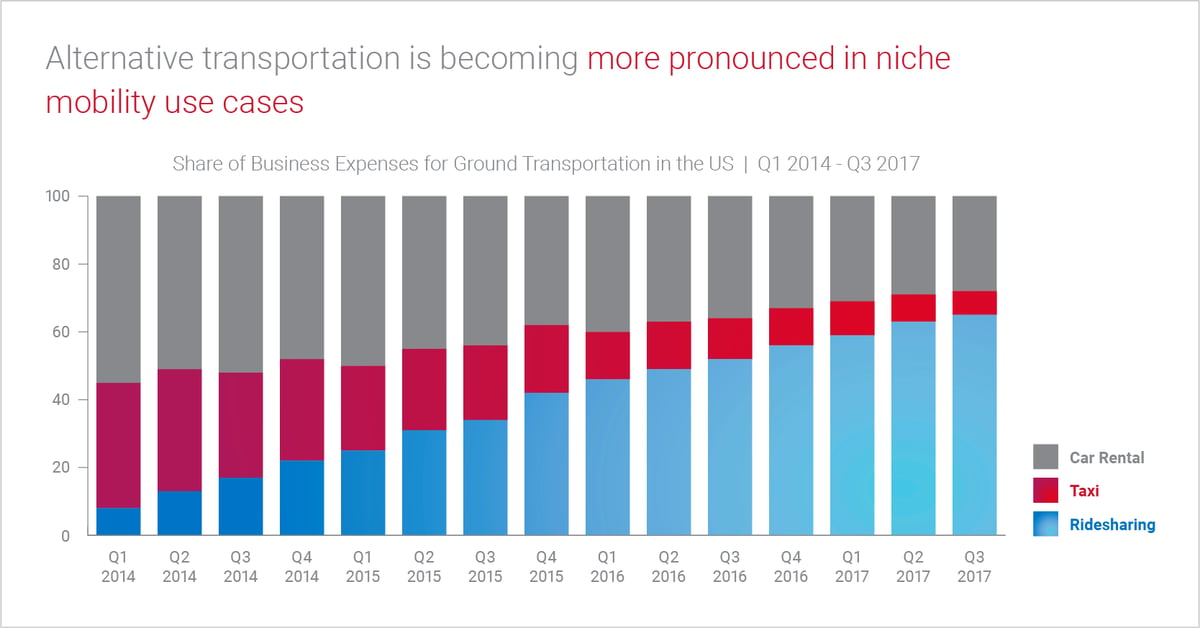 Ridesharing and Service Providers
One impact that ridesharing is already having in the roadside market is increased competition for service provider resources. Many business owners are finding it difficult to combat the increasing demand for vehicle drivers in rapidly growing industries such as ridesharing and delivery services. These resource competitors are offering not only better wages, but also safer working conditions, more flexible hours, and the ability for drivers to be their own boss. This comes at a challenging time for the tow industry and the impact to a smaller pool of available tow providers could significantly impact consumer experience. We continue to monitor this trend and partner with industry to develop solutions.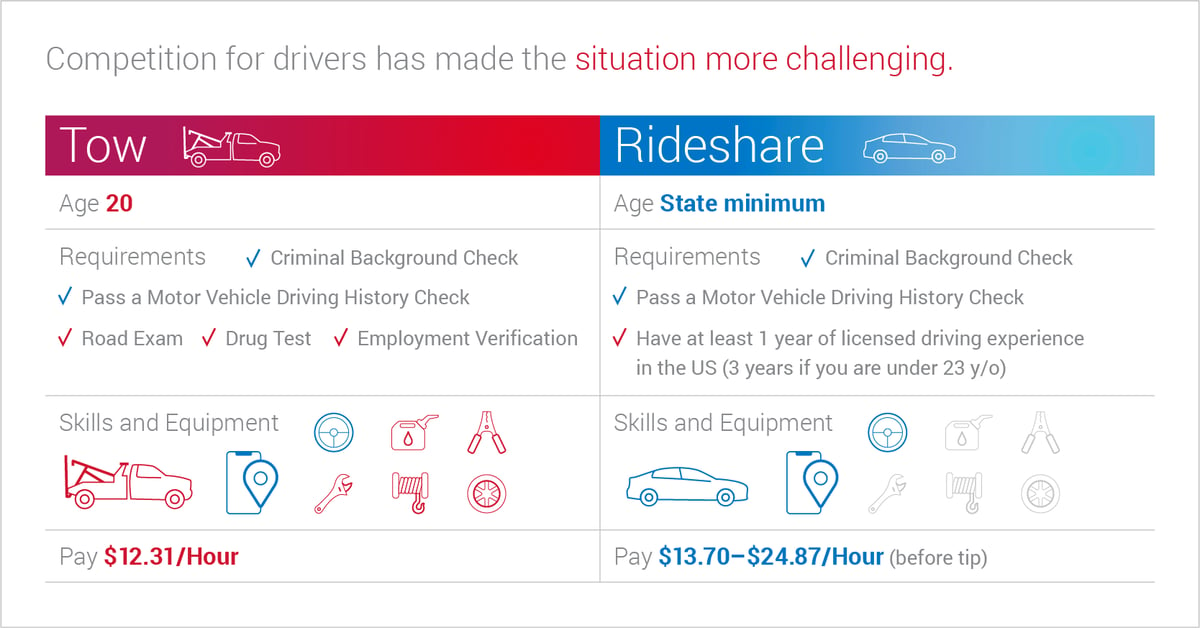 More Miles Per Vehicle
Two factors that impact the number of roadside events are vehicles miles travelled and age of the vehicle. On average, 1 in 3 vehicles experience a roadside incident every year. The average personal vehicle travels 13,476 year.[1] In contrast, a full time Lyft or Uber driver can drive more 1000 miles per week, more than 50,000 per year.[2] This means that rideshare vehicles are travelling nearly 4 times more than the average vehicle and might expect a roadside incident every 9 months. With this increased frequency, it will be critical to provide a clear, easy to use experience for roadside.
More Services Available
One exciting opportunity that ridesharing presents is new service offerings within roadside assistance. In the event of a roadside issue, consumers often need assistance getting on their way. Through partnerships with ridesharing companies, roadside assistance programs can be expanded to meet this need.
This is a unique opportunity to surprise and delight customers requiring a tow with the option for a convenient ride from the disablement location. In a recent Agero pilot, we found that the majority of customers in need of a ride accepted the transport offer and there was an NPS boost across all customers offered, regardless of whether they accepted.
More Policies
Rideshare drivers will likely need multiple policies to cover their personal and business needs. They may need to modify their personal insurance policy based on their status as driver. They may receive coverage from the rideshare sponsors (Lyft, Uber, etc.) when they are actively driving but they may also need a supplemental policy to cover them when they are waiting for a rideshare customer or idling. There may be an interesting opportunity to meet the unique roadside needs for these drivers through their supplemental policies.
Conclusion
We will continue to monitor the changing landscape of shared mobility to ensure the roadside experience meets the needs of drivers, consumers, providers and clients. We look forward to partnering with the industry to define solutions for this changing landscape. Until then, enjoy the ride.
---