Throughout Agero's 45+ year history, we have partnered with global brands to deliver roadside to their North American consumers. With the acquisition of Swoop and the release of Swoop Dispatch Management, we are thrilled with the opportunity to support roadside consumers worldwide. While there are certainly commonalities in roadside needs and expectations across different regions, there are key differences as well.
Global Roadside Needs
North America, with 355M vehicles, accounts for 22% of the registered vehicles worldwide. Europe and Asia account for 420M and 415M respectively. The roadside needs of global OEMs, motor clubs and insurers are consistent across all markets – they are looking for digital solutions that provide transparency, rich data and the ability to scale quickly. In addition, the driver's experience and stress is pretty universal. However, it is interesting to compare the services offered, service provider needs and repair networks globally.
What's Included: Services Offered to Consumers
There are certain services that are table stakes for all programs, regardless of region or sponsor. This includes 24/7 access, towing and basic roadside support including services like lockout, tire change, fuel delivery and battery jump. However, many regions have a wide variety of other services including glass, battery and tire replacement, roadside repair, and storage.
This kind of variability is to be expected. Different services and coverages often exist within tiers of program so it is only natural that this would be true across different regions. However, the key to supporting a range of services across programs or even within a program is a digital, flexible platform, making it easy to configure different services and programs, and deliver a seamless experience.
Help is On the Way: Service Provider Networks
In North America, the vast majority of service providers who respond to roadside requests are independently operated businesses contracted by roadside programs on a per event basis. In other regions, roadside support may come from independent contractors, in-house networks, or mobile technicians. ADAC, a leading motor club in Germany is famous for their dedicated fleets of "yellow angels" which support consumers with dedicated motorcycles, vehicles and even helicopters. Regardless of the network structure, service providers need the ability to set their services, rates and coverage area. In addition, roadside platforms need to enable the ability to dispatch to both the provider or directly to the driver.
In addition, in some regions more complicated repairs are supported roadside. This can impact the time needed per job for the driver, and often requires a higher level of involvement at the dealer level, though it generally shortens the driver's overall inconvenience time. For regions where these more specialized services are offered, it is critical that the services are configurable and able to be auto-dispatched.
Global Brands, Local Expertise
Global OEMs often differentiate which models are offered by region. This can be due to regulations, local preferences as well as branding. A key element of roadside can be bridging the relationship between the OEM and the local providers through vehicle training.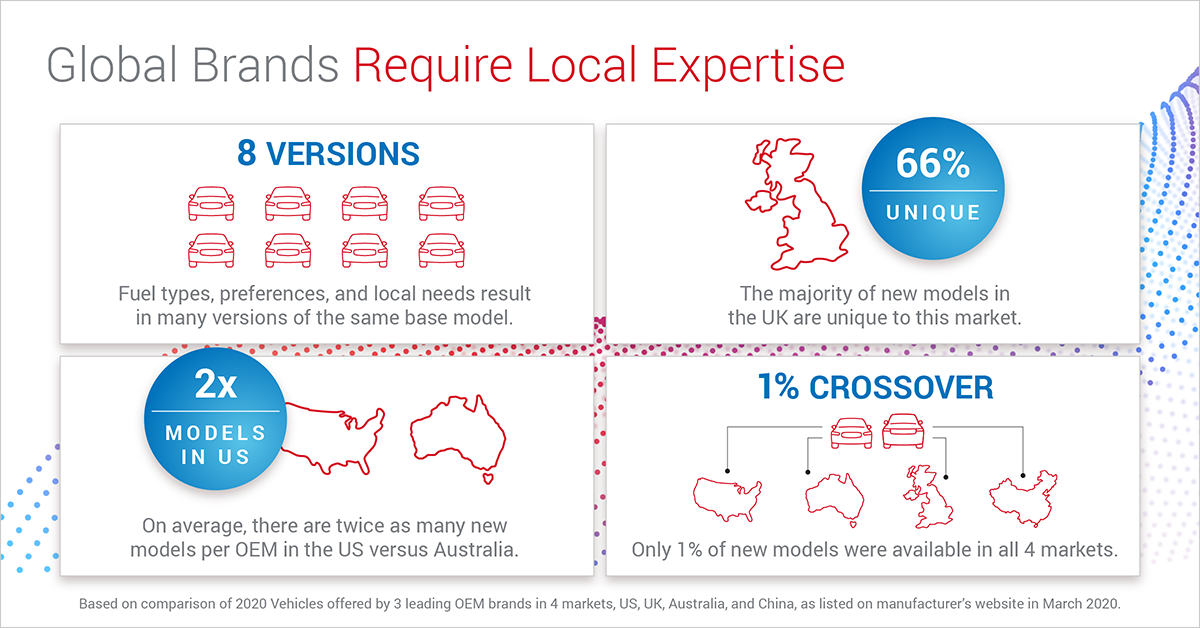 In addition, while consumers and OEM's tend to view North America as 3 large but distinct markets, support networks in Europe and Australia tend to be more regionally focused. For motorists traveling across regions, there are interesting and exciting opportunities for motor clubs, OEMs and global insurers to offer a consistent global experience by leveraging the same platform in combination with their regional networks.
Evolving automotive technology as well as the changing landscape of emissions and environmental regulations are likely to continue to perpetrate these differences across regions. Tools that easily support new use cases like out of charge and new technologies will be critical.
The Right Tools for the Job
The critical piece to delivering a smooth roadside experience is ensuring that you have the right tools for the job. This includes the right dispatch platform, enabling configurability to meet local needs. This also includes a flexible tow management platform so that providers have the information they need to support consumers. At Agero, we continue to monitor global roadside trends and build our expertise and to meet the needs of global OEMs and their consumers. Enjoy the ride!
Learn more about Swoop Dispatch Management.