Big data is shaping businesses and decisions across nearly every industry. This is particularly true when it comes to supporting drivers and their vehicles. Here's a run down on roadside's big data, what it takes to support it and how this shapes our business and our industry.
Big Data in Roadside: millions of events, each with a complex and detailed history every hour of every day
The three key components of big data are volume, the variety of data types, and the rate of growth.
Volume is relative. In 1999, 1 gigabyte, or about as many songs that fit on an ipod Shuffle, was considered big data. Today, big data is measured in terabytes (1000 gigabytes) or petabytes (1000 terabytes). At Agero, we collect and analyze over 60 terabytes of data every year. For a single roadside event, there are hundreds of parameters captured on intake – location data, time stamps, service request, vehicle type, make and model, required equipment to service the vehicle, and on and on. Then, to select the best provider for the job, every local provider's location, business attributes and past performance metrics are considered, processed and associated with the event. Finally, provider GPS location, pictures, signatures, and customer ratings – as well as unstructured attributes like phone calls, agent notes and voice data – are all captured. On average, there is more than 5 MB of raw data associated with every event.
Each event has a variety of data types, including both structured and unstructured. Structured data fits in rows and columns like intake attributes, tow mileage and coverage limits. Unstructured data includes notes from the customer, like, "It's really hot here. Please hurry and bring water," or notes from an agent such as, "Customer sounded stressed and I could hear children in the car." These notes and additional details offer important information about the customer and the situation but often don't fit neatly into a data table.
The third element of big data is the pace at which the data set is growing. For Agero, there are two parameters that lead to the growth of our data set:
The sheer volume of our business
The robustness and complexity of our technical stack
We continuously add features to support our customers, agents, and providers, while tracking additional attributes of each event so we can better understand the symptom, process, and solution. This perpetual process enables us to improve our products and services and leads to an increasingly large and complex data set associated with each event.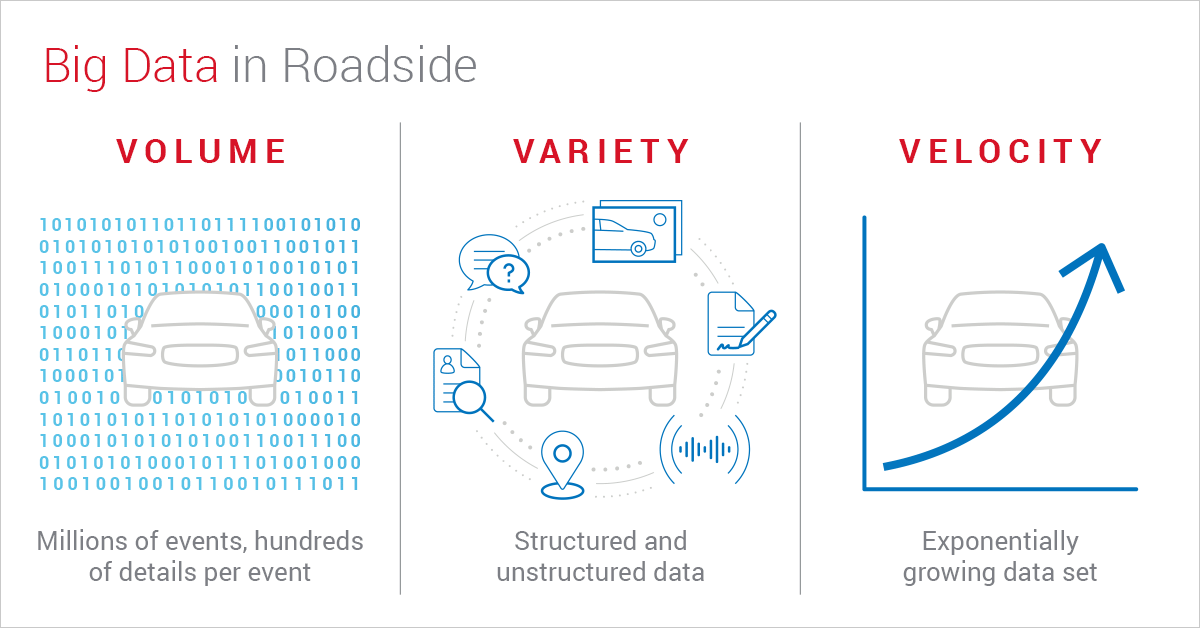 Converting Roadside Data to Process Improvements & Insights Through Engineering, Science and Analytics
Big data presents big opportunities to understand and transform business processes. However, given its size and complexity, taking action on all of this information requires a combination of engineering, data science and analytics.
First, we need to support our roadside data with the right infrastructure. Our data engineering team builds integrations from all the various data sources, and ensures the security and robustness of our data storage. This is not a "set it and forget it" task given the evolving needs related to security, maintenance and integrations. We are constantly enhancing our data structure and identifying new components and features to add.
Second, we need to develop and apply algorithms to identify trends and opportunities. Our data science team builds artificial intelligence models and machine learning capabilities. This serves a wide range of use cases across the business, including taking the raw voice and text inputs and using complex models to flag high risk events based on keywords, phrases, and even tone of voice.
Finally, our analytics team builds off of the foundation created by our engineering infrastructure and data science algorithms to generate insights and reporting. The output of this work comes in the form of key metrics and analytics that drive the performance of products and teams across our organization. These insights are also used to educate stakeholders and unlock further opportunities for innovation, including new features, products, capabilities and services.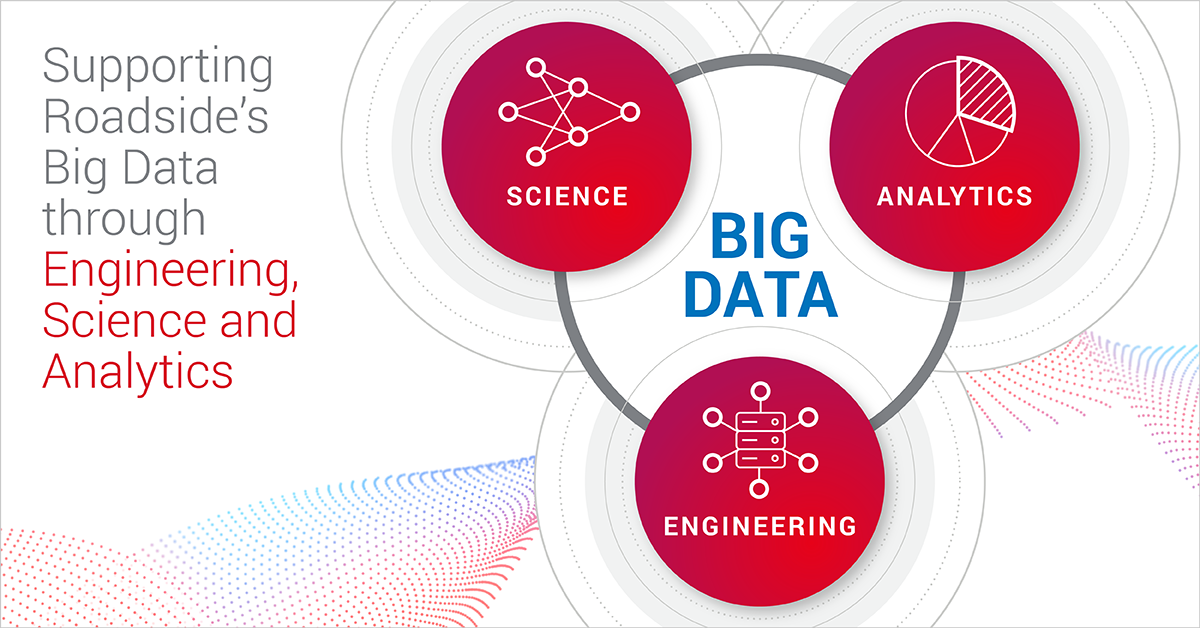 ROadside's Big Data powers a data-driven culture
The investment to build and support a robust information architecture is substantial. However, the benefits of this investment go far beyond the operational improvements, product improvements and insights that can be generated. In fact, the impact of this data capability extends across our organization and has implications across the whole driver and vehicle assistance industry.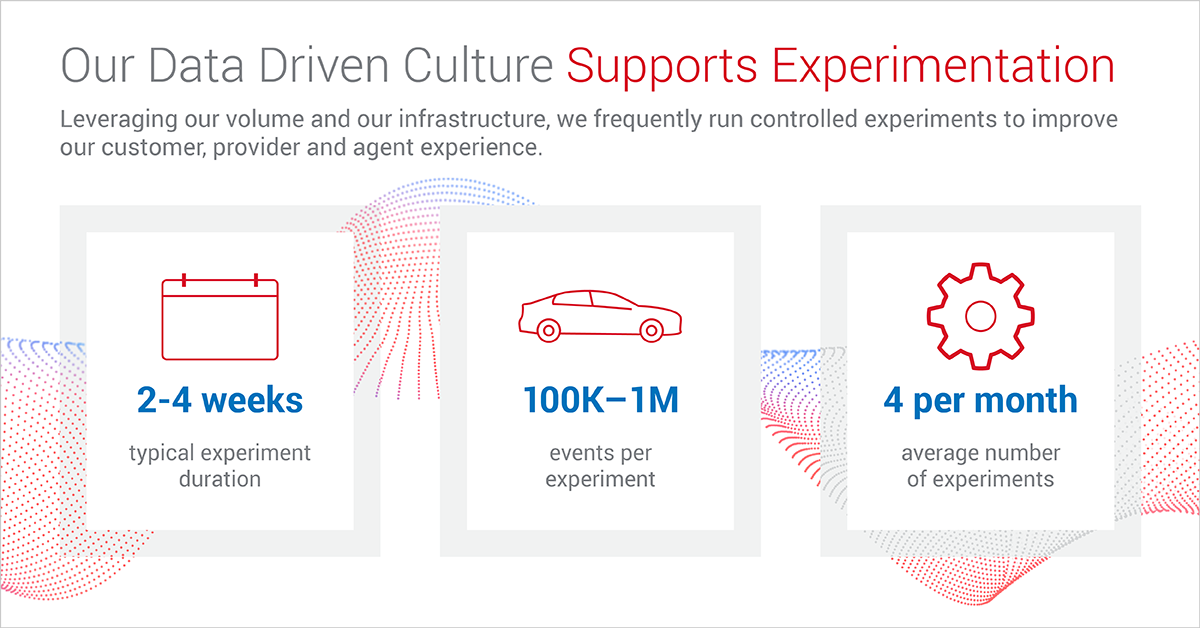 From an organizational perspective, our data capabilities reinforce a data-driven culture. This means that across all departments, team members can safely, securely and easily access data that helps us make smarter business decisions. We also have the infrastructure and agility to set up and experiment with our data science models, test new configurations in our dispatch platform, and learn quickly. This capability combined with a focus on data-driven decision-making enables and encourages experimentation and iteration, which we use to drive meaningful change. In the complex and ever-changing roadside ecosystem, our culture and IT capability are driving understanding, innovation and experience for our clients and their customers.