By now, we're all well aware that COVID-19 impacted nearly every industry worldwide. One observable impact in the auto insurance industry has been that the number of car accidents, vehicle deaths, and roadside events have all changed significantly, as have driving behaviors.
The profound effect on the insurance and automotive industries has had many companies in the space struggling to meet customer needs. To understand these changes and how to address them, we'll need to look deeper at the data at hand.
Let's begin.
The Impact During COVID
Of course, the initial impact of COVID shutdowns reduced the amount of traffic, as well as both roadside events and accidents as a result. Using Agero's roadside and accident dispatches for reference, roadside events dropped by 9.5% when comparing summer 2019 (pre-COVID) to summer 2020 (peak COVID). Using this same comparison, accident events were down 15.6% and the total average was down by 10%.
Despite the significant drop in number of vehicles on the road, another (rather unfortunate) statistic stood out: the number of vehicle-related deaths. In fact, 2020 saw the highest number of fatal accidents in 13 years, with the number of auto accident deaths estimated to be between 38 and 42 thousand. Experts believe this rise is correlated to the large number of drivers who rarely traveled further than their local grocery store for more than a year, leading to many out of practice drivers. Other key factors behind this unfortunate statistic include extreme speeds, failure to wear seatbelts, and driving under the influence.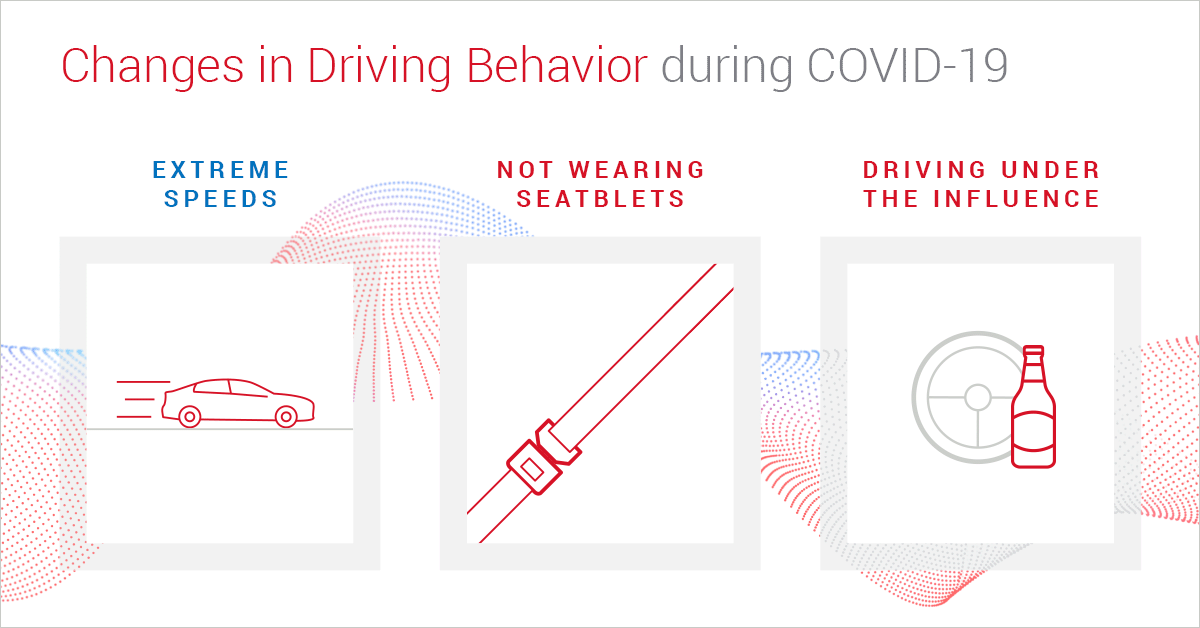 These changes in driving behavior not only make the roads more dangerous, but also have a substantial impact on insurance providers who've had to pay out damages. According to NSC Injury Facts as of August 2021, the estimated cost of these motor-vehicle deaths in 2020 was $474.4 billion.1
Returning to the Roads
As lockdowns lifted and vaccines became more widely available, people started returning to the roads in droves. Again using Agero's dispatch data as a proxy for overall traffic, we estimate that overall traffic increased by 19.4% when comparing peak COVID to Summer 2021.
Even when compared to pre-COVID, Summer 2021 still had noticeably higher vehicle volume: accident dispatches increased by 3.5%, roadside events increased by 7.8%, and average total for dispatches increased by 7.4%. It's easy to understand this spike – being cooped up for so long without the opportunity to travel or see friends and family left people eager to get back out in the world.
But between an increase in drivers, a seasonally busy period, and more reckless driving behaviors, Summer 2021 has been a perfect storm for auto accidents, and insurance providers have struggled to handle the increased demand. Call centers are flooded with claims calls. Repair shops are overloaded with vehicles needing attention and face delays due to supply chain interruptions. And service providers are overwhelmed dealing with an inordinate amount of tow cases, coupled with a deficit of drivers due to the challenging hiring market.
Adapting to an Evolving Environment
The COVID pandemic changed how we work, go to school, and interact with our community. It has certainly accelerated the adoption of digital technologies for nearly every industry and auto insurance is no exception. If we look at the data and behavioral changes, there is an opportunity to adjust and improve how we serve our customers.
Through the use of automated and digital tools, insurance providers can automatically detect accidents to immediately work with emergency services and get people the help they need as soon as possible. For insurance providers, this also expedites the FNOL process by getting a claims handler started on the claim quickly, reducing loss costs. In addition, mobile and web integrations can offload a significant portion of the insurance carrier's call center volume delivering a better experience for customers and agents. Supporting tools like accident scene photos also provide additional transparency and accuracy to further help accelerate cycle time.
With more cars back on the road and a rise in auto accidents, the need for an intuitive, digitally enabled accident management platform becomes as important as ever. Of course, nobody wants a crash to occur, but with accidents being an unfortunate inevitability, it's important to be prepared with the right tools.
At Agero, we believe in using innovative technology to support you, your agents, and your customers. Our tools are designed to improve the claims process in order to get your customers back on the road, faster. Reach out today to learn how Agero's Accident Management can help!
1. NSC Injury Facts updates this page regularly, so the statistics in the link above may have changed since the initial publish date. To view the statistics for the timeframe referenced here, please visit the archived page from August 2021.