As the coronavirus pandemic creates disruptions across the United States, consumers of all ages are facing a new normal. With social distancing measures, widespread remote work, and shuttered stores and public institutions, the ways that Americans go about their lives is changing in unprecedented ways. While Millennials and Gen Z were early adopters of digital tools and services prior to the pandemic, we are now seeing a new normal where the remaining technology laggards within Baby Boomers and Gen X are rapidly adopting digital technologies to help with their daily tasks. As they recognize the benefits of these technologies, consumers are likely to stick to them even once the pandemic has ended, leapfrogging digital to the forefront of many industries, and creating new expectations for digital consumer experiences.
Consumers young and old are turning to new digital channels
While they are stuck at home, many Americans are taking advantage of digital offerings for the first time. Nearly 20% of people who shopped for online groceries in the month of March were first-time online grocery shoppers, and web searches for food and grocery delivery services have surged by over 50%. Traditional categories that were previously seen as too sensitive to be done digitally have seen enormous adoption of digital. The growth of telemedicine in the US has been staggering, with platforms reporting over 1000% growth in virtual medical visits in certain parts of the country. Consumer lending has also seen a rapid shift to digital channels, with one digital platform reporting a greater than 400% increase in daily loan volume.
Adoption of new technology is not limited to younger generations. While many early adopters have been using digital for years, there was a large population of technology laggards within mainly Gen X and Baby Boomer groups. With the onset of COVID-19, these consumers are testing the waters and turning to the internet for everything from entertainment to shopping. Thirty-eight percent of Gen X and 21% of Boomers have started using streaming TV services or are using them more due to the pandemic. Thirty-five percent of Gen X and 23% of Boomers have switched to online shopping for products that they previously would have bought in store. In the workplace, where 20% of the labor force is older than 55, the closure of offices and adoption of remote working tools is exposing them to new technologies that will likely affect their technology usage outside the workplace as well.
Consumers are ready for new behaviors – especially roadside
As consumers leapfrog their adoption of digital channels, they are recognizing the benefits of these new tools. Past history has shown that when people are forced into new routines during an emergency, these shifts in behavior persist even after the crisis is over. During the 2014 London Tube strike, which shut down part of London's subway system, commuters were forced to find new ways to get to work. Although many experienced longer commutes during the strike, many discovered a better route and stuck with it when the strike ended.
As travel restrictions ease and American consumers get out on the road again, they are going to need roadside assistance. While cars have been idle for months, we expect flat tires and dead batteries to be a major problem as everyone hits the road again for summer. Consumers, now trained to expect digital experiences will be expecting digital options for roadside. You can prepare your consumers for an eventual roadside request by telling them how to download apps now that could come in handy later.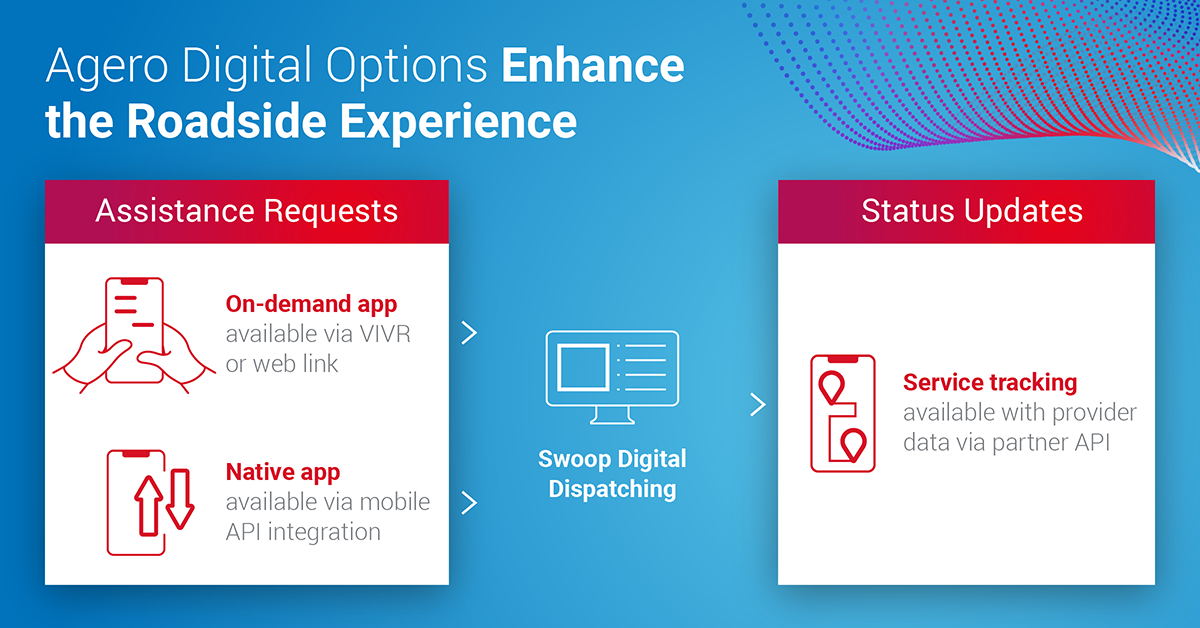 Agero's end-to-end digital roadside platform, powered by Swoop, enables a seamless and transparent experience that matches consumer expectations. Our APIs facilitate a direct digital connection with our service providers, collecting provider location and job status, and allowing consumers to receive updates and truck tracking through an app-like interface.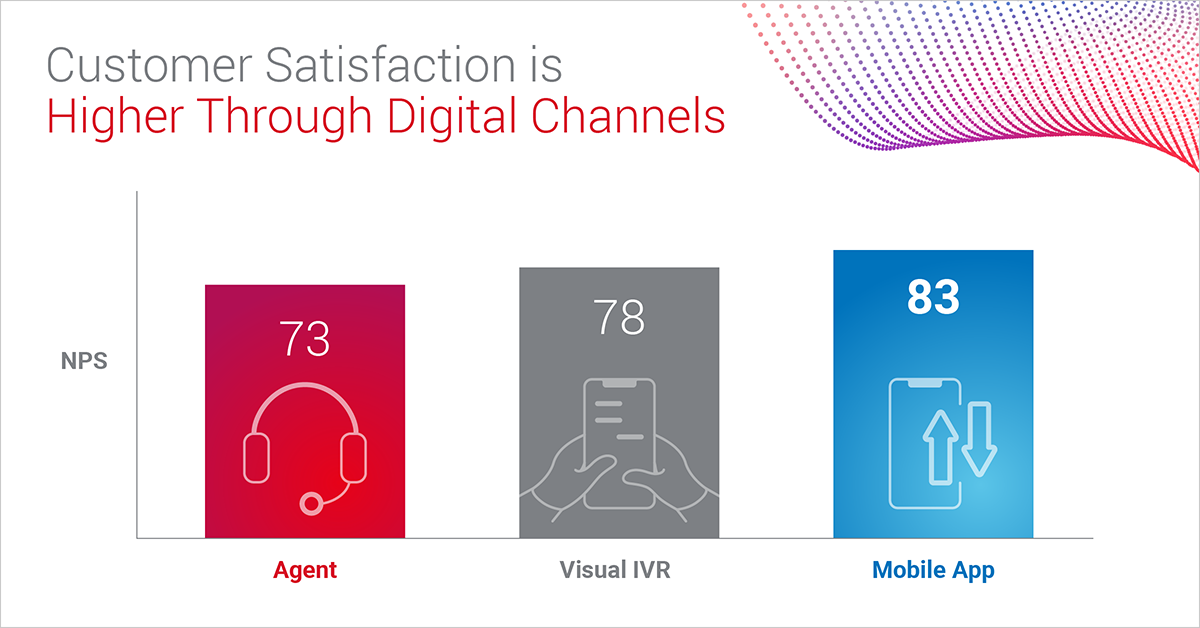 On the intake end, our branded On Demand App, accessible through our Visual Interactive Voice Response (VIVR) platform or through web links, allows consumers to submit a roadside request through their mobile device or computer without needing to install an app. Our Mobile API enables clients to build a digital request experience directly into their native app, creating a seamless brand experience.
The overall satisfaction measured by Net Promoter Score (NPS) for consumers who request service digitally is higher than those who initiate the process by phone, with a fully-integrated native app experience receiving the highest scores.
Preparing for the new digital roadside consumer
Now is the time to help your consumers, especially new digital converts, take advantage of your digital roadside experience. Here are a few recommendations on how to get ahead of the curve and facilitate the switch:
Enable digital requests through the On Demand App

– Ensure that your program is using Agero's On Demand App. Link to the On Demand App from your web site and native app with clear calls to action to direct traffic through the digital channel.
Educate consumers on their digital options

– Consumer awareness of digital channels is one of the biggest hurdles you will need to overcome to accelerate adoption. Consider email marketing, calls to action on your website, or even search engine optimization to encourage consumers to use Agero's On Demand App when requesting roadside assistance.
Create a seamless experience through your native app

– Use Agero's Mobile API to integrate digital roadside requests directly into your branded app. While this option requires additional investment and resources for implementation, it provides a meaningfully-improved consumer experience.
For some further recommendations on encouraging consumers to use your digital channels, check out some best practices here.