According to the Meriam-Webster Dictionary, a vocation is "a summons or strong inclination to a particular state or course of action." Professions generally thought of as vocations are priests, doctors, firefighters, or police officers. Rarely do we think of tow operators as doing the job because of an inner calling. And yet…
When asked what they enjoy most in their daily job, the answer we receive from our Service Providers is consistent: it's the satisfaction of helping someone who is having a terrible day.
Dealing with customers who find themselves in a stressful situation requires exceptional communication skills and a heavy dose of empathy. Take for example Steve, owner and driver at All Pro Towing in Council Bluffs, IA. It's not uncommon for Steve and his drivers to stay with customers until they have found arrangements for their large pets or small children (who, by law, cannot be transported in a tow truck), or to bring them water. Steve is the first to admit that "towing is either in your blood or not. You either love it or hate it."
Going the extra mile is what makes or breaks a Service Provider's reputation. Gary, owner and driver at Kokua Towing in Douglas County, OR, acknowledges that putting others before self has proven to be a huge benefit for the company. "More than 70% of the time, when you approach stressed out customers with a positive attitude, it pays off." Everything in Gary's towing operation reflects the values of honesty, integrity and dignity—from the "Customer First" mission statement to the name of the company (the Hawaiian word "Kokua" means to provide help unselfishly).
For many Service Providers, helping others is what it's all about. No matter how frustrated a customer might be, regardless of extreme temperatures, and at any time of day or night, they are ready for the call with a smile on their face. Gary remembers one particular roadside event that embodies his mission of putting customers first: on a snowy evening, Gary noticed a woman stamping around in two feet of snow on the side of the road, seemingly looking for help after her car broke down. He gave her a ride to the nearest motel where she would be able to call for assistance, and paid for the night and food for her and her two small children out of his own pocket. "She was lost, broke, with no means of transportation, and had two little ones in tow," Gary says. "Stories like this one are the reason why we do what we do."
Staying positive and showing empathy in all situations is not just the right thing to do, it's also good for business. Sana, dispatcher at family-owned GTS Towing in Springfield, VA, cannot be more pleased when she receives positive feedback from customers her team has helped. "We receive one to two calls a day from customers expressing their gratitude," says Sana. "There's nothing more gratifying than seeing someone take time out of their busy day to say, 'Thank You.'" Service Providers know that happy customers will talk about their roadside mishaps and the heroes who came to their rescue—and in this digital world, good ratings are invaluable.
Our own research suggests that consumers increasingly want to feel taken care of, as shown in the following chart, so understanding their needs and showing empathy are of paramount importance.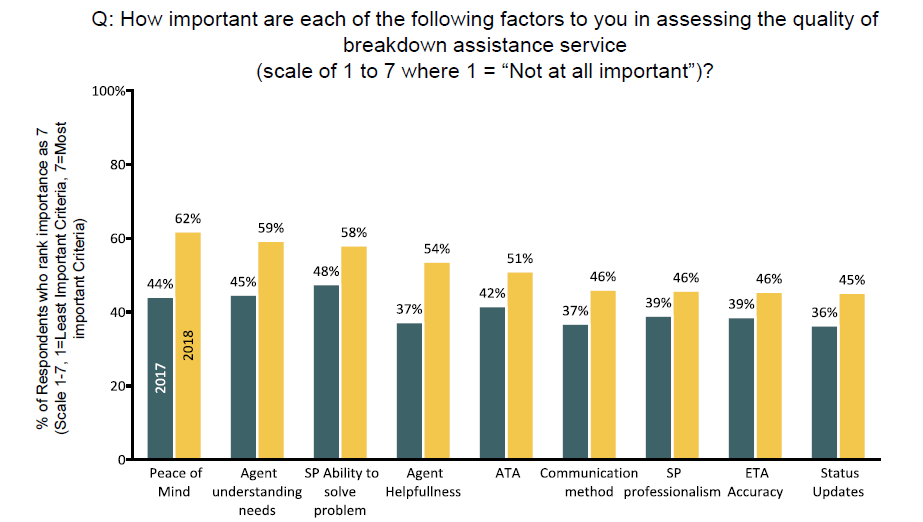 These results are based on the survey responses of 19,000 consumers in 2018.
Like doctors and firefighters, Service Providers are expected to practice their professions with high ethics and show empathy on the job, two qualities that require integrity, self-sacrifice, and a strong impulse to help others—a calling that we, at Agero, never cease to admire.