By combining Agero's Accident Scene Management (ASM) processes with Agero's Driver360® smartphone-based automatic crash detection algorithms, insurers are able to save up to $3 Billion of unnecessary costs while also improving the policyholder experience. In fact, this was the theme of a keynote address that Luis Quiroga, our VP of Product Strategy and Marketing, and I gave at the TU Automotive Connected Car Insurance show in Chicago this fall.
Let me break down exactly how this works…
In the typical non-drivable accident, the police will secure a municipal tow to move the damaged vehicle from the accident scene to a storage lot. Days later, the consumer will notify the insurance carrier of the loss and then the insurance carrier will work to determine where the vehicle is stored and coordinate the movement of the vehicle from the storage lot to the repair shop. When you add up the cost of the primary tow, the storage lot fees, the secondary tow, the processing of all the paperwork, and the five days of alternate transportation for the consumer, the insurance carrier has spent almost $1,000 and five days of cycle time before the repair shop can even begin its work. When you add up all these costs across all the non-drivable events you find that insurance carriers in the U.S. are effectively wasting over $3 Billion, which inevitably gets passed on to consumers in higher premium costs. There is a better way!
Common process without ASM partner and Insurer loss cost impact – Incremental loss cost of $875-$1,050
By using automated accident scene management, insurers can achieve a significantly higher proportion of primary tows, eliminate storage fees, secondary tows, and other unnecessary costs.
Here's why ASM is a cost saver...
Seconds after the policyholder gets into an accident, the insurance carrier is notified through eFNOL (First Notice of Loss). This kicks off a series of parallel events. Agero's specially-trained agents reach out to the policyholder to ascertain whether they need medical help, and if so, leverage our direct integrations into the PSAP (public safety answering point) community to ensure that emergency help is dispatched to the precise location as fast as possible. On a parallel track, Agero's Accident Scene Management platform works to immediately dispatch a tow truck with the goal of getting a towing provider working on behalf of the insurance carrier before another tow truck can arrive. In fact, Agero's accident tow network is so effective it is able to achieve a capture rate of over 90%. Once the tow truck arrives on scene, it captures information about the event and then coordinates with the insurance carrier through Agero's platform to determine the right destination for the vehicle – either an appropriate repair shop or a salvage yard. Instead of a repair shop receiving a car five days after an accident, it's now receiving that vehicle within hours.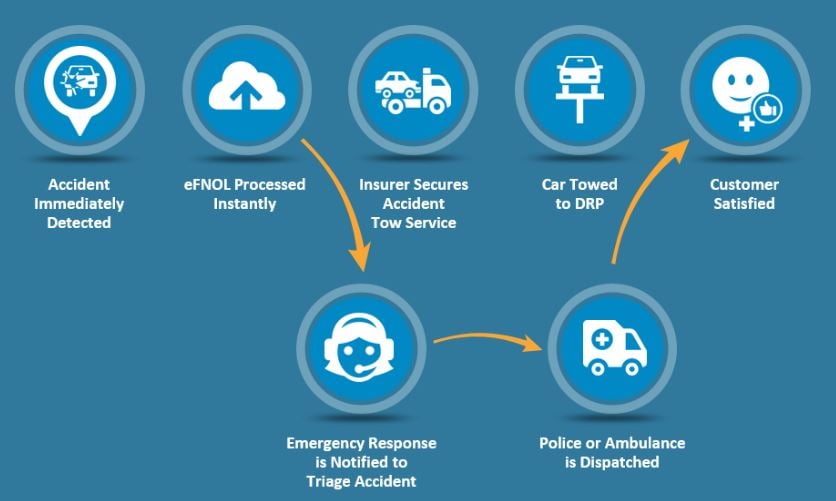 With ASM, Insurer avoids $500-$800 in storage, car rental, and misc. fees on 9-11% of accidents
Of course, the trick to making all of this work is the ability to enable eFNOL at the scene of the accident. This can be achieved through a couple of methods: 1) educating policyholders to call their carriers at the scene, or 2) leveraging telematics technology.
Let's go through both of these options…
Changing customer behavior can be complex and expensive, especially for events that happen rarely. That said, over decades of experience, we have found that effective insurers who provide roadside assistance programs can increase the rate of FNOL from the accident scene by over 6x. The reason is quite simple: Consumers get used to calling their insurer when they have a mechanical problem (i.e., flat tire, jumpstart or tow), which happens 2-3x more often than accidents. They become conditioned to call their carrier and are much more likely to call when they have an accident.
Another option is automated mobile crash detection. We feel this is the key to realizing the full potential of ASM, currently a highly underu­tilized tool since it requires an FNOL from the accident scene, which, as discussed above, happens too infrequently. The benefits of implementing an automated mobile solution include increased visibility into the accident scene, which helps reduce claims cycle time and severity, and a valuable new touchpoint for the policyholder in a moment of need. In addition, automated crash notification can speed up emergency response service on the accident scene, a powerful way to improve customer retention – not to mention the potential to save lives.
So how can Agero improve insurance carriers' bottom line?
Our automated mobile crash detection and notification solution is a highly effective technology that helps everybody – the customer and the insurance carrier. It provides holistic crash detection and emergency response while also offering driving behavior analysis to encourage better, safer driving. And because it's deployed through a smartphone, it requires no extra after-market hardware. Drivers simply interact with Driver360 through an insurance carrier-branded mobile app, making it easy for users to manage individual and family driving safety through coaching, parental views, speed and boundary alerts, location sharing and other practical features.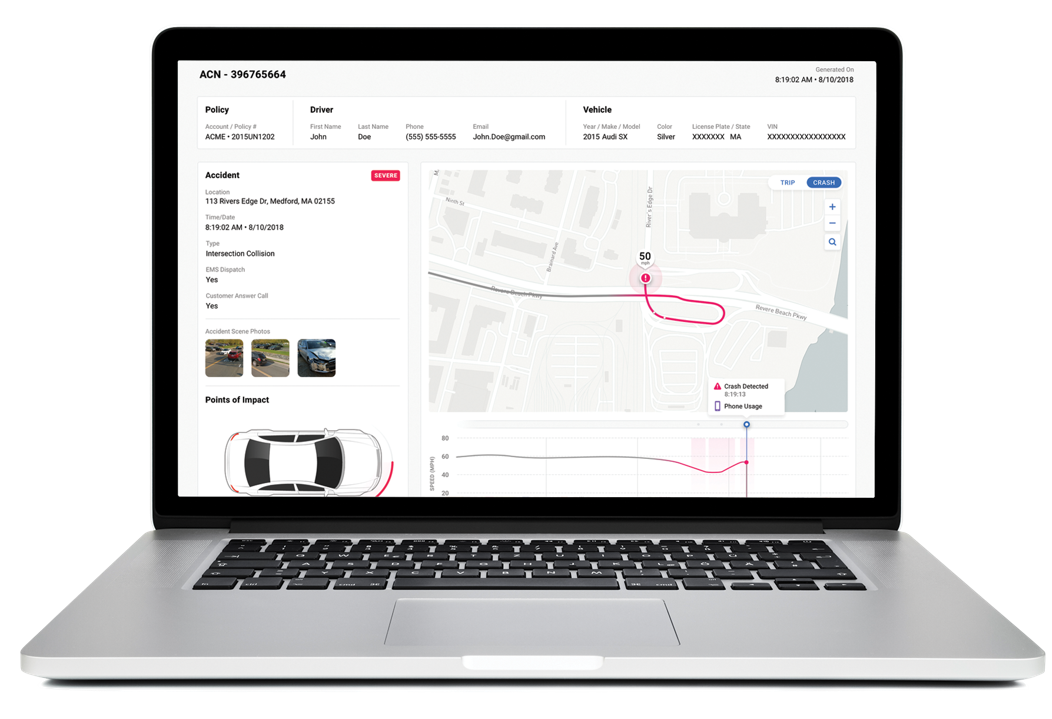 Detailed real-world data enables accident reconstruction
It's clear to me that the customer service experience can be differentiated through innovative crash detection technology. Consider this: At the moment, 4% of drivers in a severe accident require emergency medical services (EMS). Yet, amazingly, many still face challenges getting that help. By allowing the insurer to be the hero at the accident scene, automatic crash detection and emergency response capabilities provide a critical new touchpoint in the policyholder's lifecycle. The value of this is further enhanced by Driver360's ability to accelerate claim intake with key data, including driver/vehicle info, crash time, GPS location, and speed.
I strongly believe that creating a better, more seamless customer experience – one centered on faster cycle times, added peace of mind, and improved driving skills – is an innovative and effective way to cut costs and build customer loyalty. It's a winner all around.