Vehicle storage and the costs that accompany it are an inescapable reality for automotive insurers. Accident scene management partners with deep expertise and sophisticated technology can help improve FNOL time and improve the rate of vehicle recovery at the accident scene before municipal responders arrive. Mobile telematics with crash detection automatically notifies the insurer at the moment of a crash, taking that decision out of the consumer's hands and making accident scene recovery more likely.
However, only 9% of accidents are reported at the accident scene, meaning that most other vehicles continue to go to storage. Many consumers are not aware to call their insurance company right away following an accident, and certain roadways are restricted to municipally-contracted contractors, resulting in third parties towing and storing the vehicles.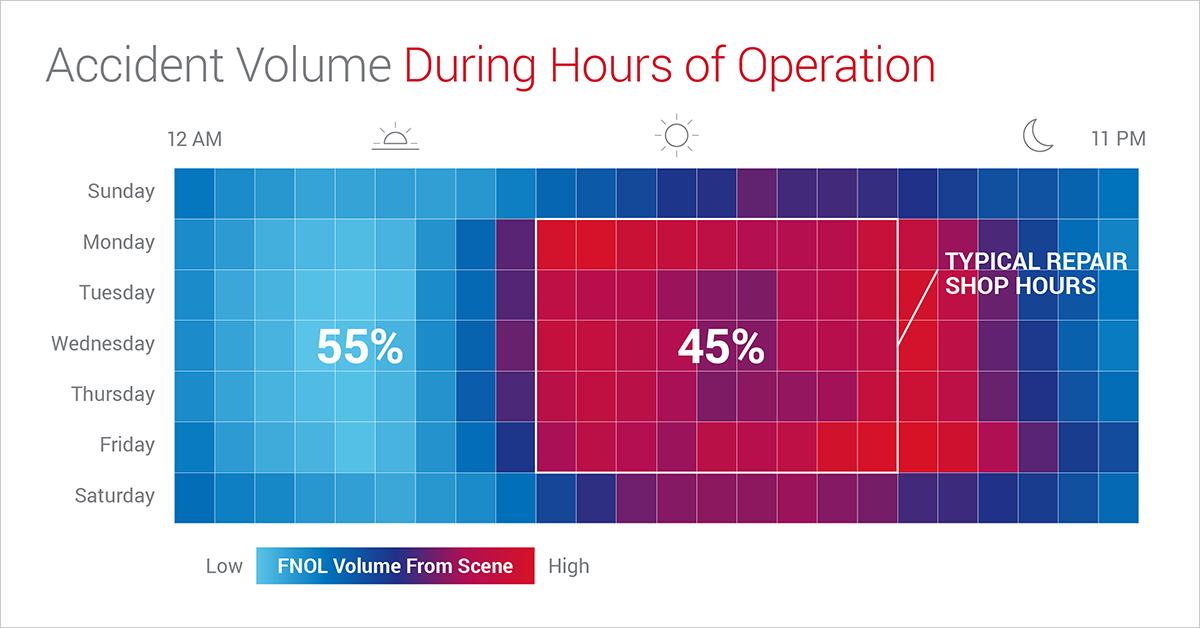 In addition, nearly half of accidents occur outside of typical repair shop hours, 8AM-6PM Monday-Friday, so these vehicles need to be secured for a period of time before they can be delivered to a preferred repair shop.
Storage costs can add up
In addition to the tow-in costs, storage facilities charge based on daily and/or hourly rates, generally dictated by state regulation, so once a vehicle moves into storage it becomes a race against time to release it. Storage release itself can be complex. 62% of vehicle releases pose some challenge, whether requiring cash payment, specific paperwork, or having the owner appear in person to complete the release, which could extend the time to release. Besides charging for towing and storage, facilities have the right to charge for additional services that they deem necessary.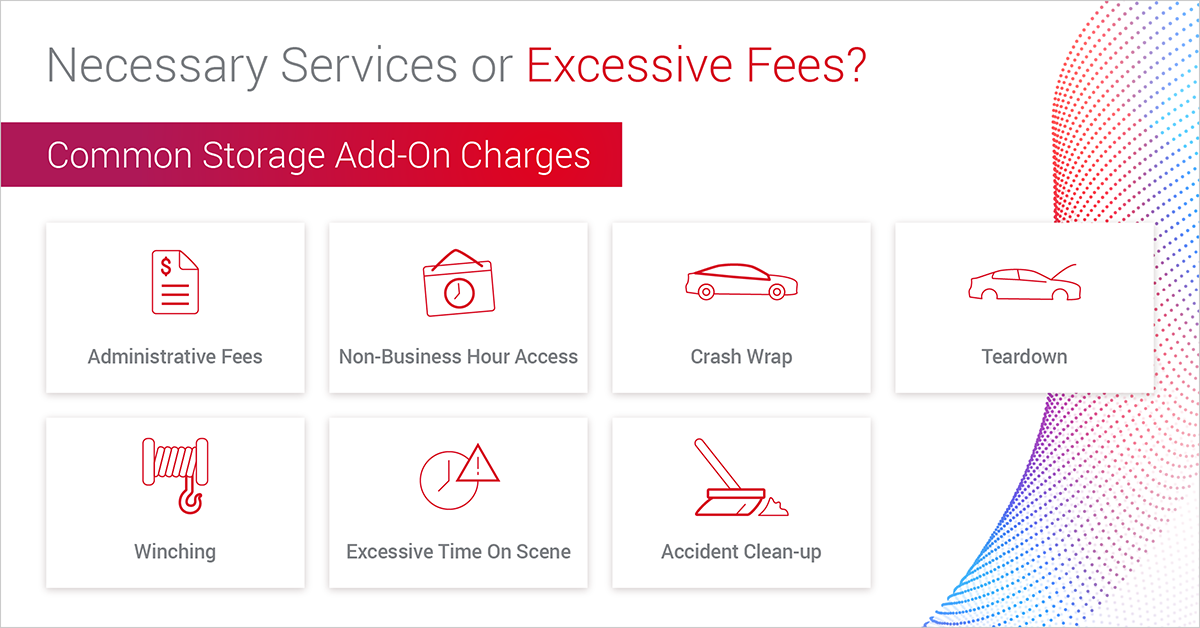 These services may include:
Administrative fees
Non-business hour access
Crash wrap
Teardown
Winching
Excess time at the accident scene
Accident clean-up
Mitigating release fees
The primary objective of any vehicle release management program is to extract the vehicle from the storage facility as quickly as possible and deliver it to the auto insurer's preferred repair shop. Reducing the time in storage results not only in lower storage costs, but also in lower downstream claims costs such as car rentals. Understanding the complex system of storage release across the country and having the expertise to coordinate with different stakeholders in the process is key to accelerating the vehicle release process.
Storage time is not the only lever available to reduce costs. Many vehicle release cases involve excessive release fees, where storage facilities add on service charges beyond reasonable accommodation. In these situations, it is important to be able to recognize unnecessary charges and negotiate with the storage facility to clear any excess fees before the vehicle is released.
Select the right partner for storage negotiation and vehicle release management
Incorporating storage negotiation into an accident management program can help insurers further reduce claims severity.
Here are a few things for automotive insurers to consider when looking for the right partner:
Active fee mitigation: Storage fee negotiation requires the effort to proactively review every charge, ensure it accurately reflects the services required, and then engage the storage facility to reconcile discrepancies. This is generally not included in basic accident management program offerings.
Full service efficiencies: Working with one partner who offers an end-to-end solution for vehicle release management and storage negotiation helps to reduce cycle time and ensure that release is obtained as soon as possible. Multiple partners working on one case may introduce inefficiencies that result in additional storage days and, ultimately, higher costs. In addition, engaging multiple partners creates challenges in validating actual savings, as the release charges negotiated by phone may not be the actual fees demanded by the storage facility at the time of vehicle release.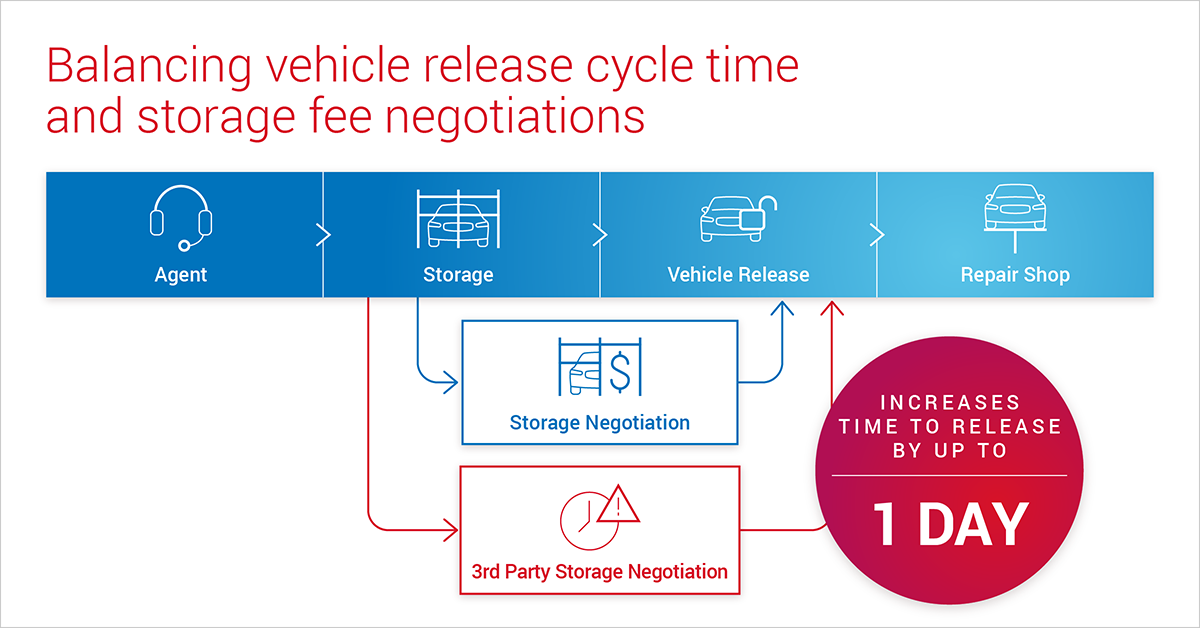 Data intelligence: Successful storage negotiation relies on being able to detect excess charges, even when they are not readily apparent. Analytics driven by historical data can help to detect outlier charges based on a range of different variables. Only partners with years of experience would have the breadth of accident data to sufficiently power robust analytics.
Local expertise: All states and many municipalities have different rules on allowable storage release fees. It requires not only deep expertise to understand the complexities of each locale, but also the proper training and systems to ensure that every agent is armed with the knowledge necessary to conduct successful storage fee negotiations.