We know a thing or two about helping customers on the side of the road. After supporting millions of customers every year for decades, we see the robustness of our systems, the training of our people and the depth of our network leveraged every day, on every job. However, these capabilities are truly tested on our toughest days when weather and traffic and other challenging conditions collide. To manage challenging conditions and events systematically and transparently, we are continuously enhancing the built-in tools within the Swoop platform.
These tools empower our team and the assistance companies running on Swoop to support their clients and customers through standard everyday events as well as the exceptions. This requires visibility into events that need extra attention, clear processes for escalating support when needed, full case history, and task management to ensure that cases continue moving in the right direction at each turn in the road.
Seeing is Believing
The first step in managing a challenging job is recognizing that additional support is required. Within Swoop, we have alerts and escalations that will automatically detect and flag at-risk events. For example, if a job is not assigned to a provider through auto-dispatch, the system will flag the job, triggering an alert. The alert will push this job to an associate in our Dispatch Solutions Center to address. In addition, this flag is visible to the assistance company and client users both in the event status and in the job history, offering full visibility from start to finish.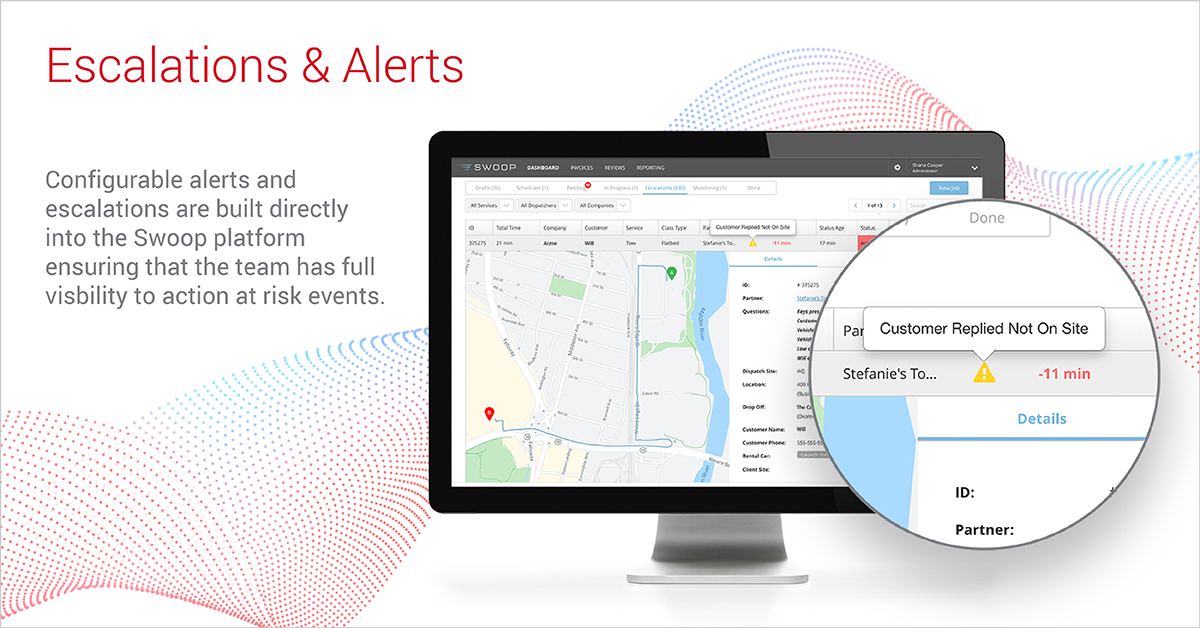 Swoop's escalations and alerts are configurable, enabling assistance companies to tailor settings to match client programs and business objectives.
Getting the Full Story
The goal for assistance companies is always to get customers back on their way as quickly as possible. The vast majority of the time, the right provider is assigned to the job, and they arrive quickly on site, service the customer and get them on their way. But sometimes things get complicated. For instance, the spare tire might be damaged so instead of a tire change, the customer needs a tow. Sometimes providers are delayed and a new provider needs to be assigned. We know from experience that to best support these events and determine the best next steps, assistance companies need the full story.
The case management structure in Swoop automatically groups events from the same customer within a short period of time so that the full scope of the situation can be easily viewed. This ensures that associates supporting live cases from our Customer Solutions Center can see the full history of the event, even if multiple jobs and subtasks were created.
This avoids duplication or confusion even during a complex event and ensures that quick decisive action can be taken to provide the best possible outcome.
Going the Extra Mile
Some events just need a bit more attention, extra steps and follow through to make sure the customer is well cared for. The key to successfully supporting millions of events is to make sure that there is structure, support, and visibility when those extra steps are needed to ensure a speedy resolution. For example, getting the customer back on their way may require something as complex as a rental car or hotel reservations. Sometimes just a simple follow-up call is all that's needed. Trained associates have great instincts, but they need solutions to track these efforts and sticky notes just don't cut it.
With Swoop, these tasks can all be created and tracked directly within the platform. Task Management makes it easy to create, assign and complete additional activities within a job. A list of open tasks can be viewed, ensuring that the whole team has full visibility. This is especially useful for handing off tasks at the end of a shift.
We are in the business of using the best practices we've learned over decades of experience and creating a platform that assistance companies can implement, easily and cleanly. Task management supports the team with clear intuitive tools.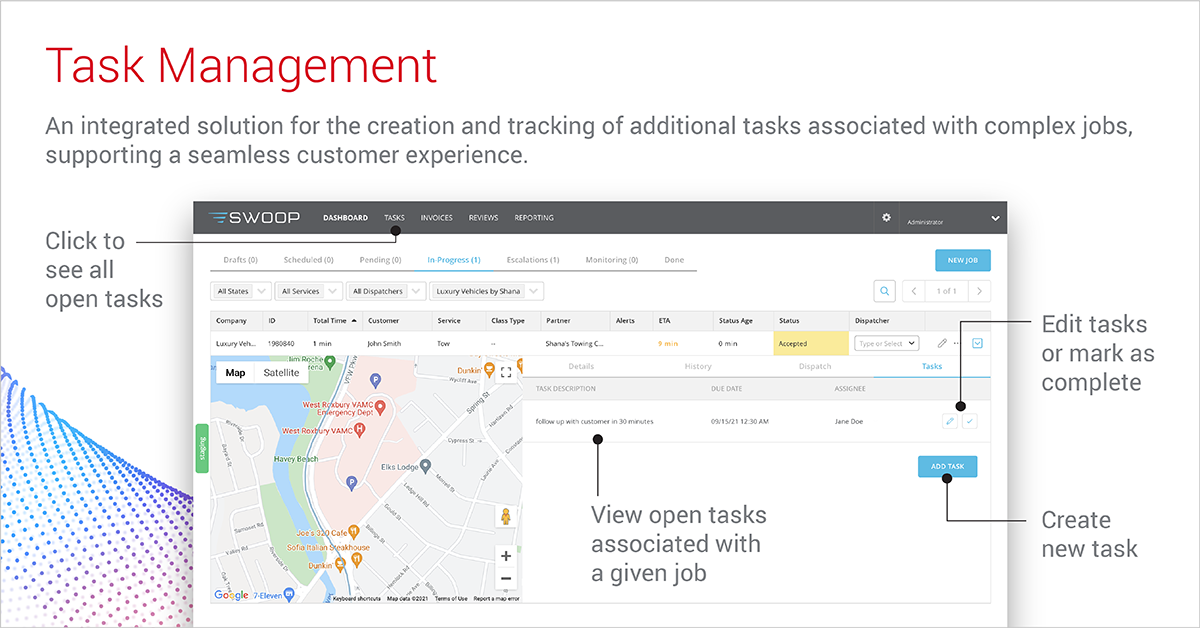 Operationalizing the Exception
Supporting customers through roadside events can be messy and complex. The key to success is operationalizing the exceptional instincts and behaviors of our team with tools integrated directly in our award-winning platform. In addition to supporting our clients and their customers, the best practices that are built directly into our platform offer a leg up for assistance companies in the US and around the world. To stay ahead of the twists and turns in the road ahead, we are committed to ensuring that our platform is equally adept at supporting both the everyday event and the exceptions to the rule.