Our Field Operations Manager, Bichelle Jeffries, walks us through how she supports the Agero provider network in her territory. She, along with her colleagues in major metros across the country, help the Agero provider network succeed.
A sophisticated balance of technology, call center operations, and service providers fuels our roadside assistance solution. Empowering our network of contracted service providers is a critical component of success for our clients and their customers. We vet and manage a nationwide network by monitoring performance metrics and meeting with our providers in their own shops and offices.
As a Field Operations Manager at Agero, I work with providers across 4 states and 21 major metro areas to help align their business needs with ours, educate them on tools and tactics to make their jobs easier, and to identify and support primary providers.
What does it mean to be 'in the field?'
My role allows me the wonderful opportunity to travel to providers' offices and operational hubs within my territory. My favorite part of the job is interacting with providers face-to-face, getting to tour their facilities, and being given the opportunity to better understand how they operate. These visits strengthen the relationships we have with our providers. They are also beneficial for providers because they get the chance to learn best practices, tips and tools and see first hand that we are invested in their success.
Over the past year, we've tripled the number of Field Operations Managers on our team. By transitioning our Network Management team to field roles, other field reps and I have built relationships with providers that have helped produce better performance and service to our customers.
Business Alignment
Our goal is to safely get customers off the side of the road as quickly as possible. This objective is dependent on finding the best provider who will promptly accept the call and deliver on their proposed ETA. I am constantly reaching out to providers in my territory who have low call acceptance or need to improve on meeting their arrival times. These issues can be caused by numerous factors within their businesses – for example, there may be zip codes or neighborhoods that are challenging for a provider to service. It is my job to coach them and find creative ways to help them boost their call acceptance.
I work with providers to find the right amount of volume within an optimized territory that matches their business goals and sets them up for success. Throughout that process, I often learn key details about their capacity and coverage. This helps me identify potential issues and find solutions to fill the gaps.
We recognize the enormous pressure that the towing industry is under regarding rising costs, particularly around insurance, equipment, and labor. Our field team tends to act as business consultants: we encourage our providers to prioritize our business through different incentives and to pursue opportunities to be the primary provider for their territory, where available. Primary providers are offered the first right of refusal in their assigned territory, which results in a higher volume of jobs. In exchange, primary providers agree to higher expectations for service level agreements, leading to better service delivery for our customers.
A significant part of my role in managing our network is identifying, coaching, and supporting our providers. We leverage key performance metrics such as call acceptance, ETA, ETA accuracy, and customer satisfaction to evaluate our providers. We use this data to coach where needed, as well as to identify up-and-coming providers who may be well suited to become primary providers. Considering the volume of independent businesses in our network, it is critical to use both data and a consistent stream of communication to gain a clear picture of service provider performance.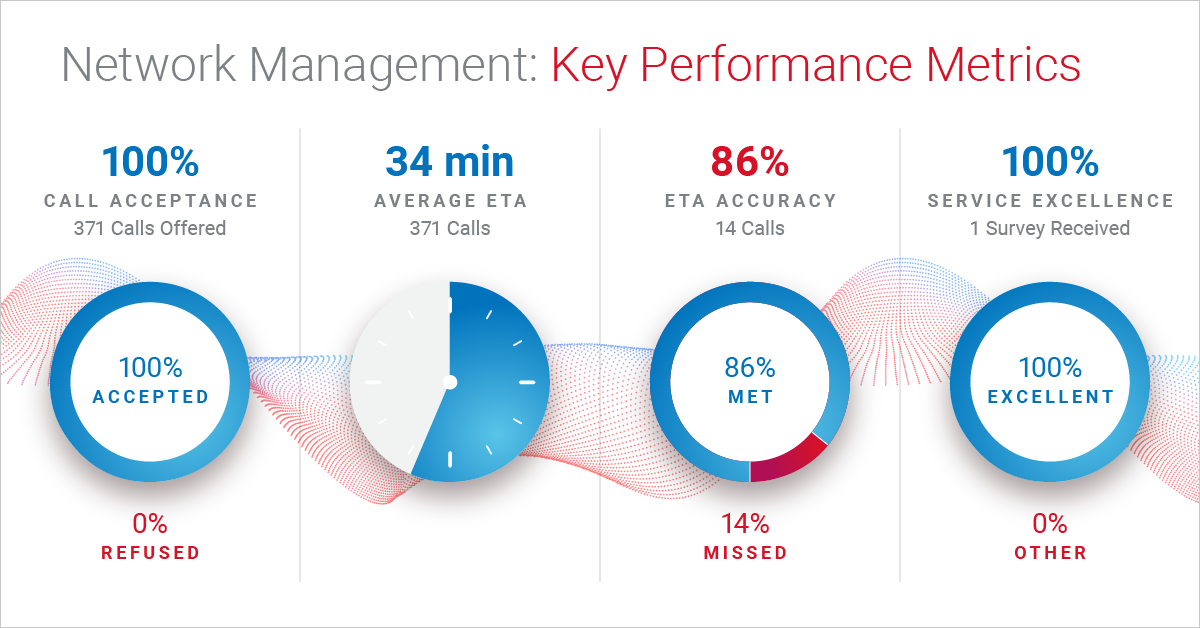 Tools and Tech
We know the impact the right tools can make. We have invested in our own software through Swoop, while also connecting to other digital dispatching solutions through our provider API. These options give providers a broad range of choices in how they accept dispatches from us. Part of my role is to educate the providers in my territory on the available solutions in the market and to help them digitize their businesses. The latest tools and technologies that the industry has to offer can improve business efficiency and also help them offer the best possible service.
Because customer experience is a key focus for us, I often work with my providers on best practices to improve the user experience and reduce confusion down the line. For example, proper use of the driver app can ensure accurate truck tracking. In addition, capturing pictures at the scene can create an accurate record of the vehicle condition. Lastly, by helping providers understand job types and establish realistic expectations early in the process, we can reduce issues that arise from additional charges on jobs.
Our provider network is a core component of our roadside solution. It is critical that service technicians have the tools, technology, and best practices to support both their businesses and our consumers. I'm proud to do my part, working with providers in the East Region to help our customers get back on the road as quickly and safely as possible.