Our associates work around the clock to get drivers back on the road after a breakdown or accident. Fortunately, we don't need to do this alone. Agero is part of an incredible ecosystem of roadside service providers, repair shops, dealerships, and software companies who, along with our clients, work together towards this common goal.
One way we connect with our roadside suppliers is through our Provider Software API. This API provides a connection between our end-to-end digital roadside platform and dispatch software solutions that roadside and tow companies use to manage their businesses. Working behind the scenes, the Provider Software API is a vital link that helps our service providers deliver superior service and enables our digital customer experience.
Helping Service Providers Provide Better Service
Nearly 90% of all roadside events in the United States are performed by service providers who use a dispatch software platform. There are several dispatch software packages available for the roadside assistance industry, each with different features and price points. At Agero, we want our service providers to use the dispatch software that best suits them, without forcing them to toggle back and forth between different platform. Our Provider Software API can connect with almost any dispatch software platform, allowing our service providers to manage their Agero jobs as efficiently as possible.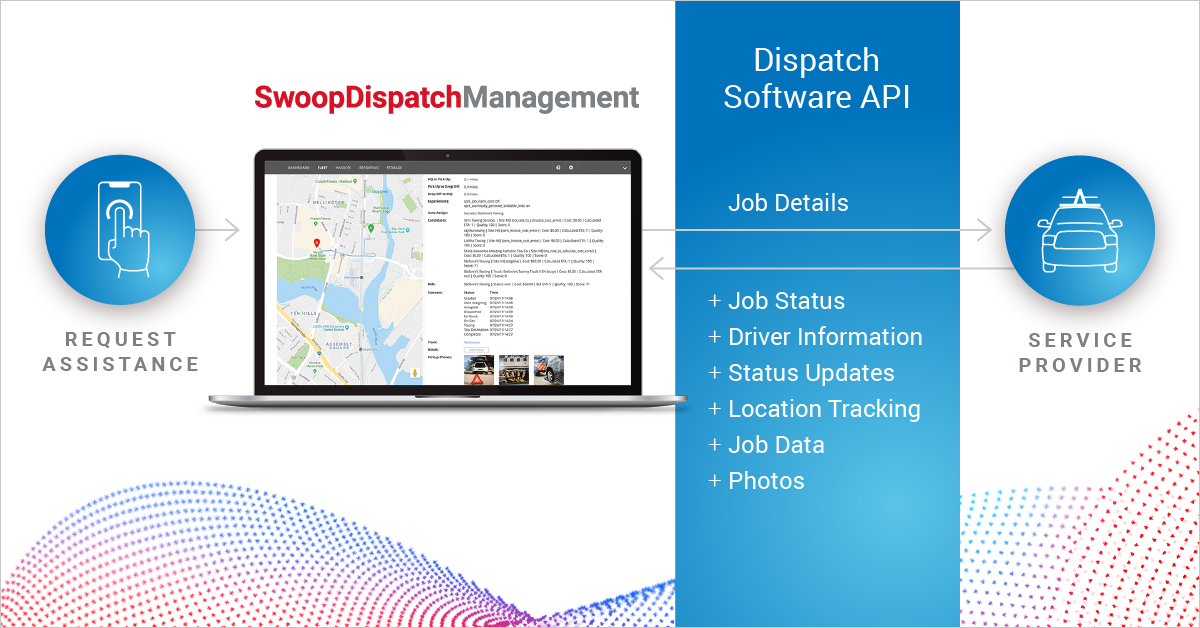 Our API enables Agero to send digital dispatches directly to service providers' dispatch software dashboards. All job information, including the customer's GPS-validated location, is transmitted digitally, ensuring data accuracy and minimizing any miscommunication. Dispatchers accept a job at the click of a button and can forward the same information on to their drivers in the field. The API's two-way connection means that status updates are automatically sent to Agero when trucks are dispatched and services are completed, reducing phone time between dispatchers and Agero's contact center. All of this creates a streamlined process and lets our network participants focus on what matters most – providing quick and exceptional assistance to our customers.
Providing a Better Customer Experience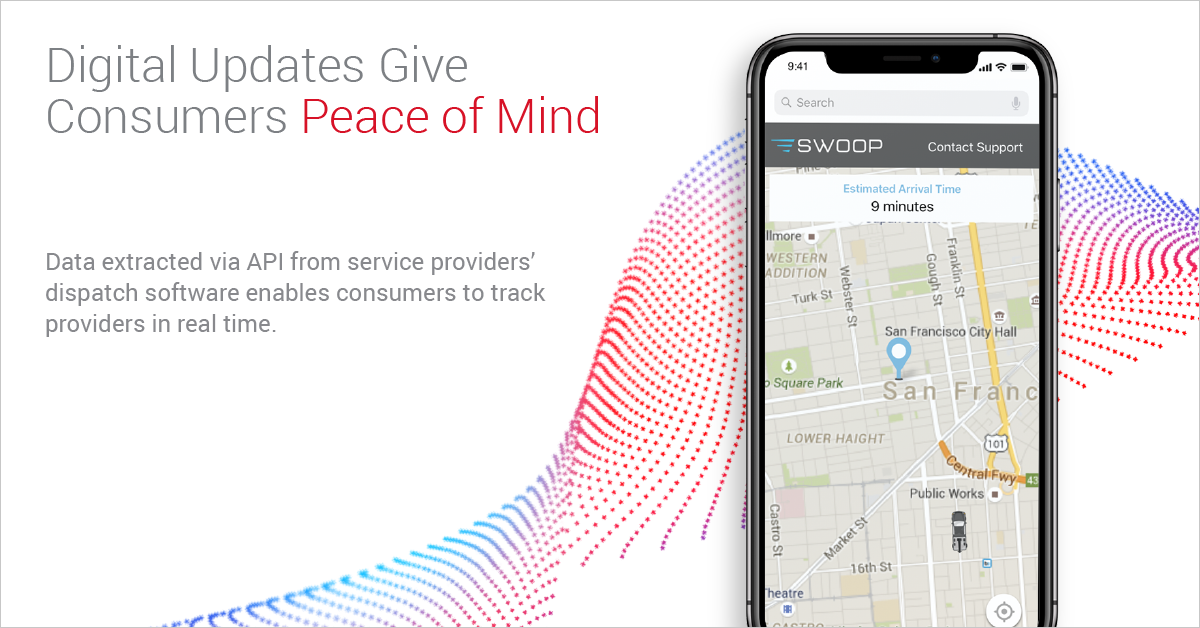 The Provider Software API is a key component to providing a seamless and transparent customer experience. Digital dispatches reduce the time from request to dispatch, speeding up the delivery of roadside assistance. Customers receive automatic status updates on their phone as the service provider dispatches a truck, arrives on-scene, and completes the service. The API also enables customers to receive real-time ETA updates based on the service provider's location, and in many cases, they can see where their truck is on a map. Together, these features provide peace of mind to roadside customers as they wait on the side of the road for assistance to arrive.
Recent Improvements
We are always exploring new features to add to our Roadside Software API to improve our service providers' experience, provide enhanced visibility to our customers, and expand the data available in our client reporting tools. Here are some recent releases:
Enhanced truck tracking – Our roadside customers love getting digital updates on the status of their service provider and knowing where their service provider is in real time. We recently improved our API to significantly increase the number of trucks for which we receive location data.
On-scene status auto-advance – For busy customers who want to get on with their day while waiting for roadside assistance to arrive, status updates make it easier to know when to return to their car and connect with the service provider. Here at Agero, we also track the status of our in-progress jobs and follow up with the customer if the service provider is late. Our API now automatically marks service providers "on-scene" as soon as they break a geofence around the breakdown location, which triggers an immediate notification to the customer and advances the job status in Swoop.
On-scene photo capture – Photos taken at the breakdown scene and at the completion of a tow help protect service providers and customers against any potential damages and claims. These photos are now stored in the case history for each roadside event to help Agero and our clients quickly resolve any customer complaints or issues that may arise.
Job pricing – Service providers now have access to the price they will be paid for a job before they accept it. This feature helps increase transparency, assures service providers that they will be compensated fairly for their hard work, and encourages them to accept more jobs.
We are excited about the opportunities to improve the experience for all of our stakeholders, and we continue to invest in improvements and new features for our Roadside Software API – stay in the loop with our blog to learn about them as they are released.