For those of us who grew up watching KITT on Knight Rider, we've been wondering about self-driving cars for a long time but bringing them to market has had both technology and regulatory challenges. And like an impatient kid in the backseat, we continue to ask if we are there yet. While there has certainly been tremendous progress in clearing both technology and regulatory hurdles, it will be another 10-20 years before there is a self-driving car in every driveway. In the interim, we continue to prepare for an autonomous future by monitoring the latest advances in technology and regulations, influencing thought leadership in the space as a founding member of the Advanced Vehicle Technology (AVT) Consortium at MIT and investing heavily to bring innovative solutions to market that will aide us in continuing to deliver best-in-class solutions in an autonomous world.
Monitoring Technological and Regulatory Advances
In recent years, there has been tremendous progress in the integration of basic autonomous technology into new vehicles. Today, nearly all cars on the road have cruise control and most have additional features like adaptive cruise control, which enables the car to moderate its speed based on the vehicle in front of it, and lane assist, which alerts the driver if they are drifting across lane lines. In addition, most new vehicles are also equipped with highly intelligent sensors, radars, and cameras that allow for the vehicle, and driver, to be more aware of its surroundings. Some vehicles are equipped to act when a dangerous situation is detected, for example, Mercedes Benz's Active Brake Assist. Even more amazing is the increasing number of vehicles with advanced SAE Level 2 features that allow the vehicle to control speed and steering based on surrounding objects (Tesla Autopilot, Volvo Pilot Assist, Audi Traffic Jam Assist) and SAE Level 3 features like the vehicle's ability to autonomously execute well defined actions without a driver present – for example, Smart Park from Hyundai and Smart Summon from Tesla. It's incredible to see these technological advances on our roads today.
The regulatory environment for autonomous vehicles has also continued to progress. In March of 2020, the US National Highway Traffic Safety Administration issued its first proposed rule for AV vehicles which is designed to clear up ambiguities around how traditional vehicle standards should apply to vehicles without manual controls. The proposed rule establishes six principles designed to guide the Department of Transportation's oversight:
Prioritize safety
Remain technology neutral
Modernize regulations
Encourage consistent federal and state regulations
Provide guidance, research and practice
Protect consumers who chose conventional and autonomous vehicles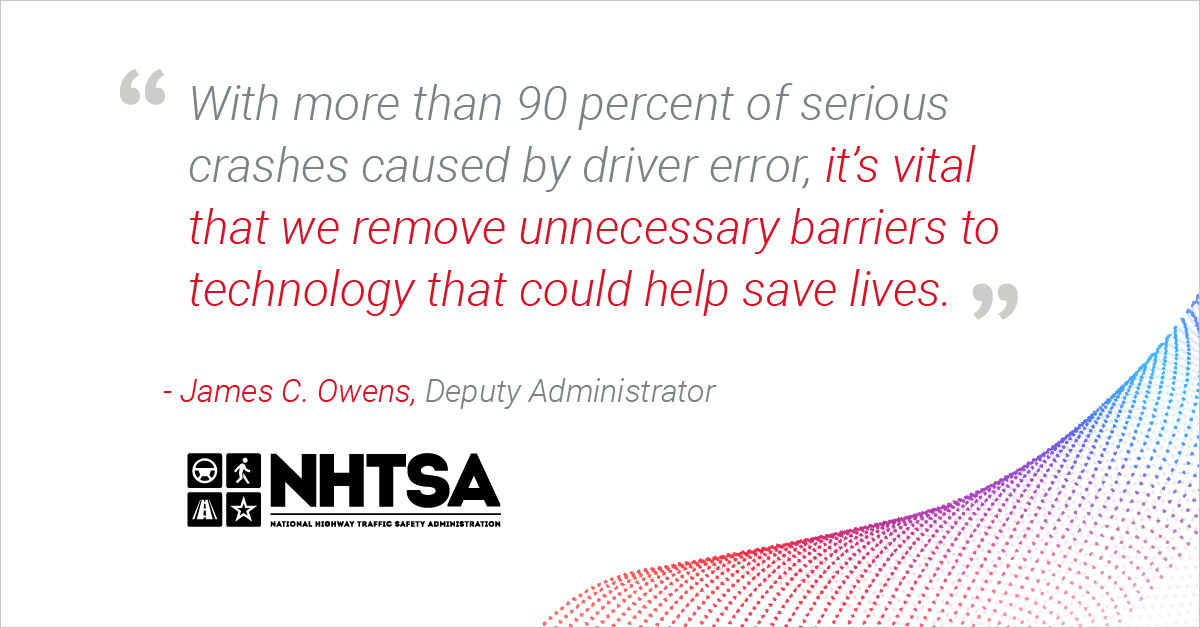 James Owens continued on noting, "We do not want regulations enacted long before the development of automated technologies to present an unintended and unnecessary barrier against innovation and improved highway safety."
This new proposal will help to reduce regulatory friction as AV testing and introduction to the market accelerates.
Influencing the Industry Through AVT
Agero is also continuing to partner with industry and academia to support the development of autonomous vehicles through the AVT consortium. We are proud to be a founding member. Since 2016, the AVT has amassed a wealth of data on consumer behaviors with automotive technology, across 122 drivers, 29 vehicles and more than 511,000 miles of travel. This effort is expected to continue and expand to new vehicles and technologies. This research will help build a holistic understanding of how people interact with vehicle automation and create powerful insights which can be used to advance the industry.

This above visualization of the MIT-AVT study shows all the miles logged in a single day to better understand consumer driving behaviors.
Building For The Future
As technology and regulatory progress continue, we turn our attention to how best to support the semi-autonomous vehicles of today and the fully autonomous vehicles of tomorrow. While, for the foreseeable future, there will be a driver present, these platforms expose interesting and exciting opportunities which we are building into our core capabilities:
Autonomous vehicles will elevate the communication and computing platforms found in today's connected vehicles. To respond to this shift, we have been developing new AI functionality to automate decisions like requests for assistance, resolve issues with remote technical support and proactively schedule maintenance based on data reported by the vehicle.
In addition, autonomous vehicles safety features will help reduce the severity and frequency of accidents as well as trigger crash notifications. Agero is building upon its legacy in the accident space to help automate notifications for help, trigger the FNOL process, and digitally transmit critical accident data back key stakeholders.
Electric vehicle manufacturers are leading the way with some of the most advanced autonomous features available. We have curated a full suite of electric vehicle products and services that help alleviate pain points across the entire ownership lifecycle. We have been particularly impressed with new vehicle features that help reduce the frequency that drivers run out-of-charge (for example, Porsche's Intelligence Range Manager). However, progress is not perfection and we are proud to partner with mobile fast-charging industry pioneers like Spark Charge to assist drivers in need.
Lastly, autonomous vehicles will expand on the technology currently in the car, which will come with a learning curve for consumers. We are building out our remote training capabilities within our contact centers and provider network to help resolve any issues which may arise, seamlessly and efficiently, so that drivers, passengers, and vehicle can keep moving.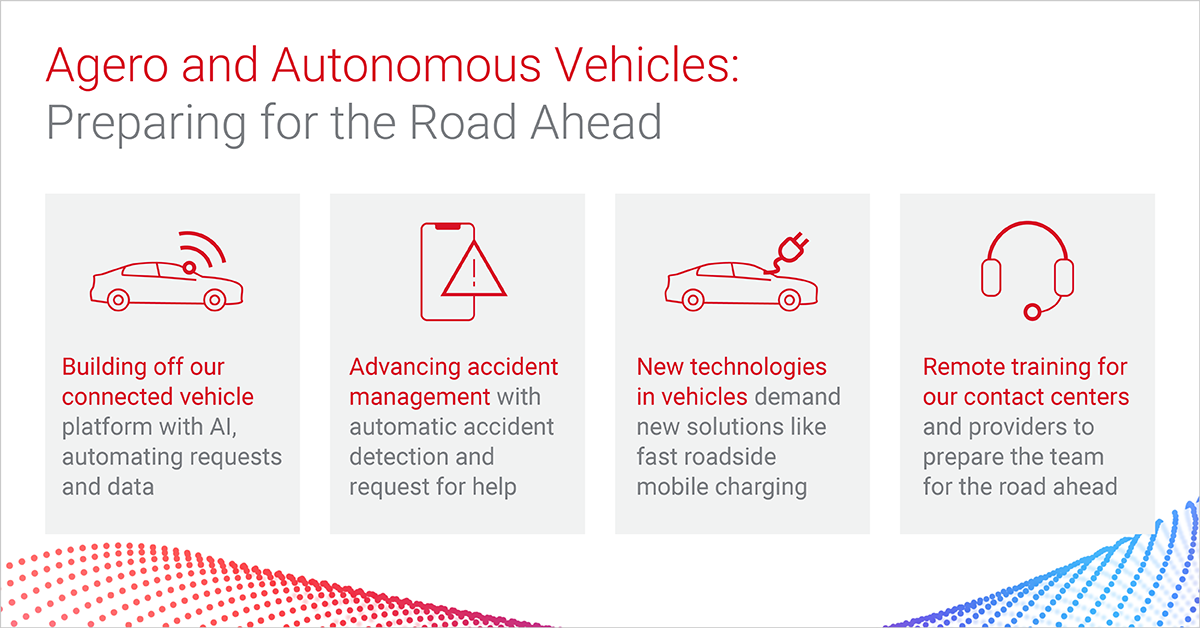 We are thrilled by the progress the industry has made and are excited for our new capabilities to hit the market. Until then, we look forward to a more autonomous road ahead, enjoy the ride.
Sources: