At Agero, we are always working to better understand the trends that impact the roadside industry. Connected vehicle technology has been gaining traction over the past 20 years and is pervasive in new vehicles. This technology has interesting and exciting implications for the consumer automotive experience, impacting everything from roadside to infotainment to concierge services.
What is a connected vehicle?
A connected vehicle is a vehicle that can connect to the internet, either through embedded hardware or an aftermarket plug-in device. This technology can enable a range of capabilities. In the event of an emergency, connected vehicles can trigger e911 and SOS services as well as request roadside assistance. There are also exciting capabilities that can enhance the user experience everyday like entertainment app integrations, live traffic updates, and even concierge services. The challenge is that while the hardware to support a connected experience is pervasive in new vehicles, only a fraction of consumers subscribe to the service, rendering this powerful hardware useless.
Connected Vehicle History
Connected Vehicles were first introduced to the market in the late 1990s, primarily focused on providing analog cellular emergency services. In the early 2000s, the industry began offering vehicle diagnostics and remote capabilities such as door unlocks and remote starts. As the industry continued to progress, the focus shifted again to infotainment like music, apps and web browsing. As consumer expectations for digital experiences have grown, so has the importance of connectivity. Today, there are over 49 million vehicles on US roads with connectivity hardware, and this number is continuing to grow rapidly as the majority of new light duty vehicles sold are connected to the internet.
Forecasted Growth
Industry analysts forecast the installed base of connected vehicles in the US to grow to 94.3M by 2023. New technologies like electric and autonomous vehicles only further reinforce the need for connectivity in order to provide software updates, find charging locations and vehicle to vehicle communications.
Impact of Connected Vehicles
Connected vehicles have impacted the roadside assistance industry in three main areas: digital service requests, service mix and additional services.
Requests for Service:
The consumer preference for seamless experiences has grown furiously across many different industries, and roadside is no exception. From 2014-2018, consumer preference to request roadside assistance through digital channels has more than doubled from less than 15% to more than 30% according to Agero Consumer Research.Preference for requesting service through connected vehicles has followed a similar trajectory. Requesting service through a connected vehicle reduces friction points with finding contact information and providing critical disablement location data.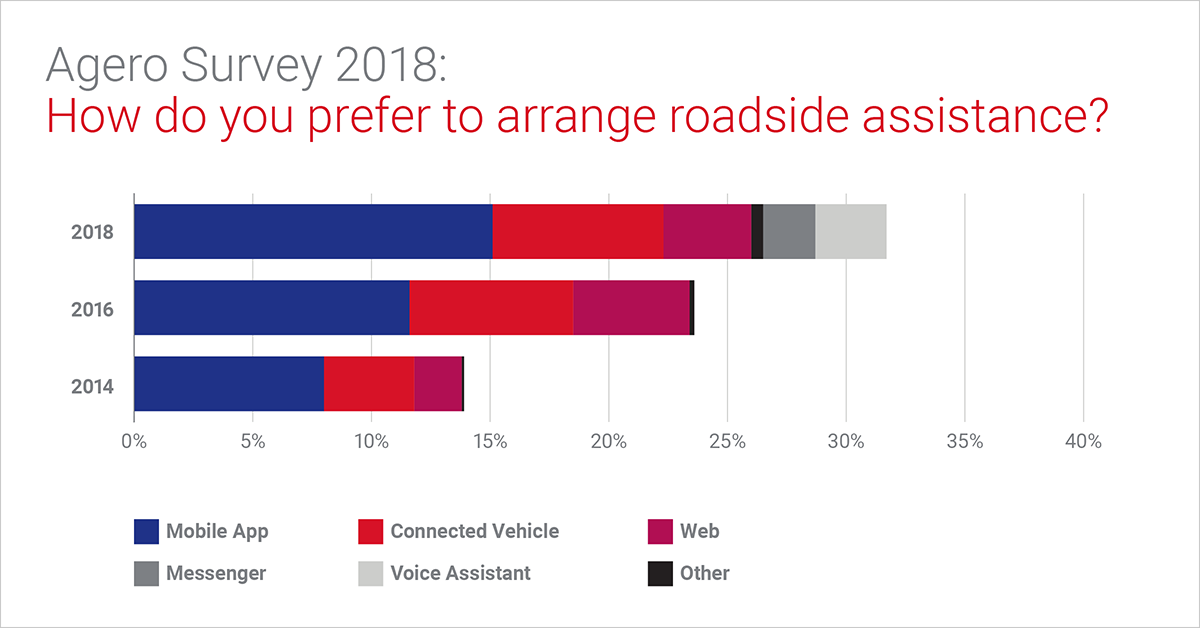 Changing Service Mix:
Since the introduction of Connected vehicles, the roadside assistance industry has seen a decrease in the number of simple road service events such as vehicle lockouts. Having the ability to remotely lock and unlock your vehicle through your phone has been a game changer. Vehicle connectivity has also allowed electric vehicle owners to better monitor the battery charge levels within their vehicles to avoid running out of power on the side of the road.
Additional Services:
Connected vehicles also create additional user touch points. This includes tactics such as proactive maintenance and service scheduling, which creates a seamless customer experience while driving traffic to dealers and designated repair hubs. Concierge services can also be offered allowing OEMs to deliver a white glove experience for everything from restaurant reservations to directions.
Agero and Connected Vehicles
At Agero, we have recognized the exciting potential of connected vehicles for more than 20 years. In the 1990s, we were the first to partner with a leading automotive manufacturer to begin delivering an integrated connected vehicle experience based on our technical integration coupled with specifically trained contact center agents. We continued to build off these capabilities and partnerships to deliver native 911 ecall in 2000. Our partnership with connected vehicles has continued to grow and develop. We currently support roadside assistance requests through connected vehicles for leading OEMs as well as additional support and outreach services. We believe that the opportunities unlocked by connected vehicles in the roadside industry are still largely untapped. We are particularly excited about the ability to completely change the consumer experience of requesting service from reactive to proactive. We imagine a future where the vehicle will eventually be able to request service for itself or avoid a breakdown altogether by redirecting drivers to a repair facility before a breakdown ever happens. These experiences will create even further opportunities to improve the consumer experience, build brand loyalty and empower OEMs. We look forward to our continued partnership with the industry to define solutions for this changing landscape. Enjoy the ride.
Learn more about Agero Connected Vehicle Services.