We work with insurers and their consumers every day to streamline the claims and accident management process through seamless integrations to save time, frustration and money. Accident management is challenging given the complexity and the associated costs. These costs begin to add up even before the vehicle has arrived at a repair shop. While some costs are unavoidable, insurers have levers available to help manage them and save hundreds of dollars per claim. This includes accident scene tows, storage fees, secondary tows, rental car costs, and administrative costs. Here's a quick rundown of these factors, their impact, and strategies to help mitigate them:
1. Accident Scene Tows
The first cost incurred for non-drivable vehicles after an accident is the accident scene tow or primary tow. The cost for an accident scene tow is usually around $200-$250, regardless of whether it is ordered by the police or the insurance company. However, recovery at the scene and delivery to the ultimate tow destination for the vehicle can have a significant impact on downstream claims costs for the insurance company. Simply put, every accident scene tow is a secondary tow avoided.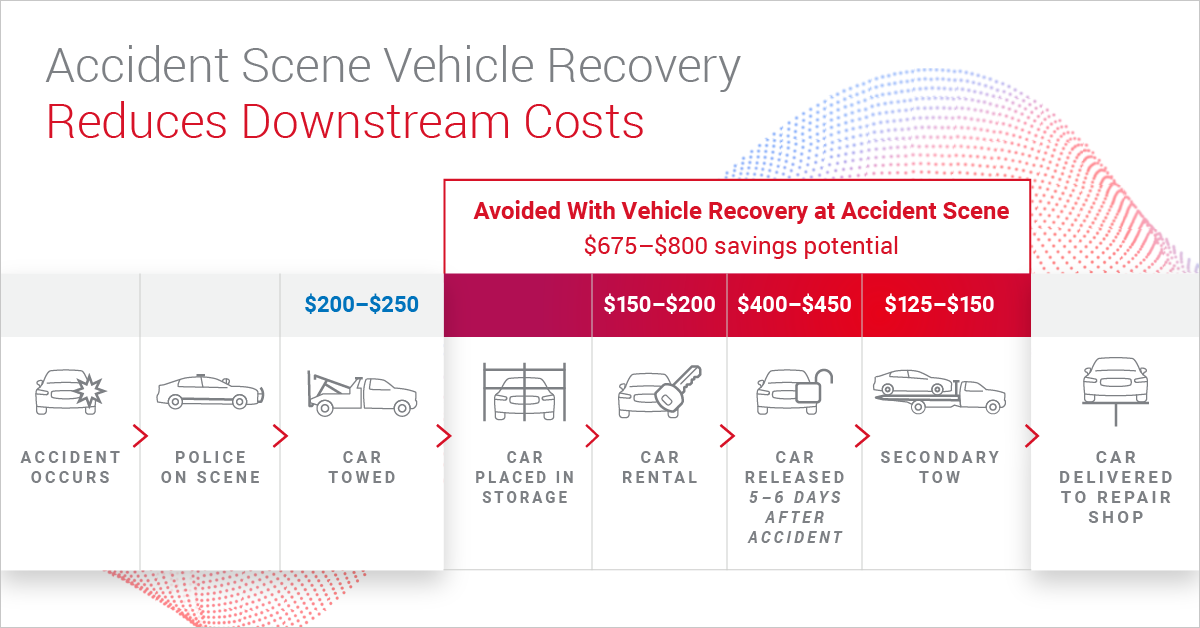 2. Storage Fees
In most cases, non-drivable vehicles are brought directly from the accident scene to a storage yard. Only about 9% of accidents are reported to the insurance company at the accident scene, and even when the insurance company is immediately informed of a crash, nearly half of accidents occur outside of typical auto shop hours and must be stored at least overnight or over a weekend. Storage facilities charge based on daily and/or hourly rates, which are usually dictated by state regulation, so the longer a vehicle is in storage, the more costs it will incur. The process of releasing a vehicle from storage can be complex, sometimes requiring cash payment, specific paperwork, or the owner of the vehicle appearing in person to authorize the release, all of which can extend the total time the vehicle is sitting in storage. In addition, facilities have the right to charge for additional services they deem necessary, including administrative fees, non-business-hour access, crash wrap, teardown, winching, excessive time at the accident scene, or accident scene clean-up. The average vehicle sits in storage for 5-6 days after an accident and can incur $400-$450 in fees.
3. Secondary Tows
Once a vehicle is released from a storage yard, it must be towed to a contracted auto shop for appraisal and repair. These secondary tows tend to be lower cost than primary tows, since they do not require the same urgency. On average, insurers can expect to pay $125-$150 per secondary tow.
4. Rental Car Costs
Storage and other delays can extend the total time from accident to completed repair and this can increase the cost of car rentals. Insurance companies pay an average of $150-$200 for rental reimbursement for the 5-6 days that an accident vehicle spends in storage before it is brought to an auto shop.
5. Administrative Costs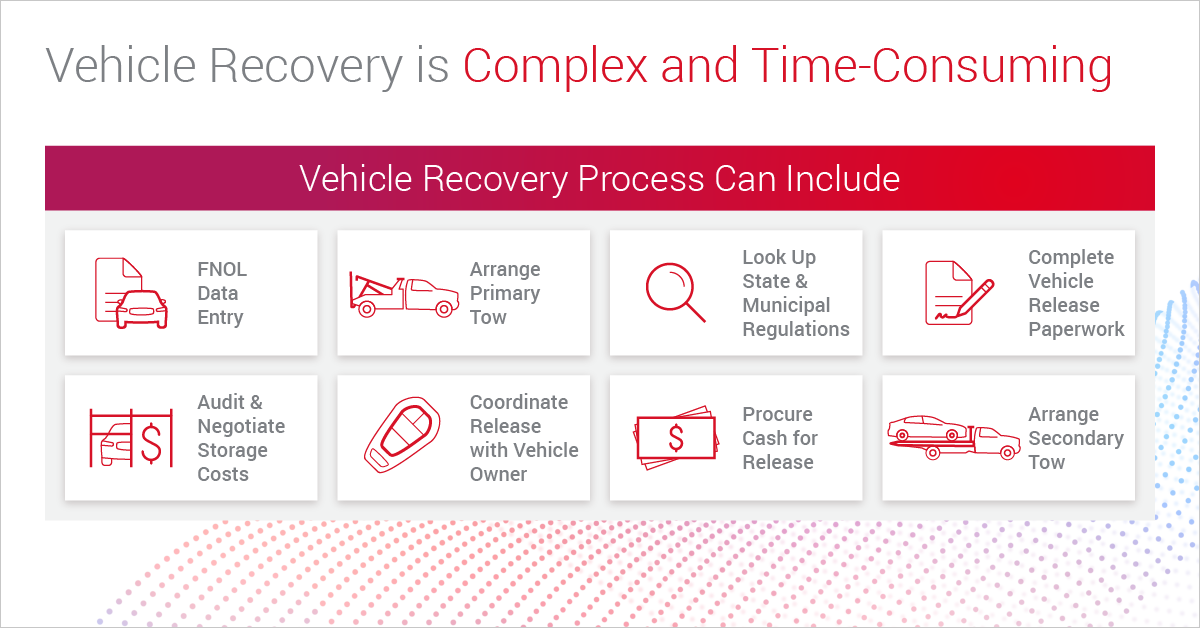 The process of recovering a non-drivable vehicle from an accident scene or storage facility can be complex and time-consuming, taking a toll on an insurance company's claims operations. Arranging primary and secondary tows, collecting and completing all paperwork necessary to release vehicles from storage, reviewing and validating storage charges, and authorizing cash payments for vehicle release requires constant communication with tow companies, storage facilities, and policyholders. Without digital tools to streamline this insurance claim agents can spend hours on the phone over the course of the claim.
Strategies for Mitigating Accident Management Costs
While some claims costs are inevitable after an accident, with the right processes in place, many costs can be controlled for a more efficient, seamless, digital process. First, explore opportunities to capture the vehicle from the accident scene, which eliminates all downstream costs related to vehicle storage. Crash notifications APIs can be a powerful tool to connect the consumer directly to the insurer for help following an accident, streamlining the front end of the process. Integrated mobile telematics solutions can automatically detect when there is a crash and inform the insurer via API, taking this decision out of the driver's hands and increasing the likelihood of recovering the vehicle at the accident scene.
Partner with trained and experienced service providers for both safe transport of the vehicle as well as value-added services like assistance in vehicle release. Lastly, integrations between in-house systems and claims vendors can automate steps, reducing administrative costs and effort.
Learn more about Agero's new end-to-end digital platform for Accident Management.