Delivering a roadside service and peace of mind to over 115 million drivers is no small feat and one that we take incredibly seriously at Agero. We have been building the pieces and evolving with the needs of the industry for over 45 years. We are proud to service more than 12 million events per year but there is always room for improvement.
As roadside has evolved in recent years, we have built out our services and support to be responsive, to enable new channels for outreach, and to enable full transparency between the driver, the provider and the sponsor.
For many established companies, the digital transformation requires systems and processes that have been maintained over the years to change and evolve. Agero was no exception. We recognized that many of our systems did not allow for rapid changes needed for a changing industry.
To solve this, we've capitalized on the single architecture built by Swoop that enables interconnection and visibility across all parties in real time. We recognized the value of this architecture when we acquired Swoop in December of 2017, but given the size and scope of our business, we have been very thoughtful about changes. We needed to ensure that the full and rich feature set, best practices, know-how that we've built over nearly five decades carried over to our new platform.
We refer to our path forward as Agero + Swoop – but it's more of a multiple than simply adding the two companies. Many of our clients and Service Partners are already enjoying the benefits of the Swoop platform. It is time for all Agero customers and Service Providers to benefit as well. The best practices and key features from the core Agero platform have been carried over to this new platform. This enables the digital and transparent experience that Swoop delivers with the scale that the Agero network can power.
The process of requesting and delivering roadside support involves a complex chain of events among disparate parties who do not regularly work together. Success hinges on clear and effective two-way communication and visibility throughout the process. Digitizing this process on a single robust architecture is critical to its success, resulting in reduced time to dispatch, and less human errors– improving the experience for all stakeholders.
Digital solutions help remove friction and uncertainty from the process.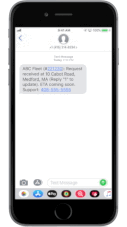 The vehicle location is needed to deploy the correct resources and assist as fast as possible. Often, however, calling customers are under stress and may be frazzled by their situation, somewhere unfamiliar with their surroundings.
Incorrect or unclear information on the customer's location can cause delays as well as multiple dispatches, resulting in an unhappy customer, frustrated provider, and inefficient use of the provider network, potentially causing delays for additional customers.
Digital tools can help to address these issues. Web apps and mobile apps are more capable of capturing location information digitally than a traditional voice can. We have also found that they improve the customer experience. In a recent pilot, we found that a customer initiating a service request via an app was 30% more likely to rate the service favorably than when they initiate the service request via a voice call.
The tools built by the Swoop team enable us to do this for more cars, faster and more effectively.
A digital process enables complex logic and sophistication without a complex experience.
Dispatching the most appropriate provider requires careful consideration of a variety of factors: Which providers are the best suited for this job based on capability, location and job performance, and are they available? The analog process is time consuming and error prone. Through machine learning algorithms, the matchmaking process can be optimized and a bidding process among available local service providers triggered.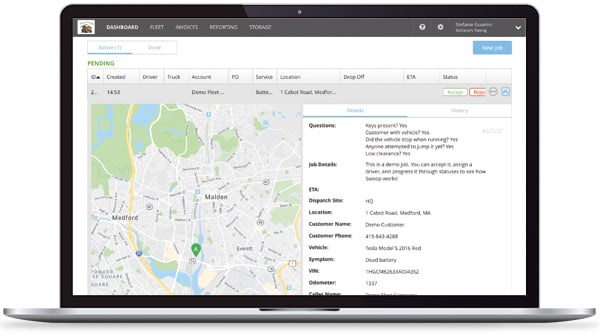 The Swoop process can be customized to certain client requirements and preferences in order to deliver the service that perfectly matches their needs and those of their customers. A robust digital solution enables this process to run automatically with respect to client, or even condition-specific, algorithms.
This tool set can reduce the time to dispatch by more than 90% and provide a more reliable and consistent result.
Real-time automated communication improves experience without burdening the system.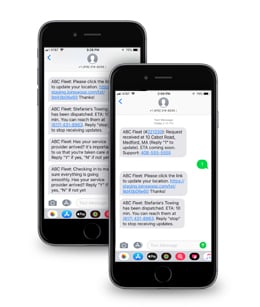 Customers are accustomed to regular updates and visibility while using apps such as Uber or Lyft, and they expect the same kind of experience for any service they may receive. In order to meet these expectations, a new set of tools needs to be deployed for roadside assistance.
Through a combination of text messages, vehicle tracking and status updates, customers can now stay up to date on the status of their service in real time, eliminating the need for follow on calls, thereby reducing anxiety. More than 97% of customers who received status updates noted that it improved their experience according to Agero Consumer Research. This experience improvement builds affinity to the program sponsor and customers who received status updates are more likely to renew their policy.
At Agero, we take our responsibility to the leading insurance and car brands as well as their millions of customers who depend on our systems and services very seriously. While we are regularly evaluating, experimenting and piloting new technologies, we understand that each change must be thoughtful, avoiding any disruption in service. We are thrilled with the performance and traction of Swoop platform and about the opportunity that it enabled to further enhance the Agero systems and services. We believe that this is the path forward to the future of roadside. Drive safe.