At Agero, our goal is to support our clients in providing the best service to their customers while driving higher recall completion rates. We regularly conduct research to stay up to speed with industry trends and explore ways to improve our products and services. We recently surveyed several hundred customers who received recall notices on their vehicles in the past year to gain additional insight into what contributes to a great recall program.
Barriers to Recall Completion
Automakers rely on successfully engaging customers along three stages of the customer journey to complete a recall. First, the customer must be made aware of the recall. Then, they must be motivated to take action and schedule a repair. Finally, the automaker must have availability in their service center schedule and the right parts in stock. Each of these stages have challenges which must be overcome.
Awareness
Consistent with industry trends, 25% of respondents who acknowledge receiving one or more recall notices did not complete the necessary repair. For the 75% who did complete the repair, the type of notification that customers remember receiving has a major impact on whether they bring their vehicle for repairs.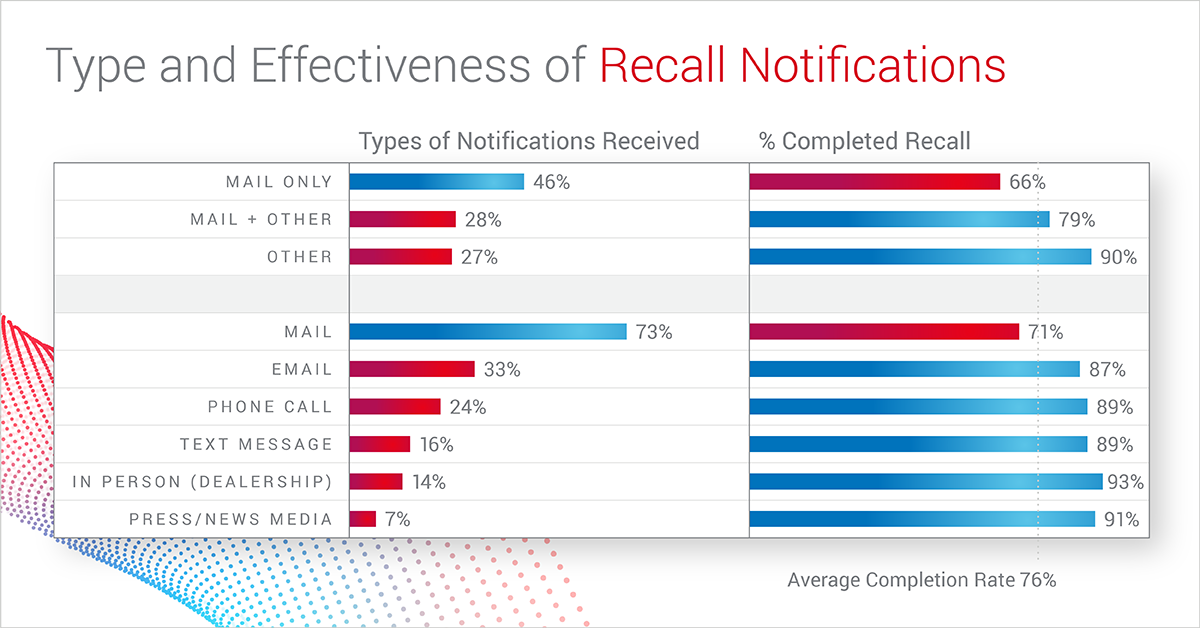 Mail is the most common recall communication but only 66% of customers who receive only a mail notification complete their recalls. This figure jumps to about 90% for customers who receive additional notifications through other channels such as email, phone, or text. Customers also respond well to follow-up notifications, with completion rate increasing by more than 8% points to 83% with a second notification.
Motivation
Once a customer has received a recall notification, they must be motivated to take action. The most common barriers at this stage are bias to action, automaker access and awareness. 20% of customers express a general lack of urgency to complete the recall, while others forgot about the recall or did not receive any follow-ups could be motivated by additional notifications.
Scheduling
For customers who were aware and motivated to address their recall, automaker access was the most significant barrier. More than 20% were unable to find a convenient time to schedule the recall repair and another 18% attempted to schedule their repairs only to find that the parts were not available at their dealership. To a lesser extent, customers also struggled with how to complete the recall and concerns about the cost.
Drivers of Satisfaction
For OEMs, recall completion rate is the primary metric in order to comply with regulations. However, we recognize that recalls can be a critical customer interaction which can impact their brand loyalty. According to our recent survey, just 45% of consumers are extremely satisfied with their recall experience. There is certainly an opportunity to improve this experience through enhanced services and incentives. Given that over 85% of recalls take more than one hour to complete, the inconvenience of giving up a vehicle for repairs can be mitigated with the right services. Customers were most commonly offered a loaner car but were most satisfied with offers that streamlined their experience like car pick up or alternative transportation.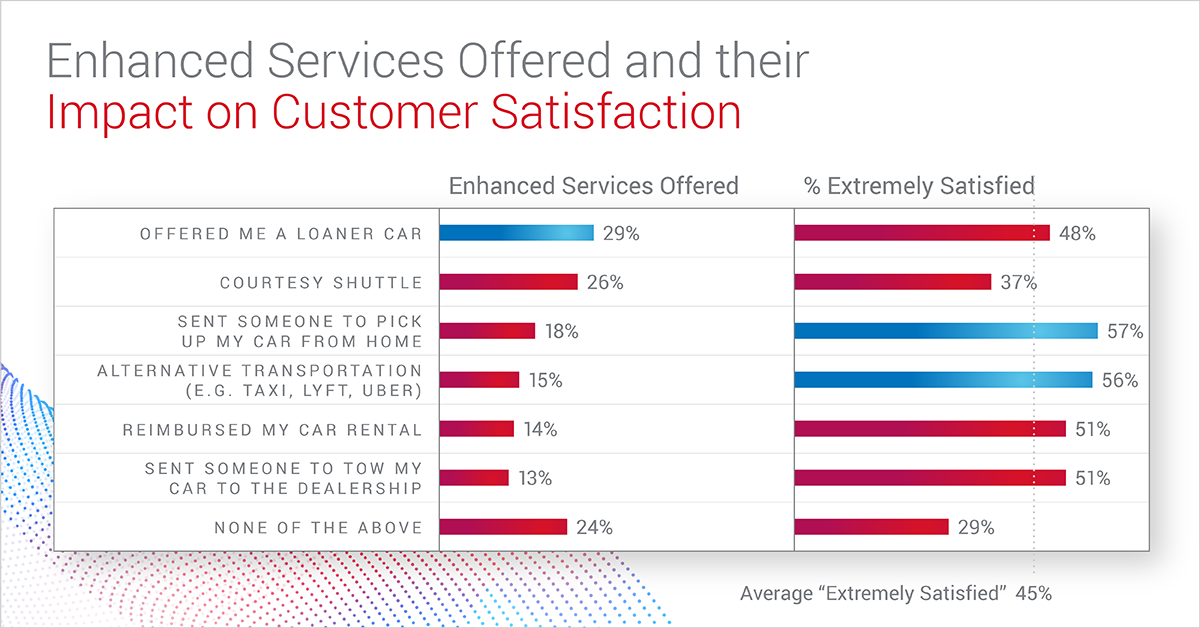 The Case for Holistic Recall Management
Automotive recall managers are challenged with finding a solution that meets the diverse needs of all their customers. A holistic case management approach can improve completion rates and improve customer satisfaction by enabling automakers to consider how best to target each recalled vehicle on a case by case basis.
40% of customers who would have completed their recalls if the automaker had contacted them through a channel other than mail, a proactive omnichannel approach with time-sensitive follow-ups would serve them well.
2/3 of customers who would have completed their recall if they had been offered an incentive, a gas card or cash card could be highly motivating.
1/3 who could not schedule their repairs because the parts were unavailable,

follow-up outreach once the parts are in stock may get them back into the dealership.
Experienced automotive partners who understand the barriers faced by each individual customer segment can work with automakers to effectively overcome those barriers during a recall. With a holistic case management approach, automakers improve their recall outcomes and generate a more satisfied customer base. At Agero, we understand these challenges and have the expertise, systems and experience to bring them to you and your consumers.
To Learn more about Agero Recall Solutions, click here