In normal times, we use customer experience metrics like NPS to provide valuable insights into the performance of our products and services. A successful launch of a new feature might be measured by an improvement of just 1-2 points. And similarly, a small downward change in NPS can signal the failure of a change in process. However, these are not normal times. NPS scores across all sectors are experiencing wild swings, often with no changes to program features or processes.
Plummeting NPS scores could reflect that consumers are rating their experiences with services more critically. It could also be a matter of a shift in expectations. Between the COVID-19 pandemic and myriad other stressors, let's take a look at how the landscape for services has been disrupted, both in terms of service delivery and consumer expectations.


Low tide for NPS
According to a July 2020 report by Qualtrics' XM Institute, aggregate NPS across 20 industries dropped more than 50% from May 2019 to May 2020. Broken out by industries relevant to roadside, we find:
Auto dealers are down 22 points
Insurance is down 13 points
Parcel services are down 11 points
Rental cars and transportation are down 28 points

Why is consumer sentiment so low? Where to start...
For one, a ton of industries were partially or completely shut down for public safety concerns related to the pandemic. This led to widespread layoffs and supply chain disruptions. Packages took longer to receive. Customer service phone calls took longer to get answered. Vital services were closed. If you tried to get a new driver's license this summer like I did, you learned that it was a fool's errand. Service actually did tank.
Financial insecurity from layoffs on top of general uncertainty caused shifts in consumer behavior. For some industries there was unforeseen growth. Suddenly everyone is using Instacart for groceries and ordering pizza online. Sales of sweatpants and yoga pants jumped, while sales of jeans dropped. Companies that experienced surges in interest couldn't staff up fast enough. And when they did staff up, their staff didn't have the usual experience and tenure that consumers had previously noted. Again, service actually did tank.
As businesses – and entire industries! – were unable to keep pace with these rapid shifts, consumers grew less satisfied. On top of that most people are also dealing with tremendous anxiety: from the pandemic, politics, wildfires, trying to work from home while schools are closed, murder hornets, and all the rest of it. Does that anxiety leak into their customer experience feedback? (Spoiler alert: it does, even when service didn't actually tank.)
Symptoms of anxiety disorder were approximately 3 times more prevalent in the second quarter of 2020 as compared to the second quarter of 2019, according to an August 2020 report by the Center for Disease Control. In a May 2020 article by Meg Farris of WWL News, Dr. Ken Jones, Chief of Psychology Service at the Southeast Veterans Health Care System, noted, "Our whole world is changed right now, and one way you can stress a person is to just change our everyday routines." And beyond the pandemic, an October 2020 article on CNBC asserted that 68% of American adults were stressed about the election.


Measuring the '2020 factor'
Looking to account for compounding stress in our NPS scores, we ran the numbers, and what we found was fascinating.
In some instances, we received different NPS scores in 2020 compared to 2019 even when controlling for the same exact level of service.
When service exceeds expectations, customers are more appreciative, contributing to a 3+ point lift in NPS, on average, relative to 2019.
When service doesn't meet expectations (e.g., wait times go more than 60 minutes beyond the ETA), customers are more harsh, contributing to dips of 16+ points in NPS for certain events, on average, relative to 2019.


When service arrived more than 10 minutes ahead of the ETA, customers gave an NPS relative to on-time arrival that was 3.6 points higher in 2020 than in 2019. In the event that service arrived more than an hour later than the ETA, the NPS relative to on-time arrivals was 16 points lower in 2020 than in 2019.
So what now?
According to Jeannie Walters, a certified customer experience professional, it means that those of us who look to customer experience metrics to evaluate how our products and services are being received should probably buckle up.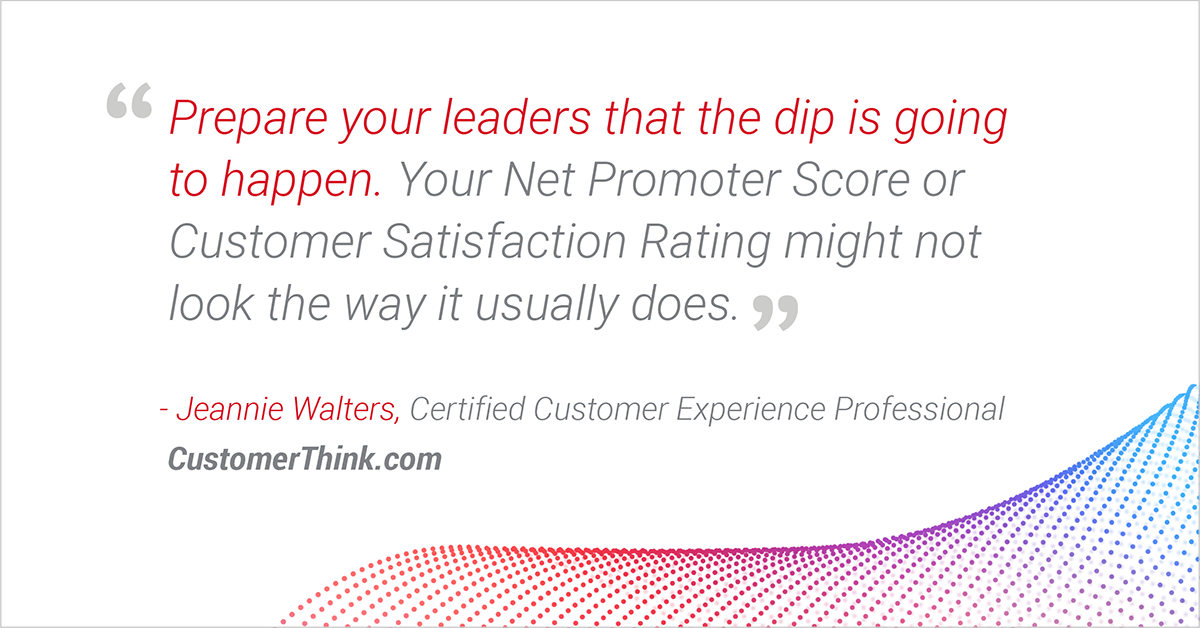 "Customers will be dealing with challenges of their own, and your support teams may be challenged with absences, shorter shifts, overburdened technology, or other challenges," she explains. "During these times, customers may be more likely to complete that post-call survey and let you know exactly what they think. They may be taking out some stress on your contact agents and the survey itself. They also might let you know about those amazing moments of empathy that gave them hope during a hard time."
Even during "these uncertain times," we'll keep using NPS as our early detection system. We'll continue to investigate any sudden drops in scores. We'll keep enhancing our products and services with the goal of improving customer experiences, and we'll continue using NPS as a means of evaluating performance. At the same time, we will also not be surprised if NPS metrics continue to be a little unpredictable for a while.
Be extra nice to your waiter (if you are lucky enough to dine out). Smile under your mask. Take some deep breaths. And don't forget when you fill out your next consumer survey that your service provider didn't personally start the pandemic or the wildfires.