Every day, our team works with service providers, industry partners, and our clients to help more than 35,000 drivers get back on the road following roadside events. We are obsessed with roadside needs, solutions, logistics, data – all of it.
While we're constantly thinking about every little detail that might help us better serve the drivers in need of our help, we also know that for most people, roadside events don't happen every day. In fact, a typical roadside event – flat tire, dead battery, lockout, running out of fuel, or winch out – only happens about once every two years to any given driver, on average. This infrequency means roadside solutions aren't top of mind for the roughly hundred million drivers in the US who end up having one of these types of events each year.
Wait, everyone isn't as obsessed with roadside as we are?
Because roadside solutions aren't typically top of mind for the average driver, they may not be aware of the best way to resolve their unexpected vehicle situations during a time of need. In fact, our consumer research indicates that only about 1 in 3 drivers who have a roadside event choose to use their roadside coverage – whether through a motor club, insurance carrier, auto warranty, dealer warranty, or other entity – to resolve the situation.
Why is that? To find that answer and more, we regularly conduct consumer research with the general population, not just Agero customers. This research helps us understand the perspective of the audience we serve – that is, drivers – and find new ways to serve them better. It helps us fill in the gaps between the customers we assist each year and those who decide to resolve their vehicle issues without using their roadside assistance coverage.
The big question is: why do some drivers choose to solve their vehicle issues without using their roadside plan? Our consumer research found a few key reasons, mostly having to do with uncertainty and misperceptions about what roadside coverage is and how it works. Some of the most common areas of confusion focus on:
The types of events typically covered by roadside assistance programs
Locations where roadside coverage applies
How easy the coverage is to use
The cost of using roadside coverage
Considering that the average driver confronts a roadside challenge every couple of years, consumers may not need to be obsessed with roadside, but we should at least try to help them understand their coverage.
Who has roadside assistance? It turns out, most people.
To be clear, lack of coverage is not the reason why a lot of consumers don't call for roadside assistance with common motor vehicle events. Our research suggests that roughly 4 out of 5 drivers have some form of roadside assistance policy. In fact, about 3 out 5 people say they had more than one form of coverage – for instance, a roadside policy from their insurance as well as roadside coverage from a motor club, automotive manufacturer's warranty, dealer warranty or credit card.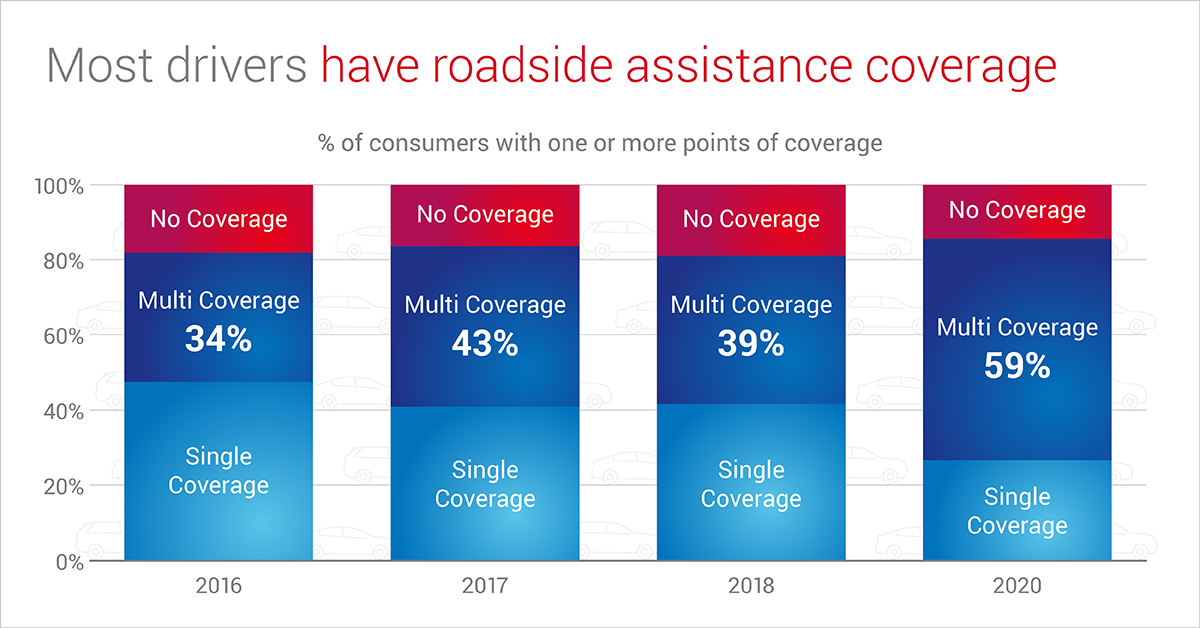 Yet, a significant number of those people don't fully understand exactly what their coverage includes.
Misperception: "'Roadside' = 'Side of the road'"
We get it: the term "roadside" is a little misleading. Roadside plans cover just about anywhere a car might experience common issues, not just the side of the road, as the phrase implies. In fact, we assist about 10% more customers whose vehicles are in parking lots, garages, and at home than events on the side of a road or a highway.
"It's not called 'homeside' assistance," quipped one respondent to our market researcher when asked if a flat tire at home would be covered by a motor club or insurance provider's roadside plan. This misconception is pervasive: more than 1 in 3 people think events at home don't apply to roadside assistance coverage. And 1 in 5 consumers take the term "roadside" even more literally, surmising that events in a parking lot wouldn't be covered.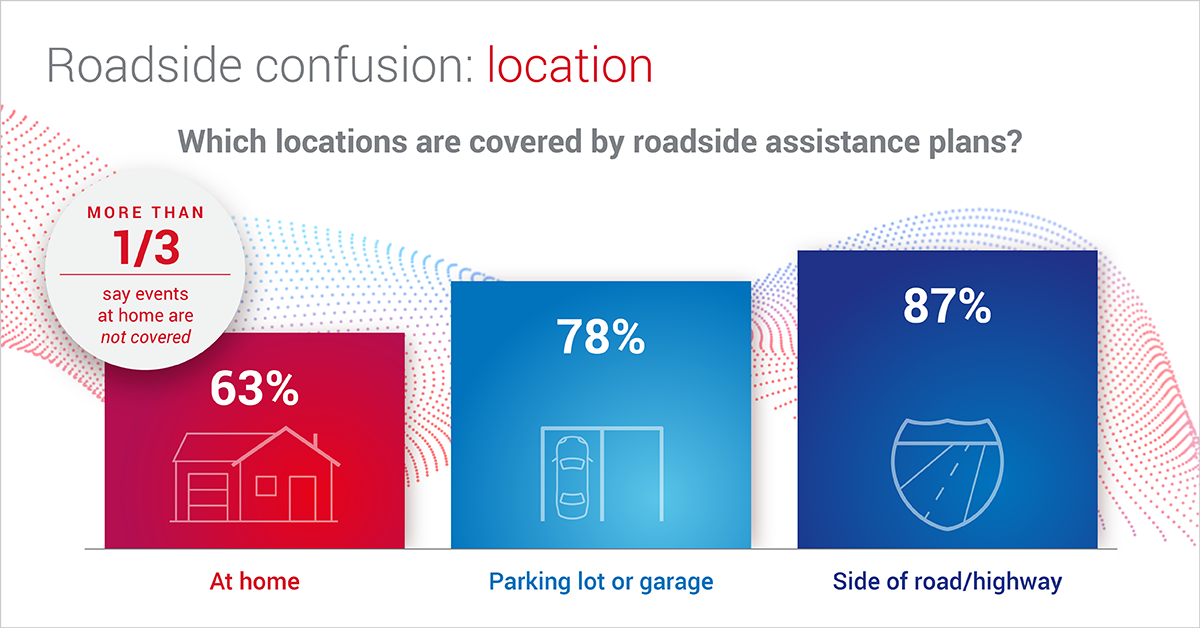 Confusion: "What are 'Roadside' events, anyway?"
Beyond confusion about locations, consumers are fuzzy on the types of vehicle events that are covered by roadside plans. Those typically include flat tires, lockouts, fuel delivery, dead batteries, and winching, as well as towing services.
A common roadside scenario might be someone waking up in the morning, getting ready to head to work, walking out to the car, and discovering that the car has a flat tire. Whether the car comes with a spare or not, roadside assistance coverage will replace the tire with a spare or tow the vehicle to a facility that has a replacement tire. Yet, nearly half of consumers in our survey didn't think a flat tire at home would apply to roadside assistance coverage. What about other events? Well, about a quarter of consumers said that running out of gas or getting locked out wouldn't be covered.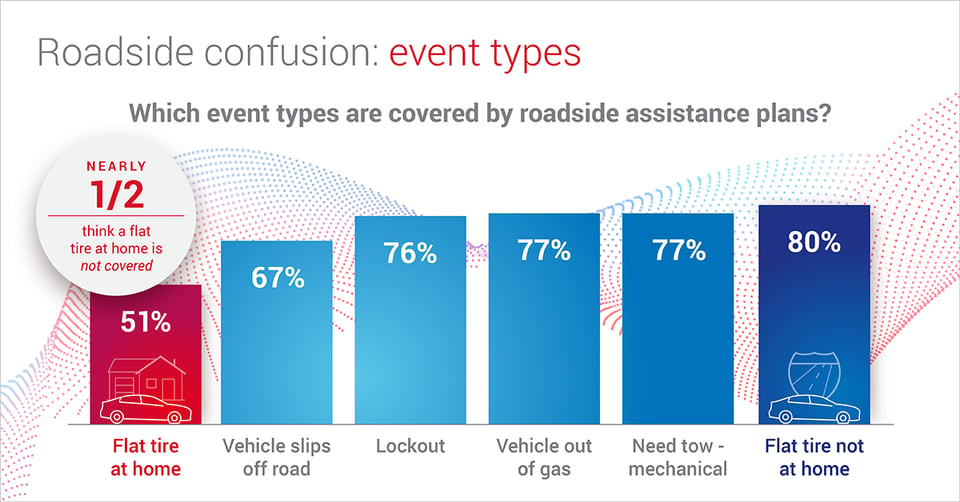 Misperception: "I can fix it faster myself"
In addition there are also some misperceptions about roadside's ease of use. In our consumer research, we found that more than 3 out of 4 people who would rather try and fix their car themselves say they'd do that because they believe it will be faster and easier than using their coverage. Yet, many weren't even sure where to find the contact info for the coverage they have paid for!
To be fair, vehicle owners who are comfortable under the hood might be able to jump a dead battery faster than waiting the typical 30-60 minutes for help to arrive. That said, there's likely a pretty high margin of error for most who think a DIY fix for a roadside issue will be faster or more convenient than opening up their insurer's or car manufacturer's app on their smartphone and spending about 90 seconds submitting a request for help.
One other point to keep in mind while we're on the topic: speed of service may be overrated. Our research shows that about 4 out of 5 roadside events occur in a familiar location, and more than 60% of the time across all events, the driver isn't in a rush. While most roadside assistance requests seek immediate help, customers also have the option to schedule service in advance, at a time that works for them. The option of scheduling services for a date and time in the near future adds another layer of convenience to using roadside coverage during non-urgent events.
Misperception: "Using Roadside through my insurer will cost me"
Some people also expressed uncertainty around the cost of roadside services. In particular, we found two key areas of financial concerns: that using roadside coverage would incur out-of-pocket expenses; or that using coverage through their auto insurer might increase their insurance rates. In fact, more than half of the consumers who were covered by both a motor club and insurer chose to call their motor club to resolve a roadside issue because of cost concerns.
Similarly, about half of the people who chose to contact a professional service provider on their own rather than using insurance coverage also cited cost as the reason. However, the opposite is typically true: the expense of a single service paid directly to the provider can be three or four times the annual cost for roadside coverage. In addition, industry experts agree that standard usage of roadside is unlikely to impact insurance premiums.
But ... WHY SHOULD WE care how consumers resolve minor vehicle events?
An important consideration to keep in mind is that roadside events aren't just a cost center for coverage providers; they're an opportunity to deliver real value to consumers during an urgent time of need. When we help solve a customer's vehicle problem on behalf of our clients, consumers recognize that value has been provided. This value impacts everything from brand affinity and loyalty to likelihood to recommend the coverage provider to their friends and family.
By continuing to educate consumers about roadside – what's covered and what isn't ­– we can dispel misconceptions and improve customer experiences, leading directly to potentially significant benefits in customer retention and organic business growth.