At Agero we support some of the biggest brands in insurance and automotive and deliver peace of mind to more than 115 million consumers through roadside assistance programs. We take this responsibility seriously, and in order to do this well, we need to keep a pulse on what consumers expect and need in roadside. To this end, we regularly conduct comprehensive consumer research. Here are some of the key learnings from our most recent research:
Help! My car broke down
Second only to insurance coverage, consumers have come to expect assistance from their insurance in the event of a breakdown.
In a recent consumer survey, we found that 45% of consumers expect assistance from their insurance in the event of a breakdown. This ranks above assistance with maintenance, purchasing a vehicle or safe driving practices.
In fact, in recent years consumers have increasingly selected insurance as their preferred provider of roadside.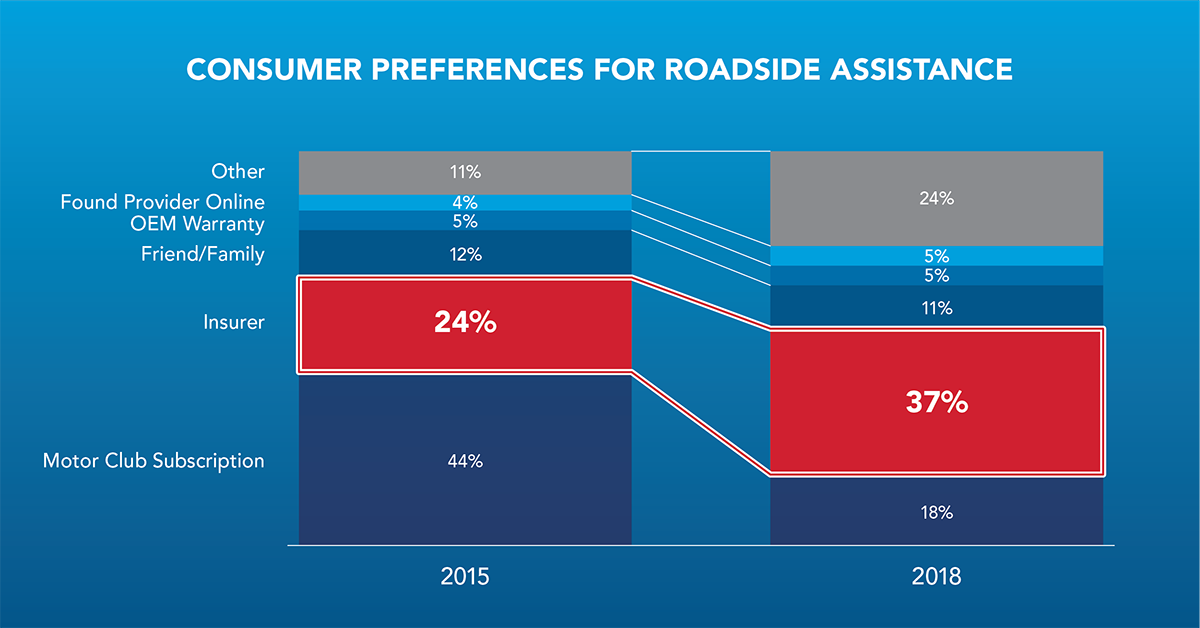 This preference is driven by confidence in their insurer that they will be well taken care of during an event.
And do consumers appreciate the help? Yes!
Consumers who use insurer roadside support have a greater affinity to their insurer
With today's fickle consumer, it is important to identify opportunities to improve affinity. Through our consumer research we found that consumers who have roadside coverage through their insurance have a higher NPS score than consumers who do not, by as much as 29 points. This reinforces the peace of mind value that roadside coverage provides the policyholder.
In addition, for consumers who used the roadside service through their insurer, there was an additional lift of up to 16 points in NPS. Given this trend and the high frequency of roadside events, simply raising awareness about existing roadside coverage is likely to have a direct correlation in policyholder satisfaction.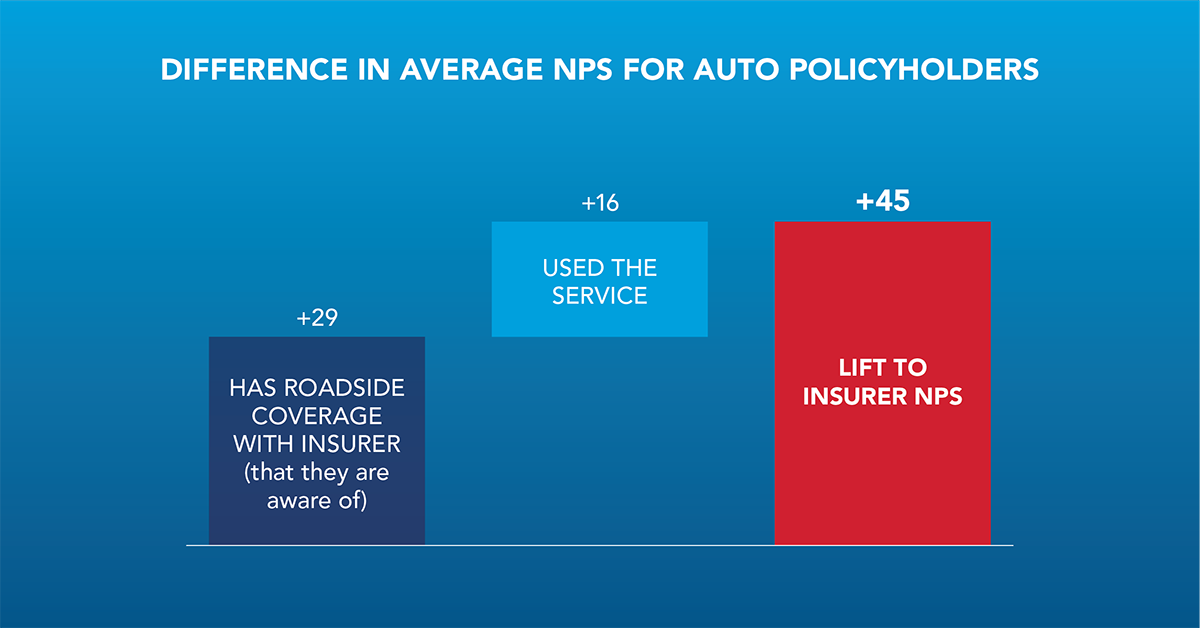 In fact, the most significant barrier preventing consumers from leveraging their insurance roadside coverage is awareness.
Many consumers don't know what is included with their roadside coverage. For example, only 67% believe that jump starts are included and only 61% know that a flat tire change is included. However, these two services account for nearly 30% of all roadside events.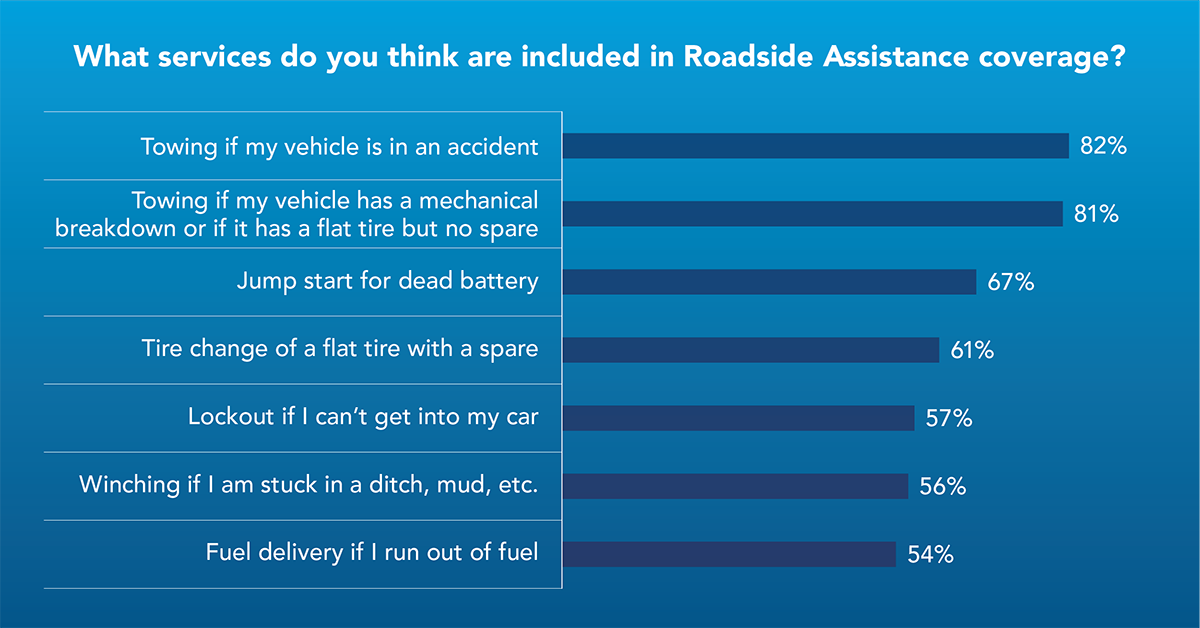 What's more is that in addition to consumer satisfaction, there are additional benefits of insurance-based roadside coverage in the event of an accident. Consumers do not typically differentiate between roadside coverage and accident scene support. When consumers are in the habit of calling their insurance roadside, they are more likely to issue first notice of loss (FNOL) from the accident scene. This leads to reduced loss cost and a better consumer experience.
A slightly different awareness challenge is that for more than a quarter of policyholders who have coverage through insurance, they forgot they had it during a breakdown event.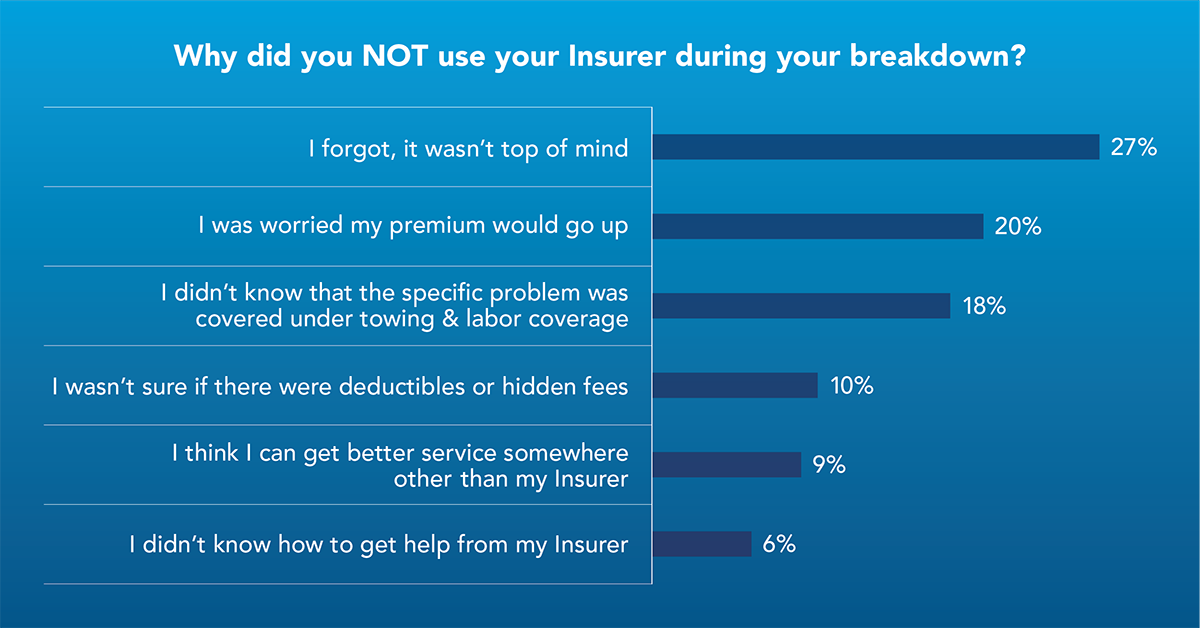 The keys to roadside: consumer awareness
In the competitive market of consumer insurance, retention is a critical lever to growth. Roadside programs are a key weapon that insurers can rely upon to not just provide a good customer experience during the policyholder's time of need, but to also improve customer retention. However, most insurers today are not fully capitalizing on this potential because, as we have shown, policyholders don't remember, are unaware of, or misunderstand the benefits of having coverage. We see tremendous opportunity to market roadside assistance directly with policyholders. We will explore specific tactics and best practices in a future post.
To learn more about who Agero services and where, check out this post on our scale. Stay tuned for more roadside consumer insights. Drive safe.