Hagerty occupies a remarkable niche in the automotive world: the community of people who own collectible and classic cars. Unlike a daily driver or even many luxury vehicles, classic cars inspire owners to have a deep connection with their vehicles, from hands-on maintenance and upkeep to an affinity for sharing that interest with other like-minded enthusiasts. This combination of passion and know-how also means that when a collectible car is involved in a roadside situation, the event response needs to meet the very highest standards of service and care.
In a recent 511 podcast, we spoke with Eric Kurt, vice president of Hagerty Roadside, about the challenges and opportunities of working with a customer base that really and truly loves their vehicles. We also touched on some of the features of Agero's insurance roadside program that move the needle with Hagerty's extremely knowledgeable and passionate clientele.
For customers who love cars as much as we do
Over the past 20 years, Hagerty has transitioned from focusing solely on insurance to becoming a full-fledged automotive lifestyle brand. In addition to traditional insurance services, Hagerty has a YouTube channel with more than 1.4 million subscribers, a bimonthly magazine that boasts the third largest circulation of any automotive magazine in the world, and a thriving online community. The company also hosts a number of events through their Hagerty Drivers Club designed to foster engagement among like-minded auto enthusiasts.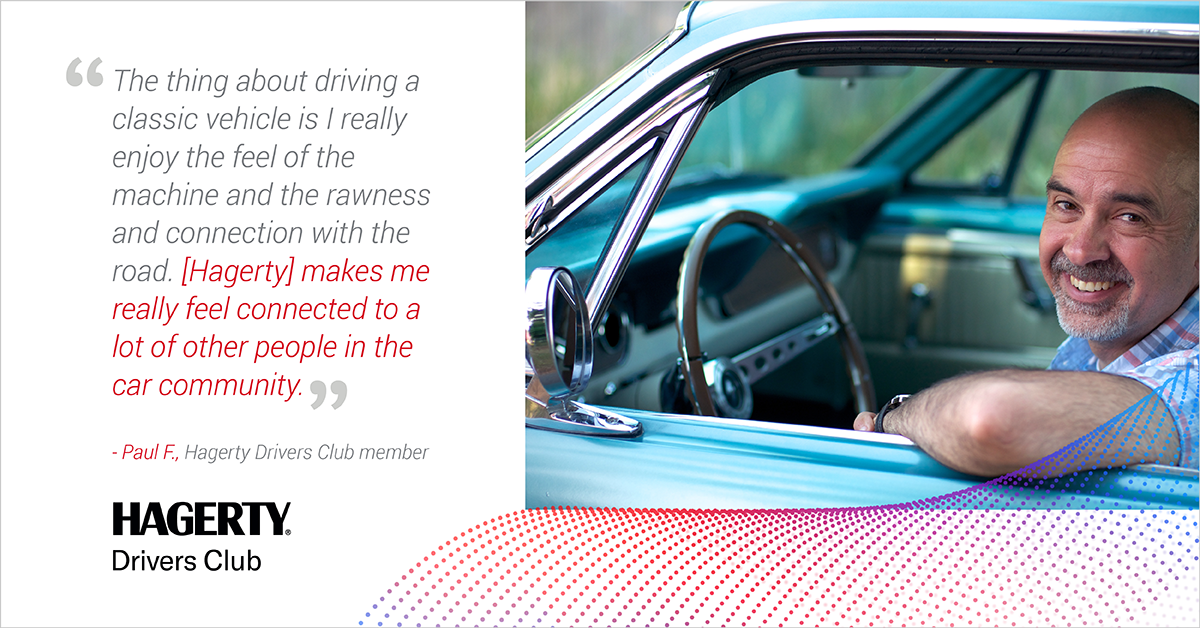 With classic cars owners, Roadside is a moment of truth
No one ever wants to be stuck on the side of the road. That's even more true if you're in a classic car. For a collector, in addition to the disruption to your day, there's the added anxiety about a vehicle that you have put so much "effort and work and care and blood, sweat and tears into." Hagerty recognizes that this is a critical moment of truth for their members. The company's approach for both roadside and claims is to do everything they can to "quickly, efficiently and expeditiously" get drivers back on the road and enjoying the ride.
"We have a lot of very high loyalty with our brand. When somebody is with Hagerty, they know that means they can pick up the phone and talk to a real live human being who is going to be warm and friendly and understand what they're going through. And we want that to be the same on the roadside."
Little-known fact: Roadside is about people, not cars
You might think that roadside service is about caring for vehicles, but it's really about taking care of people. This is one reason why features that are designed to help people get their day back on track, such as Alternative Transportation with Lyft, have the potential to make a significant impact.
Hagerty began testing Alternative Transportation in December 2019 to help enhance their member experience. When the pandemic hit, members were no longer able to ride along with the tow truck and this service became a unique opportunity to support their customers.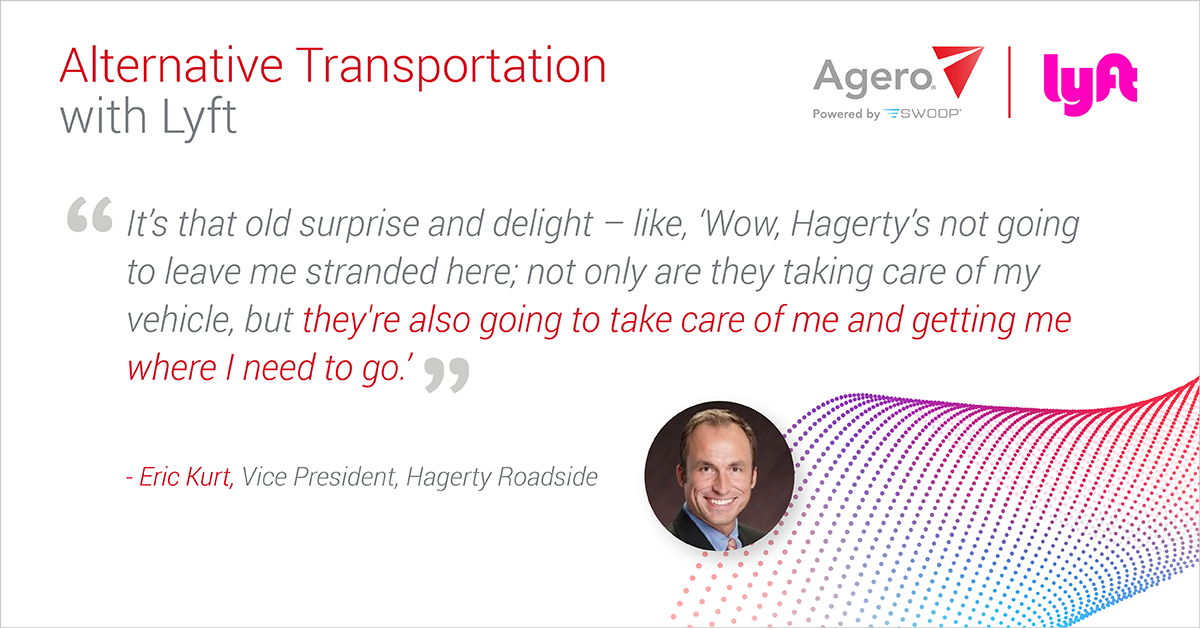 Alternative Transportation with Lyft is now a permanent part of Hagerty's roadside program.
To continually improve customer service, focus on technology
In addition to being hyper focused on customer service, Hagerty is also aggressive about staying at the forefront of technology.
"The Swoop technology has been a massive win for us – being able to text live updates to our members, give them live Truck Tracking so they can actually see the tow truck coming. And they can watch the tow truck bring their car that they care so much about all the way to the shop or whatever its destination is. Increasing the level of visibility through technology has been a massive sea change we've been working to undertake over the past few years."
Providing these industry-leading programs aligns with what Kurt describes as a mission "to save driving," even as vehicles and the auto industry evolve. The tool kit, community, and support that Hagerty offers helps ensure that future generations have the resources to maintain classics, while paving the way for the next generation of collector vehicles. Hagerty has truly delivered on their brand promise through powerful customer experiences. To hear more about their approach and hear first-hand from one of their customers, be sure to check out our podcast. At Agero, we are proud to support Hagerty and their members to get back out on the open road, enjoying the ride.
Catch the entire conversation with Eric and hear from Hagerty Club Member Paul on the 511 Podcast: