The future of the roadside services industry is facing significant challenges that, as an industry, we need to address. We're taking a first major step and calling on others to help.
Agero today released its white paper, Challenges Facing the Towing & Road Services Industry, a comprehensive analysis of the cost and labor dynamics affecting the sustainability of roadside assistance companies. Co-developed with the Towing and Recovery Association of America, Inc.®, the paper sheds light on the challenges and rising costs affecting tow business operators their potential impact to consumer roadside service experiences. In addition, Agero introduced the Service Provider Cost Index that quantifies these challenges and is available as an open source collaboration model.
The state of the towing industry
Today, 65 million drivers in the U.S. experience a roadside event – whether from lost keys, a dead battery, small accident or a major mechanical failure. Seventy-five percent of these drivers engage professional help from a tow operator or roadside assistance provider during their event.
It stands to reason, then, that as vehicle age and miles travelled grow, more frequent roadside events will be a boon to the towing industry. The reality, however, is that quickly accelerating operational and overhead costs are causing 40% of service providers to believe many of their peers may not survive the next five years.
Were this to come to pass, it would cause a significant ripple effect throughout the industry including substantial cost increases for roadside assistance program sponsors and deteriorating service levels for consumers.
Leveraging federal economic data, internal market and consumer studies, and conversations with providers, our paper attempts to break down the cost pressures felt by towing and roadside service providers and define a sustainable path forward. This includes an analysis of the major factors – labor, fuel and insurance – contributing to a compound annual growth rate of 7.36%, a figure that has grown by more than two times since 2016.
Labor: A significant pain point and costly (but necessary) expense is labor, which represents nearly 40% of a service provider's cost structure and can impact business profitability. Over the past 3 years, payroll for motor vehicle towing has increased an average of 9.12% annually, while average national compensation costs across civilian, private and government industries rose between 2.3-3% according to the U.S. Bureau of Labor Statistics. To add to this, the safety risks, stresses and requirements of the job, combined with growing competition from alternative driver employment options, such as ridesharing or Amazon delivery, have made it difficult for companies to hire and retain drivers.
Fuel: Diesel prices have increased at an average rate of 20.7% per year over the past 3 years. With these costs representing approximately 15% of a service provider's overhead, the impact is severe.
Commercial Insurance: Insurance premiums – which account for nearly 10% of a service provider's cost structure – have increased exponentially with major carriers exiting the market. Industry research pinpoints an average growth of 19% industrywide, with nearly three in four providers experiencing a 28% hike in their premium costs.
A snapshot of key findings and datapoints are also included in our infographic: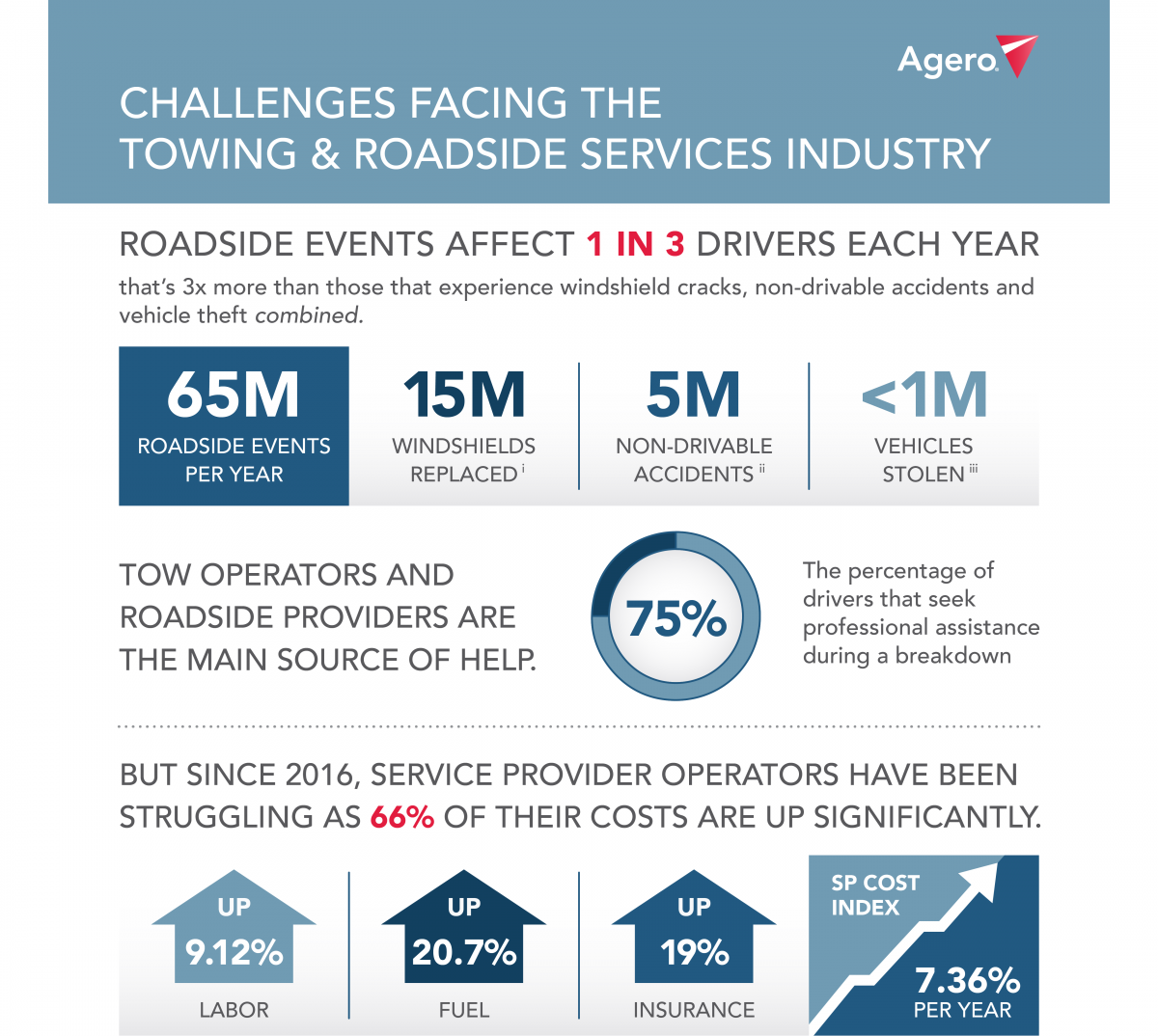 We believe that a fundamental shift in economics is necessary to put the industry on a sustainable path and that the roadside service industry as a whole is responsible for fully considering the current landscape and future success.
It is our goal to start an open dialogue on the factors, the impact and what must be done going forward and we ask you to join us in this conversation by downloading our Challenges Facing the Towing & Road Services Industry white paper and Service Provider Cost Index, and contributing your feedback.
Additional Resources