The automotive industry is showing no signs of slowing down, according to extensive industry research by Agero throughout 2020 and 2021. Americans are putting more miles on their vehicles than ever before, fueled by new consumer travel patterns and continued headwinds facing other modes of transportation.
The data points to a greener, smarter future for vehicles, with emerging distribution channels and new revenue sources for dealers and manufacturers, plus big shifts in auto collision frequency and repair costs. Let's dig in.
Overview
Vehicle ownership has steadily increased over the past decade, with auto registrations outpacing the number of licensed drivers by a ratio of 1.2:1. Not only is number of vehicles per driver continuing to grow, but those cars are traveling more miles, as well. The average vehicle miles traveled (VMT) is projected to grow by 4% each year through 2024. However, the average car on the road is also getting older, with an average age of 11.9 years in 2020 – which puts them well out of warranty.
What should we expect as older cars are being driven more miles? Most likely, this will mean an increase in the frequency of roadside events.
Learn about Agero's award-winning Roadside solutions.
How Drivers are Buying Cars and Parts
The cost of buying a car is going up. Fueled in part by a steady increase in components like sensors, cameras, and other technology. Both new and used cars were about 5% more expensive in 2020 than their average price in 2019. The amount of technology inside the vehicle is not the only sign of changing times; similarly, technology is influencing consumer behavior, too. Specifically, online shopping is changing how people buy new and used cars. As much as 40% of auto sales at larger dealer groups came from online sources in 2020 as consumers are increasingly comfortable researching, browsing and purchasing cars online.
Another factor related to the increase in car prices is the impact on aftermarket, which is forecasted to have strong post-Covid growth as consumers look online and to aftermarket suppliers for vehicle repairs, enhancements, and modifications.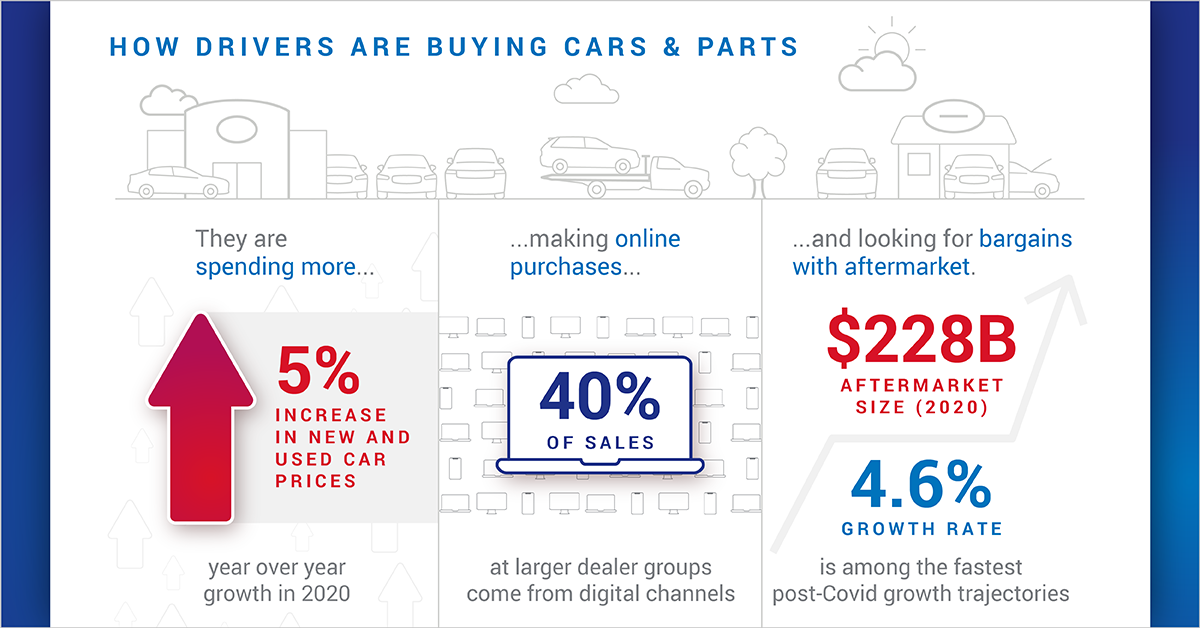 See how Agero's vehicle transport services can support digital sales and streamline workflows.
Electric Vehicles
Electric vehicles continue rapid expansion in the US market, as vehicle manufacturers are adding more and more hybrid and electric models to their line-ups. The infrastructure to support battery-powered electric vehicles – namely, charging stations – also continues to expand. In Q1 2021, public electric vehicle charging ports topped the 100K mark in the US for the first time, up from about 80K in Q1 2020. Vermont leads the US in EV charging density per capita, with 114 chargers per 100,000 people. Norway, however, leads the world in EV adoption, with more than half of new car registrations in 2020 coming from electric vehicles
Learn how Agero is helping lead the auto industry's shift to electric vehicles.
Connected Vehicles
The infusion of technology into vehicles continues to propel growth in connected vehicles, with current projections reaching 116 million connected vehicles on the streets of the US by 2025. The data from these vehicles is already creating an array of new revenue streams. For example, the vast majority of dealers view predictive maintenance facilitated by connected vehicle data as a significant revenue opportunity.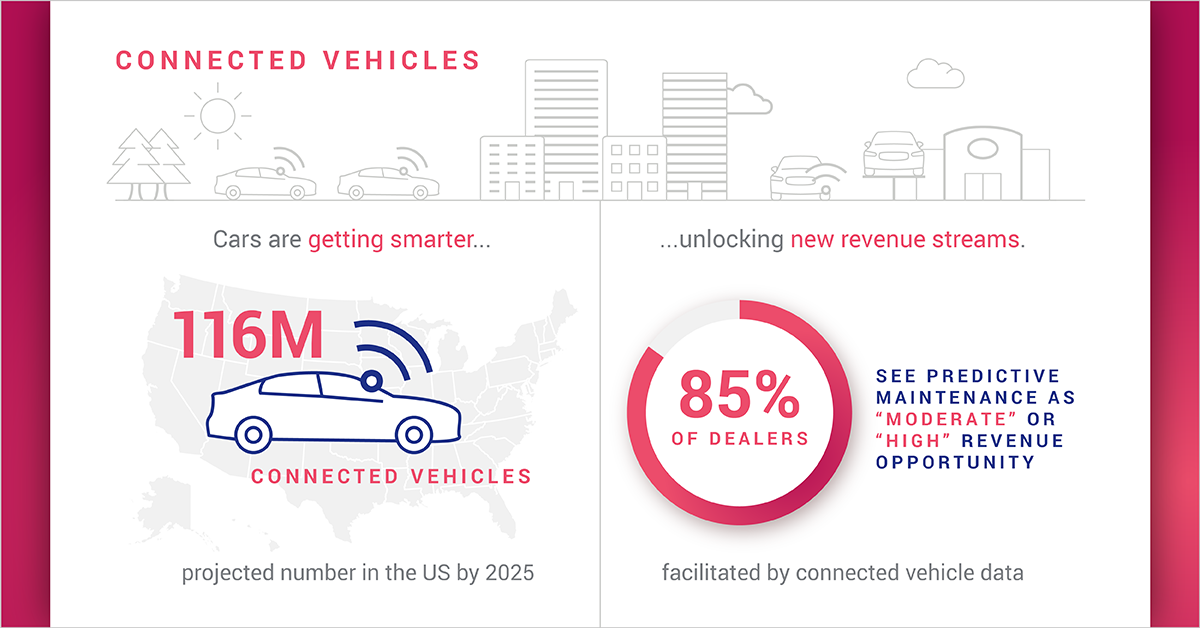 Learn about Agero's connected vehicle solutions.
How Drivers Insure Their Vehicles
For better or worse, brands today must work continuously to maintain brand loyalty among their customers. Our research suggests that half of auto insurance customers have indicated a likelihood to manage costs by reducing coverage or switching carriers. Managing costs for consumers is increasingly relevant: the past decade has seen a 50% increase in consumers who say that price is a key factor in their buying decision. However, price isn't everything – a positive experience is essential to keeping customers over the long haul. Data suggests customers are 8 times more likely to shop for a new carrier after a negative experience. Fortunately, Agero's roadside programs can provide a significant customer retention lift for insurers. Our 2020 benchmark research found that insurance policy renewal rates were 11 points higher for customers we assisted with a roadside event on behalf of our insurance clients, compared to customers who resolved a roadside event without using their insurer's roadside plan.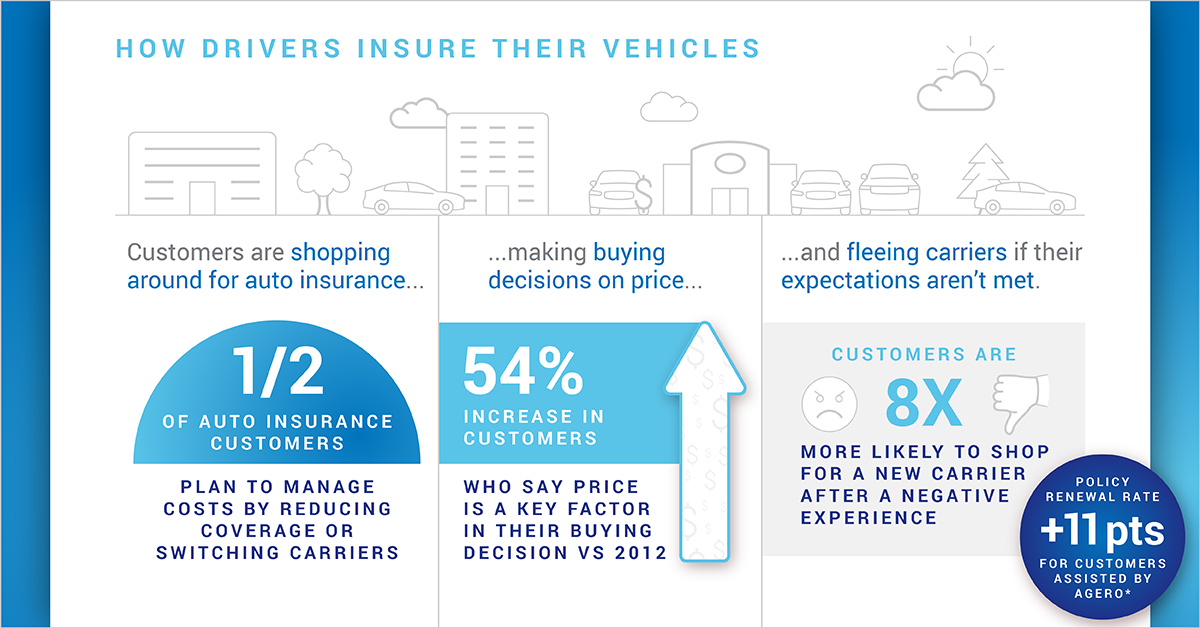 See how Agero's roadside services can improve customer loyalty.
The Accident Impact
The number of auto collisions plummeted in 2020 compared to 2019. Due to Covid-related shutdowns and a sharp drop in vehicles on the road from April through June of 2020, there was a drop of more than 30% in auto collision frequency. This is good news for insurers. However, the average estimate for collision or liability loss rose by 5% and the expense ratio for personal lines carriers rose by 3.5%. That expense ratio will be challenged if the volume of auto collisions rebounds and repair costs continue to rise.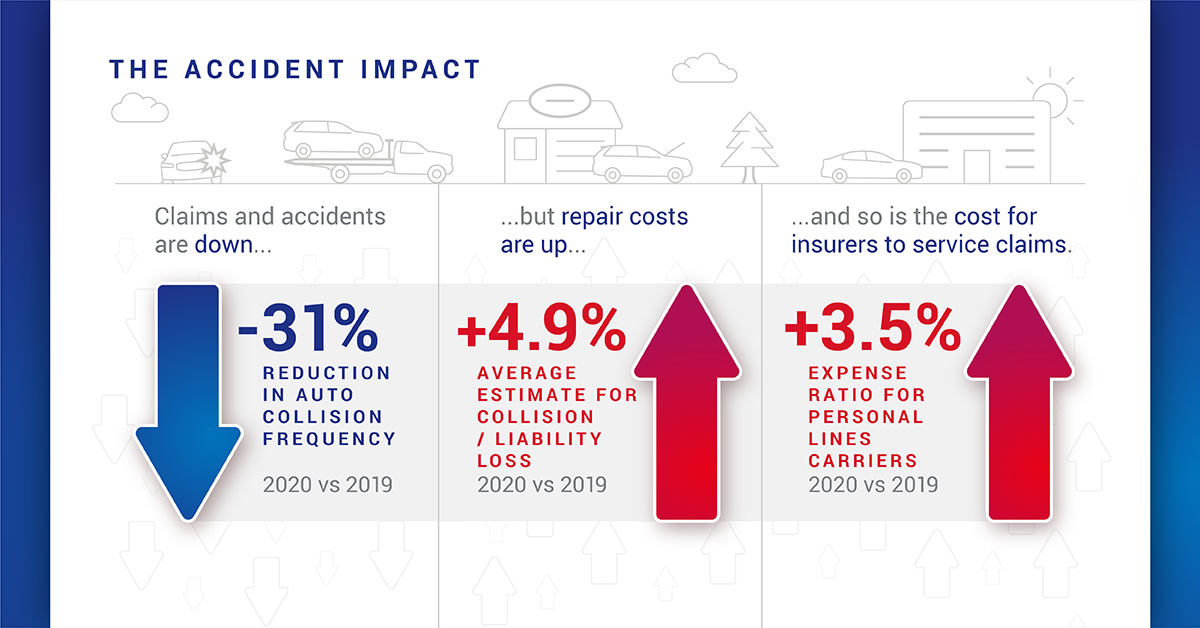 When accidents do happen, see how we can reduce time, cost, and frustration.
For a shareable version of this data, download the full 2021Vehicle Usage Trends infographic.