When supporting drivers during a roadside event, there is not one right way to ensure customers get the help they need. Instead, the best practice is to offer a variety of different options so that customers can request and receive assistance in the channel they are most comfortable with. Increasingly, a virtual chat assistant – also known as a chatbot – is a key piece of the customer support puzzle for consumer-facing businesses for two very good reasons: it can provide instant answers and it is incredibly convenient for customers.
However, to get a chat implementation right, there are a few key points to keep in mind.
When to use chat in customer support
You've submitted a roadside request and received a confirmation text message that the job is in process ... but now what? That period between when a customer initiates a service request and when the provider arrives is a critical inflection point in the overall roadside experience. Enabling easy access to support during this time can help relieve the anxiety during an event that can be quite stressful.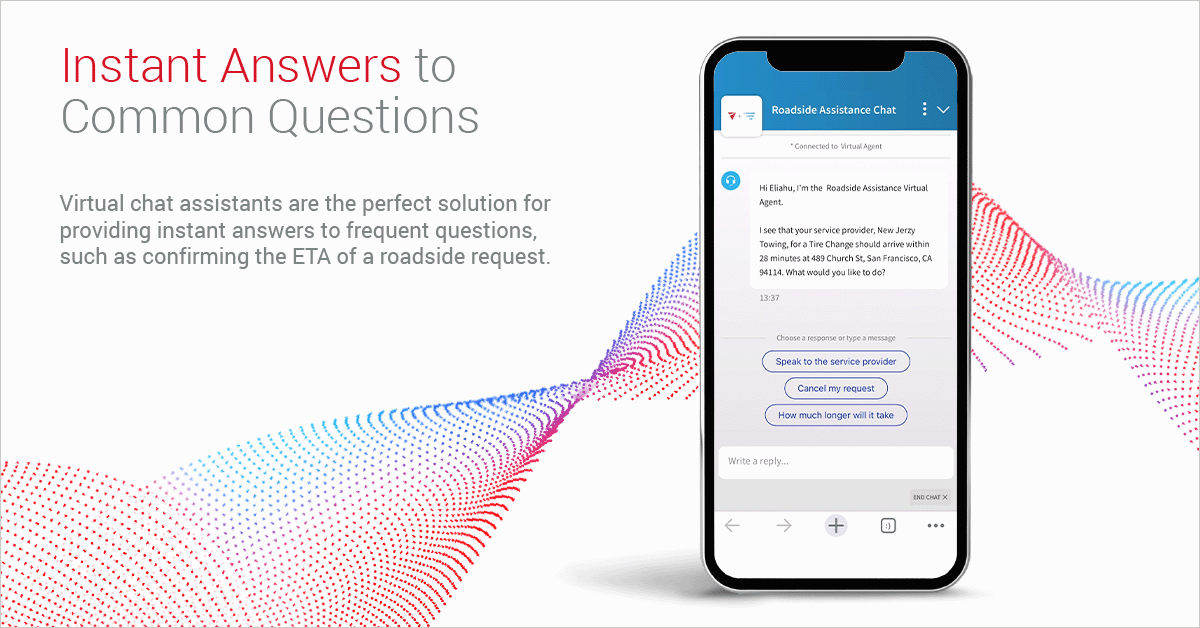 Sometimes, a quick response is needed to brief questions like, "When is the tow truck going to arrive?" or "Can you update the provider's ETA?" This is an ideal situation for a virtual chat assistant, which excels at recognizing simple queries and delivering a quick accurate response, providing the customer with an answer at their fingertips.
Similarly, a request to cancel service – if, say, a neighbor with jumper cables was able to get the stalled vehicle car started so the dead battery servicing was no longer need – is another great use case for a chatbot. The bot doesn't need to collect a lot of information to understand how to handle the request.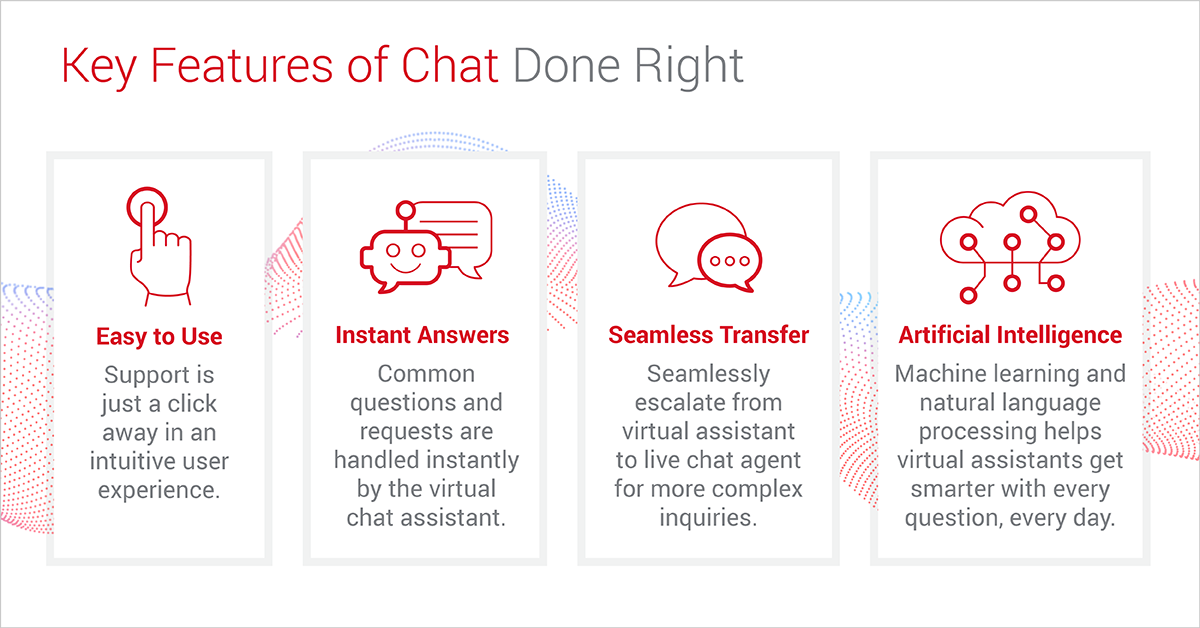 However, when it comes to more complex questions, live chat is ideal. Unlike a chatbot, live chat is staffed by a trained agent who has the expertise and resources to handle a virtually unlimited range of requests. However, in the most complex cases, it can be a cumbersome experience for the customer to type out a lengthy request. In short, the simpler the request, the better suited chat is to handle it.
Chat is The fastest way to Resolve simple questions
When it comes to speed, nothing beats a virtual chat assistant. It can respond almost instantly for the cases it can accurately recognize and support. However, when the virtual chat assistant is faced with cases it can't handle – because the customer is requesting something the bot hasn't been trained to respond to – it's imperative that live chat support is on standby to tag in quickly and seamlessly. In many scenarios, a typical hold time to speak with live support on the phone can be five or ten minutes or even longer. But for chat with a live agent, the average response time, across industries, is just 46 seconds.
Asynchronous support + No concerns around background noise = Customer Convenience
In addition to speed, another important benefit of chat is that it provides asynchronous support – that is, the customer and the supporting chat agent don't need to be paying attention at the exact same instant to have an effective communication. In the roadside scenario, where customers are often trying to sort out the various impacts of an unexpected vehicle disablement, the ability for customers to get assistance with their service while multi-tasking can be extremely helpful.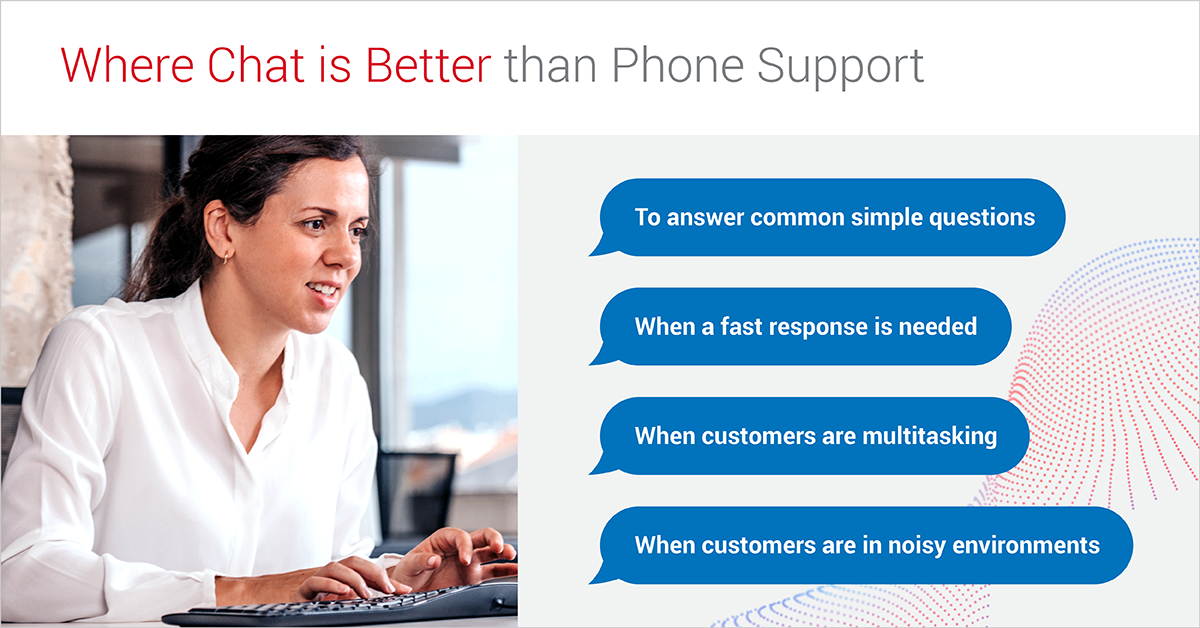 For instance, a driver might open up chat to request the en route-service provider's phone number, turn and speak to the kids in the back seat, and then glance back at their phone moments later to find that the phone number has been delivered. That's clearly a better user experience than having to make a phone call to find the provider's contact info.
In addition to enabling customers to get support while multi-tasking, chat also eliminates the challenges of communicating in a loud environment – like the side of a busy highway or with kids in the car.
No, bots should not be in charge of your customer support
Artificial intelligence, machine learning, and natural language processing technologies are improving at a dizzying pace. This means that virtual chat assistants are getting smarter and more capable of handling an ever-increasing variety of requests. However, automated support will always have its limitations. No matter how sophisticated a bot may be, the best customer experience is a collaboration between bot and live agent. That's the only way to ensure that every customer request can be handled quickly and friction-free.