Accident coverage is a service that most drivers have but nobody wants to experience – after all, who wants to be in an accident? For 32% of drivers, the accident claims process is something they've never experienced. In Spring 2022, I joined the other 68% after being rear-ended. The good news: it gave me a more personal understanding of what goes through a driver's mind after the crash and put into perspective the need to improve the customer experience.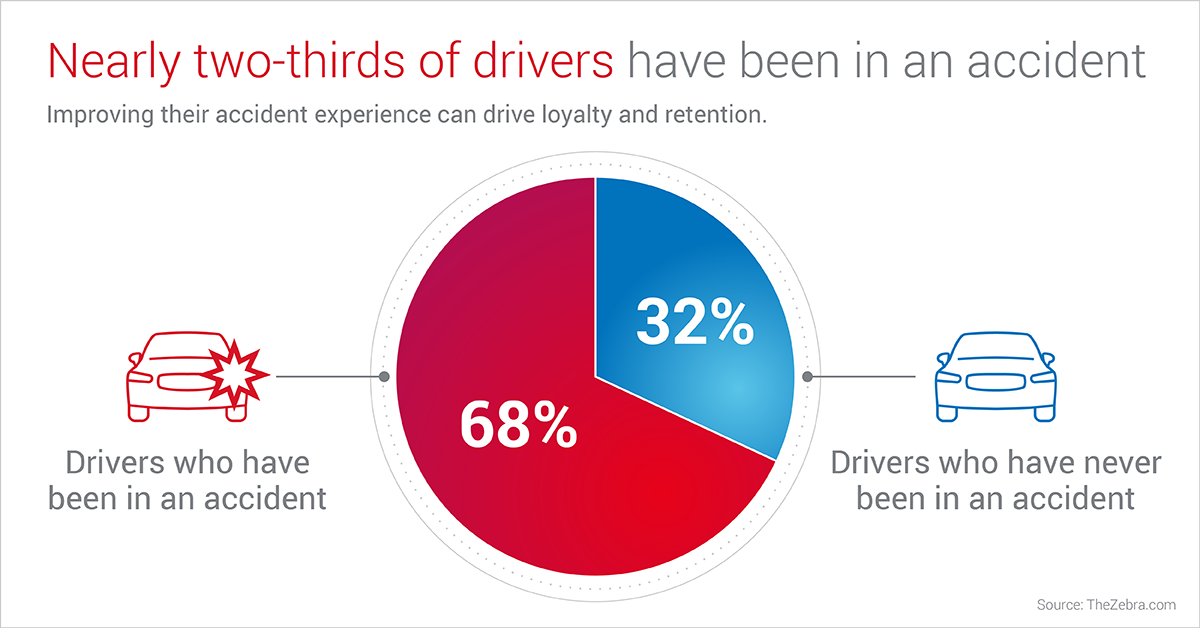 Reporting an accident should not be this difficult
At Agero, we often reference the benefits of filing First Notice of Loss (FNOL) from the accident scene, so this is a story I know well. But despite knowing that an early FNOL would help get my car repaired and returned quicker, I had a surprisingly difficult time doing so. While many people delay reporting the accident because they are simply unaware of the benefits it provides, in my situation, it was due to a lack of convenient options for reporting the accident.
On the side of a busy street in Boston, I frantically searched my insurer's website for an option to digitally submit the accident details. When I struck out looking for a digital option, I reluctantly looked for the phone number to file a claim. Finding a phone number to report the accident proved more difficult than I expected, so I ultimately accepted that I would join the roughly 90% of people in accidents who do not report the accident from the scene, knowing full well that this would result in additional costs to my insurer and delays in fixing the damage.
Why am I spending so much time on the phone!?
After putting off contacting my insurance for the moment, I found my family's motor club card to arrange a tow. This was the second time during my accident experience that a lack of digital options forced me to make a phone call.
Although I could not submit a request digitally, after talking to an agent I was provided with a tracking link to monitor the service provider's ETA. However, upon clicking the link, I noticed that the driver was en route to the wrong location, prompting yet another phone call since there was no digital option fix the location myself or chat with someone who could make the update for me.
Fifteen minutes later, the ETA had not changed and the service provider appeared at a standstill on the tracking link. A third phone call to my motor club confirmed that the driver was on their way, so at least I was reassured that the end was in sight, even if I didn't have accurate visibility into the tow truck's arrival time.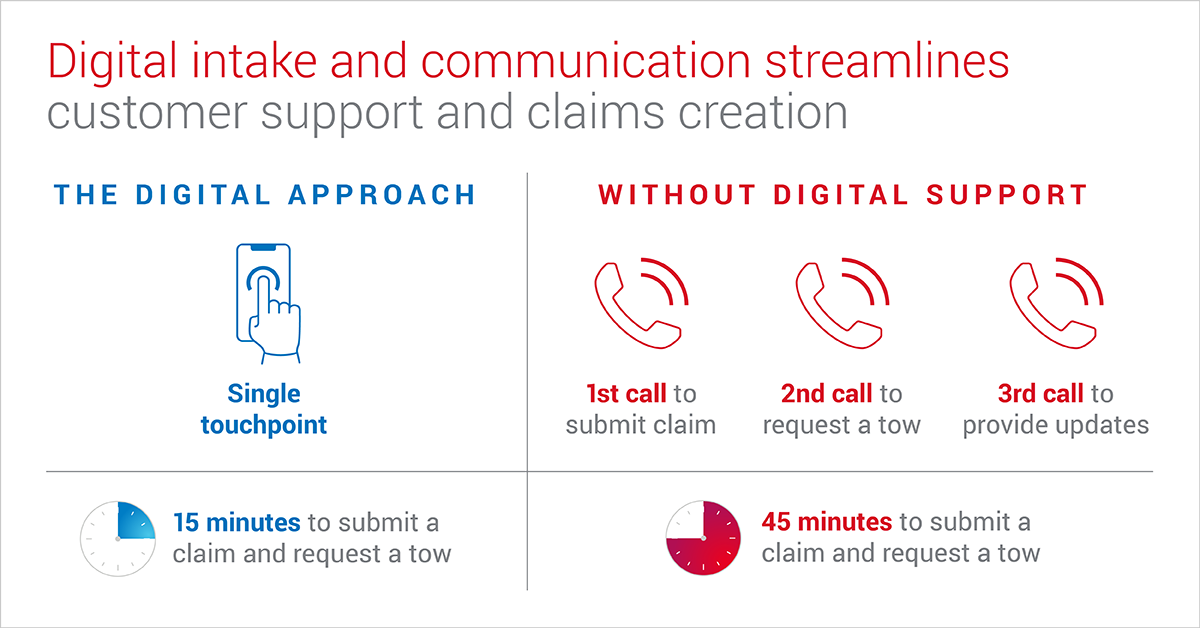 Fast forward two weeks: the accident report had been submitted, but due to limited capacity of the insurer's adjusters, the vehicle was sitting untouched at the repair facility. With capacity issues of their own, the repair shop was calling me - the customer - daily to find out when an appraiser would be able to inspect the vehicle. All the while, my vehicle was in storage racking up storage fees for my insurer.
What could have been done differently
Nearly a month after the date of loss, I finally received notification that my car was fully repaired and ready for pickup. Throughout this experience, I became more empathetic to others facing similar challenges.
By adopting a more digital approach, many of these challenges could have easily been avoided. In a time where we can do just about anything directly on our smartphones, there are digital solutions available that would benefit the insurer just as much as it would benefit me as a customer.
The lowest hanging fruit would be a digital option for customers to submit an accident on their insurer's website. A more sophisticated and proactive solution would be to use mobile telematics to detect the crash and report it automatically, giving the policyholder one less thing to worry about.
Similarly, motor clubs should also include digital intake options so their customers don't need to call police, insurance, and a tow provider. And in the event that a customer needs to provide an update or ask questions, having a digital communication option would also make for a significantly better customer experience.
Lastly, enabling a desktop appraisal via the use of accident scene photos would have circumvented the two weeks that my vehicle sat in storage. With high demand and staffing difficulties, I can understand the challenges of finding availability for adjusters to inspect so many vehicles. Providing a digital appraisal option would greatly alleviate these challenges, saving the insurer hundreds in storage fees, reducing capacity strain for the repair shops, and getting customers back into their own vehicles faster.
After experiencing firsthand the challenges of an accident lifecycle, I gained a new understanding of what most people go through during these stressful events. At the other end of every accident is a person who just wants to get on with their life - by taking a more digital approach, you can help them to get there with less stress, less frustration, and with less impact to your loss costs.