When it comes to car travel, summer is always busy and this summer is expected to follow suit. As we well know, when travel increases, so do flat tires, dead batteries, fender benders and everything in between. With 150 million people counting on us for vehicle support, we know how to forecast, bolster staffing and prepare for seasonal volume changes. However, given the monumental shifts in labor, supply chain, fuel prices and customer expectations in recent years, the standard preparations are no longer enough. We need to work differently – smarter – with better tools to empower our agents and service providers so that they can support each and every one of our customers, and get them back on their way quickly and without hassle. We recognize that it is not people OR technology but people AND technology that are needed to support what might be the busiest summer travel season ever – and we are ready!
Capitalizing on our Technology investments
We've been continuously investing in our dispatch platform and technology infrastructure for years. Our migration to Swoop is a big part of that, but it's just the tip of the iceberg. We are thrilled to share that just in time for the summer season, we have a number of key updates to workflows, support channels and automation designed to better support customers, even during significant volume spikes.
It is Easier than Ever to Request Help
We're making it easier for customers to request help by rolling out new channels and capabilities. These include significant upgrades to Speech Assist, which uses cutting-edge artificial intelligence and natural language processing to enable customers to complete a request by following a series of simple voice prompts. This is a great option for customers without a smart phone to skip the line.
We've also upgraded our intake for Agero associates so that they can automatically decode critical vehicle information using the Vehicle Identification Number (VIN). This saves time for customers and associates and helps ensure providers have that all the details that may impact the service request.
In addition, we've rolled out self-service payments. In cases where partial or full payment is required to request service, customers can now complete their requests digitally, using a secure and user-friendly web-based payment portal to enter their payment information.
Delivering Seamless Support by Combining People

AND

Tech
Our business is about supporting the unexpected. Sometimes the requests, the questions, the needs are straightforward – and sometimes they aren't. The key to building solutions for this space is making the transition between the simple and the complex seamless. Our team has made significant investments in communications and automation tools this year for both our customers and our service providers.
One great example is chat. Here's how it works:
These tools feature a combination of powerful automation backed by our associates. This means that straightforward questions like an ETA update or the name of a service provider can be delivered through a bot instantly, while more complex questions can be seamlessly transferred to a live associate for support.
Adding Support for Providers So they can Support Our Customers
The economic shifts over the past few years have had a serious impact on tow truck operators, roadside service providers, and their businesses. In many cases, they are running leaner than ever and faced with new pressures related to fuel prices, insurance requirements and consumer sentiment. Our goal is to ensure that the providers in our industry-leading network have the visibility and support to manage jobs quickly and easily.
Over the past year, we have worked across the board to improve the service provider experience, including everything from backend system load speed enhancements to provider selection algorithm updates. We've also created new channels to support our providers when they need help our support, through live chat and other digital tools that give them more control over how they manage in-progress jobs than ever before.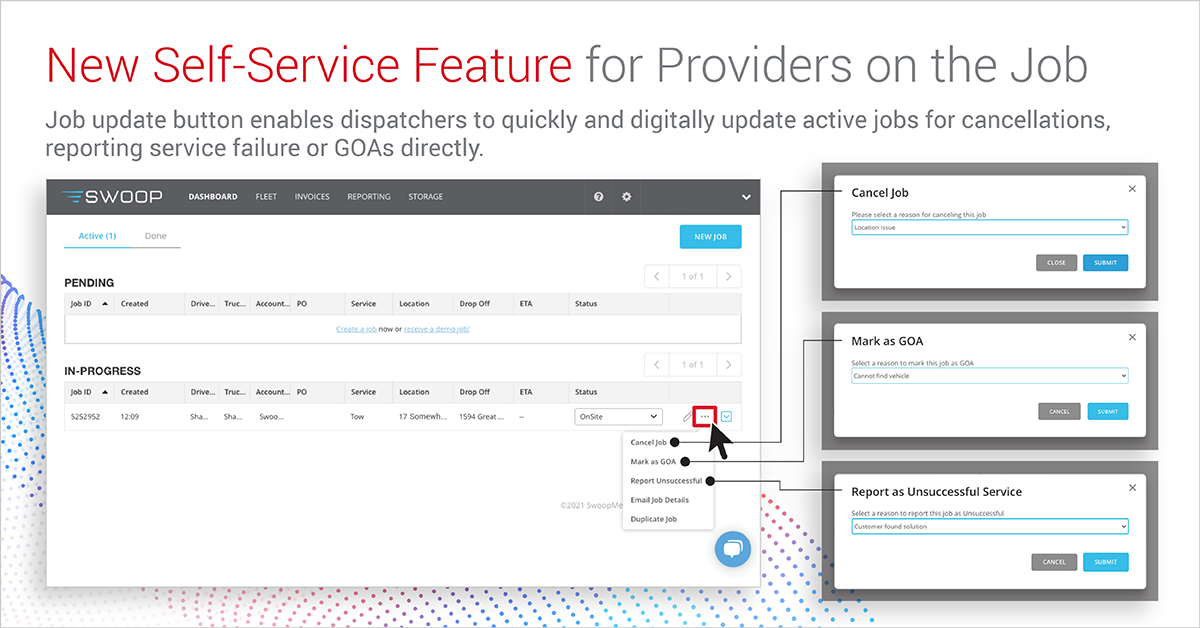 As a result, we can help resolve many questions in minutes. Upcoming updates will help help automate ETA and status updates and streamline back-office functions like billing. Our goal is to support our providers so that they can support customers.
Operationalize the Exception with Capabilities for AssociAtes
We've also invested in tools to ensure transparency and visibility. This helps our associates work smarter. This includes the case management and task management structures that were introduced this year. Sometimes a single event can require multiple dispatches or services. This upgrade ensures that all related events are grouped together so that associates have a full perspective.
In addition, task management allows follow up actions to be created and tracked directly in the platform. These capabilities have been critical to our efforts to operationalize the exception.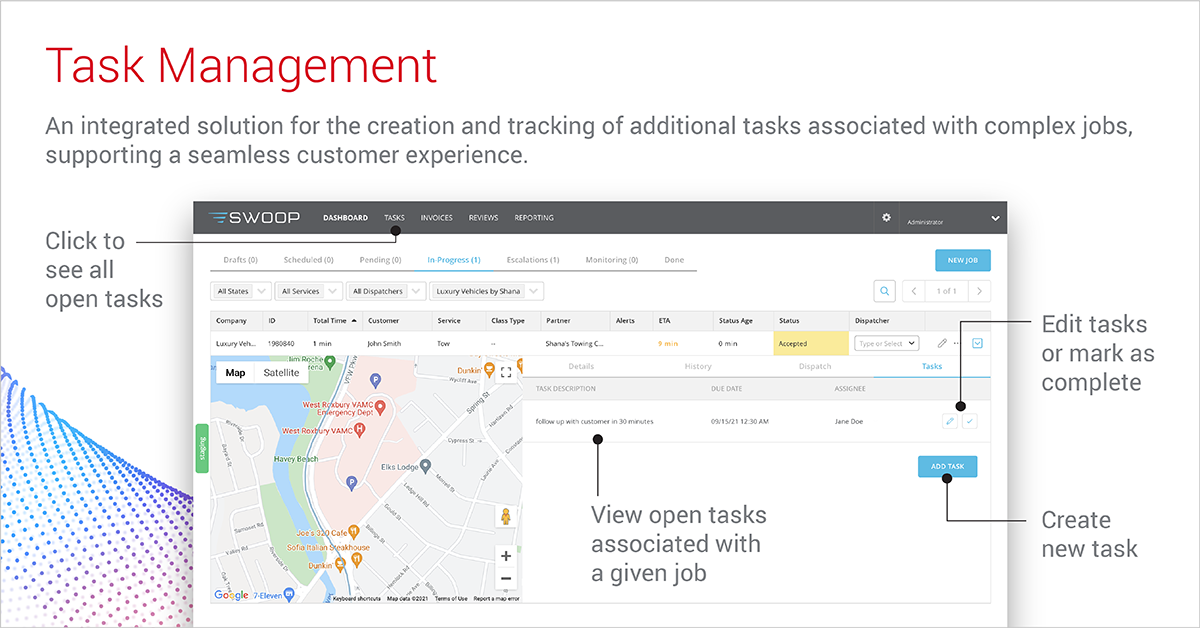 Continuous Optimization to deliver best in Class experiences
Finally, we recognize that it's not just about new tools – another key to success is getting smarter about how we deploy the tools we already have in the field. This means fine-tuning platform settings and adjusting ensure the best experience for our customers, providers, and agents. With the world's top brands counting on us, we are continuously engaging in rapid experimentation cycles, using data-driven decisions to deliver on the outcomes that matter most. Led by our industry-best data science team, our unmatched event volume helps us gather the volume of data we need to make statistically significant adjustments. This same combination of innovation and optimization that drives our team every day, is what empowers our provider network to support millions of drivers this summer. Enjoy the summer sunshine on your ride!